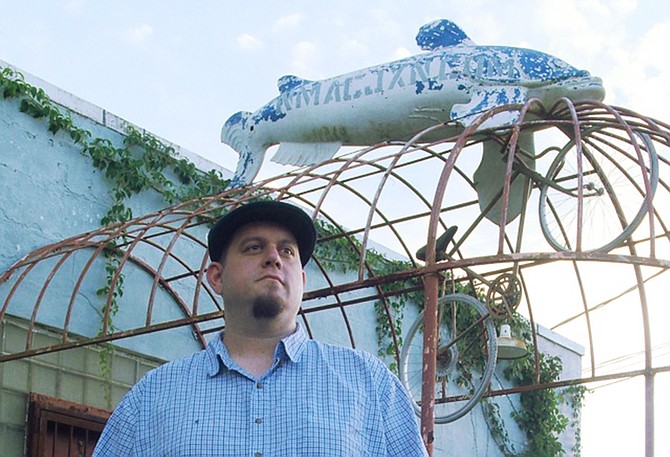 Graphic designer Will Brooks sits under the giant inflatable donut behind his desk in his North Midtown Arts Center studio, talking about the creative community he's found in the neighborhood. Five-inch-by-7-inch digital illustrations and boxes of small watercolor paintings sit on a bookshelf, and his window looks out to the catfish sculpture that sits on top of NMAC's awning.
"I don't know how or when it got there, but it's a good marker for the studio," Brooks says.
Filmmaker Chuck Jett, whose business, Empty Coffin Studio is at NMAC, introduced his friend Brooks, 41, to the space. Brooks says he liked the vibe and collaboration he saw there, and decided to get his own studio space in the building.
Brooks quickly found kindred spirits in the area. "In this one building, you have artists working in multiple media, and in this one concentrated area, you have Pearl River Glass Studio, Lucky Town Brewery, Sweet & Sauer, Mississippi Cold Drip Coffee. ... Midtown is full of creative hustlers," he says.
Brooks started doing more to expose the less traditional artists and creatives he found and connected with by doing things such as curating Spray JXN, which is his effort to document the graffiti, street art and murals in the Jackson area.
When Brooks took a road trip to Hattiesburg in June 2017 to attend a makers market, he saw the opportunity to do something similar back at home in the Millsaps Avenue Arts District. He reached out to others, including woodburning artist Shambe' Jones, who works out of NMAC, and Jason and Jina Daniels, who own Jax-Zen Float in midtown, and started making plans for the Millsaps Makers Market.
Brooks envisions the market as a way to offer exposure to local makers who work in less traditional art and craft media, and don't have a space to show in more traditional gallery spaces. He also sees it as a way to introduce more people to the Millsaps Avenue Arts District and midtown.
The Millsaps Makers Market on Aug. 26 will include Jackson-area makers who work in media such as woodworking, photography, leatherworking, soapmaking, jewelry, including Odd Human Art and Apparel, and Brooks' own mixed-media work of digital illustration and watercolor. Jason, who is the front man for the Jason Daniels Band, will play live music starting at 1 p.m., and Jina will bring her collaborative Community Canvas that invites attendees to participate in creating a community-sourced piece of art.
Brooks says he hopes to grow the free event, which will be in the NMAC parking lot (121 Millsaps Ave.), into a bi-monthly market.
"People don't think about midtown as an art district, and that needs to change," Brooks says.
The event on Saturday, Aug. 26, is from 10 a.m. to 4 p.m., and will include studio tours, live music and creative work for sale. For more information on the event or how to participate, email [email protected] or find the event on Facebook.
More stories by this author
Support our reporting -- Follow the MFP.