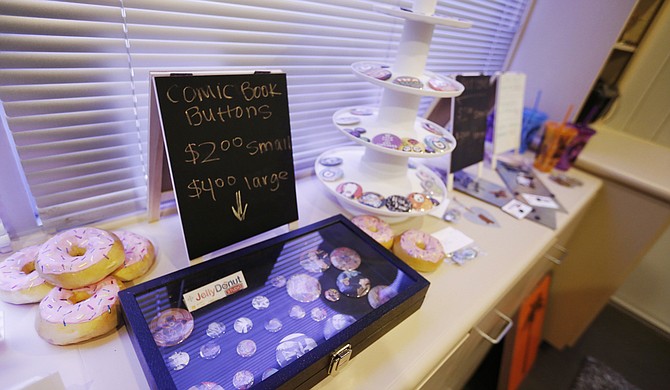 The Mill (3002 N. Mill St.), a new incubator space for local artists and small businesses, grew out of one man's quest to find a parking spot in midtown.
Robert Lewis, who owns The Mill, has been in Jackson since moving from Starkville in 2000. Lewis, 38, lives in Fondren with his wife of 12 years, Margaret, and their 2-year-old son, Marshall. For a time, the Lewises co-owned Campbell's Bakery in Fondren with Mitchell Moore, although they recently sold their share to him.
While Lewis was mostly silent in the Campbell's venture, he bought the bakery's food truck and while fixing it, encountered a problem with finding a space to keep it. Lewis came across a vacant garage and a pair of old buildings in midtown. Although he initially bought the space for parking, he began repainting and making repairs to the roof and electrical systems; eventually, it was ready to rent out. Ultimately, the truck didn't pan out. "I decided I'd rent (the space) to (people) who are creative, independent, self-sustaining and looking for a workspace that can serve as the next step up from something like a home-based business they may have been running before," Lewis says.
The Mill's facilities sit on two acres and consist of a 2,000-square-foot warehouse, an 8,800-square-foot combination garage and warehouse, and a 3,000-square-foot main building with 11 office spaces, a conference room and a shared kitchen. Lewis envisioned The Mill as a collaborative environment where tenants with a variety of skills and specialties can support each other. His ultimate goal is to get talented people to stay in Fondren and midtown for the long term in order to revitalize the neighborhoods.
Lewis celebrated the launch of The Mill by throwing an open house for his first tenant, Mississippi Modern Inc., on Sept. 5. Mississippi Modern, an organization dedicated to empowering and facilitating artists and cultural dialogue in the state, used its space to host an indoor artist market. Another of Lewis' artistic renters is graphic designer Will Brooks, owner of JellyDonut Studio, who creates mixed-media vinyl prints, custom buttons and graphic-design work in his space. Jackson filmmaker Wade Patterson, owner of Blazewalker Pictures, is using The Mill's warehouse as a film lot to shoot episodes of his web series "Lebron James: Police Detective."
"I envision this as being a big helping hand to Jackson," Lewis says. "I believe in this city and want to help it get better. I want creatives here at The Mill because they have energy, a mission, a cause, and that's so important. I think what they have is cool, and I want this place to be cool. I want people with passion who will help make the arts relevant in Jackson."
Rent for office and studio spaces at The Mill begin in the mid-$100s per month. For more information, contact Robert Lewis at 601-832-4775.
CORRECTION: This story has been edited to reflect factcheck changes. We originally named Wade Patterson as Wayne Patterson. The Jackson Free Press apologizes for this error.
More like this story