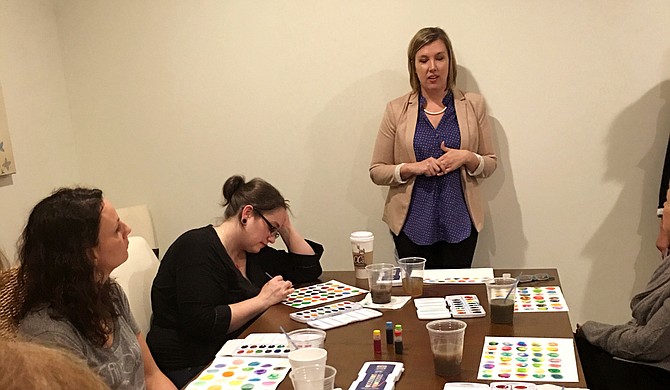 "I have confetti in my calendar," artist Ginger Williams Cook observes as she settles in to discuss plans for a workshop combining watercolor and mindfulness practice with Dr. Megan Clapton, a licensed professional counselor.
The combination of confetti and scheduling seems an apt symbol for the yin and yang of the two women's working relationship and for the life balance that they hope to help people achieve.
Both women seek to encourage people to explore new things, think about things differently, and to be creative and live their best, most productive lives.
The idea for the watercolor and mindfulness workshop, Mindful Watercolor Workshop, came about when Clapton started her solo therapy practice, Mindful Therapy, in October 2015 and felt a desire to "be a resource for the community, in addition to offering individual counseling," she says.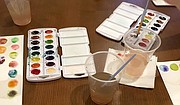 Clapton says she teaches her clients how to meditate for general wellness as part of integrative health psychology. "Through mindfulness-based psychotherapy, I help clients find both formal and informal ways to meditate," she says.
The idea of informal meditation, which can include any action or activity that requires staying present in the moment, led her to approach Cook.
In January 2016, Cook taught a class based on "The Artist's Way," a book by Julia Cameron that teaches techniques to help artists unlock inspiration and creativity. "The Artist's Way" is designed around a 12-week program, but Cook condensed it into a one-week session and offered it to the community at large, not just artists.
"It was about being creative and expanding what I teach to the beginner's mind," she says.
Clapton heard about "The Artist's Way" class but was unable to attend.
"The only way for me to take it was to bring Ginger in-house," she jokes.
When the two met up to visit over coffee one day, the talk turned into a conversation about building their businesses and supporting each other in doing so.
"It just felt like the stars aligned," Clapton says.
Cook credits her time as studio programs coordinator for the Mississippi Museum of Art from 2011 until 2013 with revealing to her how teaching art to adult beginners can "open up relational dynamics," she says.
She has experienced the therapeutic nature of art personally, as well; in addition to her livelihood, "art has always been therapy for me—I used it as a way to grieve my mother's death," she says.
As Clapton talked about mindfulness and meditation, the two realized that watercolor would be a great way to explore the practices.
"Mindfulness is paying attention on purpose, being an objective observer," Clapton says.
Cook developed a guided lesson for beginners and people "who might be apprehensive about doing art 'right,'" she says, so the watercolor experience doesn't leave room for self-questioning or feeling inadequate.
She also says that working with the medium keeps one present in the moment.
During the two-hour session, Clapton introduces a small group of participants to the seven attitudes of mindfulness and talks about the science and clinical aspects of meditation to set the stage before Cook gets participants engaged in the creative process. The class is limited to 10 students to maintain an atmosphere of fun and fellowship, fostering a sense of "meeting with friends and engaging in something productive, because that is therapeutic in and of itself," Clapton says.
Her goal for the experience is to help people create and find balance.
"I hope people will leave having had fun, having learned about mindfulness meditation, and maybe igniting a creative spark and a love for art and play," she says.
"Just to take a couple of hours to break the routine of everyday life and do something for yourself can encourage you to make a change in your life," Cook says.
It's also a chance to create calm. For instance, Clapton says that the depression and anxiety that many individuals experience are often rooted in the past or future.
Mindfulness, she says, "is an anchor to right now, the present. No matter what happened before, or what might happen later, right at this moment, you're contained, quiet and okay."
Through posts on social media and word-of-mouth, the first workshop in April sold out in two weeks; Clapton and Cook hosted another workshop on May 12 and will do one for teens this fall for the back-to-school season. Clapton is planning additional collaborations with professionals whose offerings complement mindfulness and meditation, too, to encourage even more people in the community to experience its benefits.
On May 7, she offered a retreat for women that includes elements of Chinese medicine, acupuncture, yoga and meditation to focus on mind-body connection. Acupuncturist Jerusha Stephens and yoga instructor Lea Pickard from M Theory Yoga studio helped instruct that session.
As Clapton continues to share her philosophy and practice of mindfulness and meditation, she looks forward to growing these events through a "come and bring a friend" approach, so that those who've experienced it can share what they've learned.
For more information, find Mindful Therapy (1000 Highland Colony Pkwy, Suite 7203, 601-715-0560) on Facebook. To see Cook's art, visit gingerwilliamscook.com.
More stories by this author
Support our reporting -- Follow the MFP.