See more art therapy photos here.
Like many 12-year-old girls, DeAsia Scott tries to maximize the amount of hot pink she can wear on a daily basis. She loves oatmeal-raisin cookies, has a crush on Justin Bieber and knows every word to Beyonce's songs.
But when Blair E. Batson Hospital for Children art therapist Charla Bullard takes Scott outside where she can paint from her magnetic pink wheelchair, it is, hands down, the greatest thing ever.
"I love hot weather," Scott says dramatically, as pink ribbons attached to her braids sway back and forth. "Girl, I like it when it's 1,000 degrees. I am never hot. I could just sit outside for a whole day."
The Bude, Miss., native, whom nurses refer to as a "chronic vet" patient, has lived at the children's hospital on and off for nearly four years after a car accident left her paralyzed. She can't use her hands, feet or breathe on her own, but she can paint, type and write with a mouth stick, and drive her motorized wheelchair with her chin.
Three days a week, Scott attends art-therapy sessions with Bullard where she expresses herself creatively and works through any emotional problems she might have that week. Art therapy combines creative process and psychology to improve emotional, mental and physical well-being of patients at the hospital.
On the second floor of the children's hospital, Scott positions her wheelchair by the window where the sun can warm her skin. She explains how art therapy works, pausing several times to ask Bullard and Childlife Specialist Tiffany Key to bring her previous masterpieces from her room down the hall. Bullard and Key, who call Scott "Dee Dee," frequently break into laughter as Scott asks them for favors so sweetly, they can't refuse.
When Scott shows her art, she displays a wide grin and asks Batson's staff to place her work next to the window so she can see them.
Scott shows off a watercolor mermaid with brown flowing hair she painted during a field trip last year at Easley Amused in Ridgeland, a Mardi Gras mask she made this month and her current creation: a "paint-by-layers" design of flowers and hummingbirds. She followed instructions from a book on how to mix colors and filled in the canvas according to a blueprint. A year ago, Scott started on her first paint-by-layer project, and has since completed four or five. It can take her anywhere from a few weeks to a few months to complete the paintings depending on difficulty.
In 1998, Mississippi became one of the first states to license art therapists, and the children's hospital has embraced the program as part of its palliative-care approach, which focuses on mental and physical care to improve quality of life for patients. In addition to art therapy, friendly canines visit her during pet therapy, and she attends cooking classes and Sunday church services at Batson.
When children face serious illnesses such as cancer or have a debilitating injury, they often process things differently from adults. Bullard's job is to interpret her patients' feelings through their artwork and help them understand their maladies.
"For these kids, they don't have the words or vocabulary to express themselves," Bullard says. "They don't have past experiences to build on, or to explain or understand why they are here. Art can make life normal, and can do the talking for children through color, shapes and images.
When doctors send patients to Bullard, one of the first instructions she gives is to draw a tree. That simple concept can tell a lot about what a patient is going through. Bullard takes note of the amount of negative space around the tree and how far it is from the ground—which could mean a patient feels alone or detached. The branches and trunk can symbolize a child's arms and body, and the tree's condition a reflection of themselves, as well as the title they select for the piece. Bullard points out, however, that it's important not to take every drawing literally.
"Art is subjective," she says as she holds up a drawing a patient made of an amorphous face decorated with stars and smiley faces. "This standard scribble is not well-defined, and the stickers can (be used to) cover up and hide. ... It kind of gives you something that you can just put in the back of your mind and possibly address in future sessions."
The next day during her art-therapy lesson, Scott is determined and focused as she grips the mouth stick holding her paintbrush. Following the assignment instructions, she blends colors together to make dark green and concentrates on making steady strokes to fill in leaves on the canvas.
The rules for art are simple, Scott says. First, try to follow the directions for the project at hand. Second, have fun. And third, try your best. But sometimes it's OK to break the rules. When the colors don't quite turn out the way they are supposed to, Scott decides to experiment by mixing colors.
Sometimes, she even convinces others to break the rules with her.
"Miss Charla sometimes breaks the rules with me, and I am so proud of her," Scott says. "Every time she breaks the rule, I am like, wow—my heart rate is going up."
Bullard, who is soft-spoken, laughs.
"It sounds worse than it really is," she says.
Scott, who regularly Skypes with her classmates at her former Franklin County Upper Elementary School, says she might want to be an artist, but she isn't sure. She just likes to give paintings to nurses and anyone else whose day she can brighten. For now, Scott focuses on her schoolwork and planning her future Halloween costumes. Last Halloween, she dressed up as a diva nurse with a long pink wig, sparkly eyelashes and pink scrubs.
"I'm going to be a golfer next year, and a hula girl the year after that," Scott adds with certainty.
See Scott's artwork along with pieces from other disabled artists at the Goodwill Arts Show through March 27 at the Arts Center of Mississippi (201 E. Pascagoula St., 601-960-1500). To support the hospital and its programs, attend the Zippity Doo Dah parade and events March 24-26 in Fondren. For more information, visit http://www.zippitydoodahparade.com.
More like this story
More stories by this author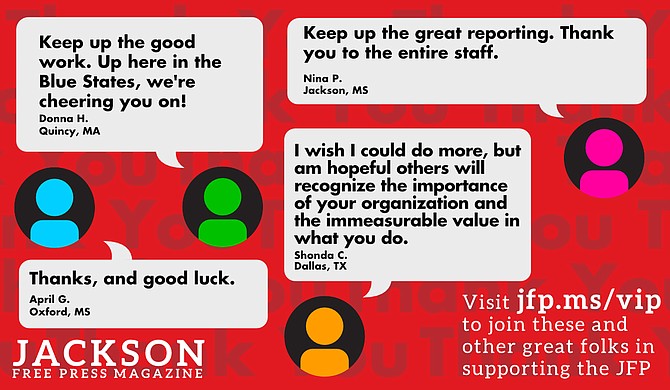 Thanks to all our new JFP VIPs!
COVID-19 has closed down the main sources of the JFP's revenue -- concerts, festivals, fundraisers, restaurants and bars. If everyone reading this article gives $5 or more, we should be able to continue publishing through the crisis. Please pay what you can to keep us reporting and publishing.