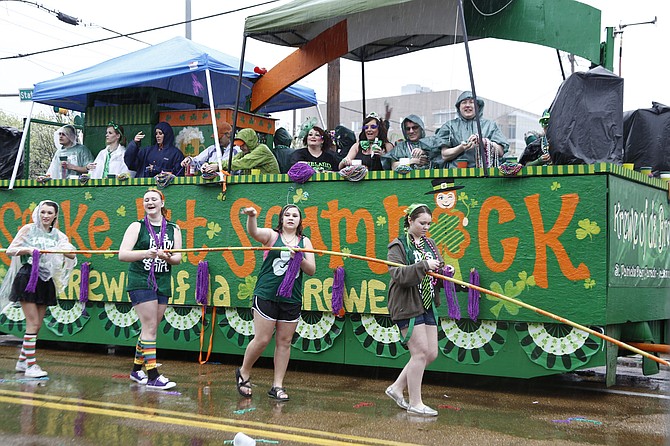 St. Paddy's Parade weekend is a marathon, not a sprint. As such, it's important to plan ahead and be prepared. Besides checking The Weather Channel app on your phone incessantly all week, here are a few tips I've learned over the years and one crowd-sourced from some seasoned krewe members.
Get fired up! The Hal's Marching MALfunction & Second Line Stomp on Friday night, which begins at Cathead Distillery and ends at Hal & Mal's this year, will get you in the spirit, but also maybe tire you out a bit so that you'll hopefully go to bed and get rest before the big day.
Dress accordingly. Bring a jacket for the cooler morning. Also, get festive. More is more on parade day, so wear a costume, deck yourself in sequins, do whatever says, "Welcome, spring," to you. But remember that you're in this for the long haul. You will be on your feet. You will be dancing. Your feet will likely be stepped on or spilled on. This means that for shoes, you should go for comfort, arch support and closed toes.
Lay a base. You have a full day and night ahead of you, so fuel and hydrate in the morning. This is no day to ignore the old adage that breakfast is the most important meal of the day. Also, there is no shame in packing snacks, which brings us to the next tip.
Bring a fanny pack. Or a bum bag, or whatever the kids call it these days. Multiple marching and standing krewe members advocate this accessory, as it keeps hands and arms free to catch beads and accept flowers from O'Tuxers while storing snacks, keys, phones, cash and identification on your person.
Speaking of storage, pack a Ziploc bag. Should there be rain, it will keep your phone dry while still allowing you to take pictures with it. (Credit to Katie McClendon for this one.)
Lather up with sunscreen.
When staking out your parade location, locate a Porta-Potty. Or, if you have 10 or so friends parading together, chip in and rent one. You'll need access to a loo throughout the day, so think of it as a worthwhile investment.
If there's a chance of rain, consider packing a dry change of clothes (or at least underthings) for post-parade.
Make a plan to get home safely. Have fun and be careful.
Parade Safety
by Amber Helsel
On Saturday, March 18, Jacksonians will line the streets of Jackson as they watch the Hal's St. Paddy's Parade go by. The event will have lots of people and things to see and do, which also means that there will be a safety risk somewhere.
This year, Hal & Mal's has partnered with American Medical Response to give parade-goers helpful safety tips for the day of activities. Here are some of them.
Don't get close to the parade. Someone could accidentally bump you into one of the parade floats' path.
Don't run in front of or behind a float.
Stand on the sidewalk instead of climbing on objects such as lamp posts or benches.
Keep close track of children at all times.
Only cross the street or go through the parade when officers allow it, and only cross at intersections.
Drink lots of water before and during the parade.
Drink responsibly and use a designated driver if needed.
Watch out for ambulances, fire trucks and other emergency vehicles.
Dress appropriately for the weather, and wear sunscreen.
Wear comfortable shoes with good ankle support.
Make sure you take any of your medical prescriptions as required.
Don't bring silly string or noise makers.
See more at jfp.ms/stpaddys2017.
More stories by this author
Support our reporting -- Follow the MFP.