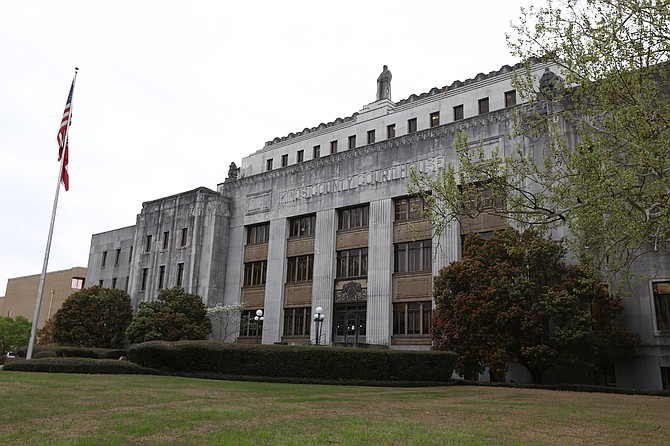 JACKSON — Kevin* came home from serving in the Navy overseas in the Desert Storm conflict, and very soon afterward, was involved in a severe car accident. To cope with the trauma from the wreck, he turned to drugs. He was caught—and easily could have spent up to eight years in prison for possession of cocaine. Instead the judge sent him to the Hinds County Circuit Drug Court, a decision that changed his life, and eventually ended his addiction.
"It's a great program because it's life-changing, what it (did) for me is it gave me the opportunity, for one, to understand the consequences of my behavior, so it brought some responsibility, and I wouldn't serve any time for a charge," he told the Jackson Free Press.
During his time in drug court, Kevin went to counseling and rehabilitation to work through his addiction. He also volunteered with the Department of Veteran's Affairs. A little over two years later, Kevin graduated in 2013 and got his life back—drug-free and with a chance to start over.
"It really took the veil off my eyes to show the impact that I was having on me and my family," Kevin said. "And that enabled me to endure: I'm not saying it's easy, but it's doable."
Today, Kevin sometimes goes back to drug court to speak with participants about how the program changed his life; he said he considers members of the drug court staff there as his friends. And while he says the program was not easy by any means, it was well worth it in the end. He has a full-time job at the Department of Veteran's Affairs, and he lives with his family in Gluckstadt on a farm.
Helping Addicts Heal
Jeffrey Vernon serves as the director of the Hinds County Circuit Drug Court but has worked for the court in some capacity for nine years. Vernon said the program has continued to grow since he started.
"Drug courts are basically designed to help the individual ... putting somebody in jail is not going to change the fact that they're an addict," Vernon told the Jackson Free Press.
"And that's been proven numerous times ... the only thing that's going to help the individual is treatment."
Drug courts are designed exactly for that purpose. Judges in Mississippi can assign non-violent offenders, usually those who commit petty crimes while under the influence of drugs or who are arrested for possession of illegal drugs. The two- to five-year program includes addiction treatment, counseling and intense supervision, and participants are subject to randomized drug tests regularly.
Hinds County has a few main requirements for graduation from the program. Participants must pass all their drug tests for the last six months of the program. If they don't have diplomas, they also must attend classes to finish high-school equivalency degrees. Vernon said some first-time offenders in the program are eligible to get their record expunged of the crime that got them committed to drug court in the first place.
"It helps them in the future as far as finding jobs," Vernon said.
Mississippi has 42 drug courts, with 3,550 people enrolled, Administrative Office of the Courts data show.
In Hinds County, Vernon has up to 172 people going through the program this year, and that number has stayed above 150 in the past two years, largely due to the Legislature passing House Bill 585, a massive criminal-justice reform package, in 2014.
With the help of Pew data and bipartisan legislative support, House Bill 585 expanded judicial discretion for alternative sentencing, including the authorization of drug and mental-health courts to keep those with addiction problems out of prison and in programs to help them heal.
The reforms were intended to help the state stem the rise of Mississippians behind bars—the majority of whom are black and male, Mississippi Department of Corrections data from 2014 and 2016 show.
The 2014 law revised drug sentencing standards for drug arrests, expanded parole eligibility and invoked "true minimums" to ensure both non-violent and violent offenders served at least 25 to 50 percent of their sentence. The reforms have slowly taken root in the state's corrections system, but now members of the state's Corrections and Criminal Justice Oversight Task Force believe it is time for the Legislature to invest in additional reforms to completely change corrections in Mississippi.
Legislative Changes Ahead?
At its final meeting of the year on Nov. 28, the task force comprised of lawyers, sheriffs, lawmakers and agency workers finalized their report to the Legislature, which they will present Dec. 12.
District Attorney Hal Kittrell, who represents Jefferson Davis, Lawrence, Marion, Lamar and Pearl River counties and will serve as the task-force chairman until April, told the group that work was still to be done.
"I think we've got to re-focus a lot of our energies with (House Bill) 585 ...the Legislature has to understand that the front of this bill has been done," Kittrell told the task force on Nov. 28. "I think everybody is accepting of it at this point. Now investments have got to be undertaken, or this bill goes nowhere."
The task force's report suggests several tweaks to Mississippi law that will enable the Mississippi Department of Corrections to invest more in community corrections and alternatives to detention if the Legislature appropriates funds accordingly.
One recommendation would alter eligibility requirements for drug courts, allowing people convicted of burglary of a dwelling to participate in drug court as long as the offense was not violent.
A Performance Evaluation and Expenditure Review analysis shows that this small tweak in the law could save almost $9,000 per person who goes through drug court instead of incarceration. The cost of supervising one inmate in drug court for five years is less than holding an inmate in secure detention for one year.
Reinvestments in alternatives, like mental-health services and drug courts, are necessary to keep people from committing more crimes, Kittrell said. He said the state needs to figure out a way to keep people from re-offending.
"I absolutely believe that if we're not doing some type of mental-health component for first-time offenders or anyone else, and we don't use the drug courts effectively or mental-health courts, we're absolutely accomplishing nothing," he said Nov. 28.
"And (if) all we're doing is finding some way to cut some money and put it somewhere else, (then) we'll come back and we'll have this problem escalate and be right back where we were."
For drug-court graduates like Kevin, a Jackson native, the benefits of drug courts can mean employment and a transition into a better life. Kevin said he would love to see the drug-court program expand in Jackson to help others like him.
"No one wakes up and says they're going to be a drug addict or alcoholic, and we have very limited resources to combat against that," Kevin said. "If we can get more community investments, it will really have a better impact on how this thing is going."
*Name has been changed to protect identity.
Email State Reporter Arielle Dreher at [email protected].
More stories by this author
Support our reporting -- Follow the MFP.