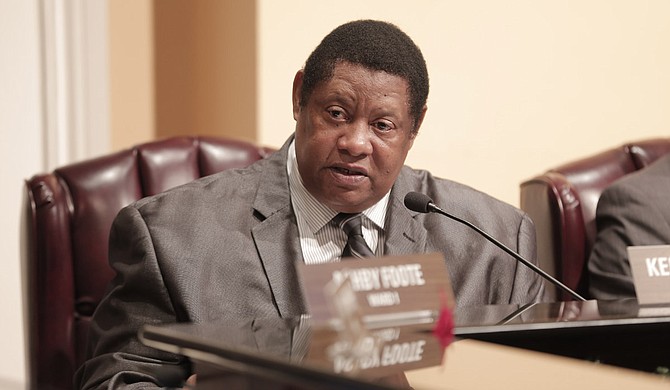 Late tonight, the Jackson City Council unanimously passed a resolution proclaiming their opposition to the controversial Mississippi House Bill 1523 just less than 10 hours after Gov. Phil Bryant signed it into law today. The resolution mirrors Biloxi's resolution but with added amendments.
"We know we are a city of diversity. This resolution is to tell the world that regardless of what our governor, our state agencies, our state Legislature may have passed, the City of Jackson wants you here, regardless of what color you are, regardless of your sexual orientation, regardless of what gender you are, we want you here in Jackson," Ward 6 Councilman Tyrone Hendrix, author of the resolution, said before it was read out loud.
"I can't express how thoroughly I support this move," Council President Melvin Priester Jr., of Ward 2, said.
"The City of Jackson understands, appreciates and celebrates that the Constitution of the United States of America prohibits governments from making laws 'respecting an establishment of religion, or prohibiting the free exercise thereof,' guarantees to all persons 'the equal protection of the laws' and does not allow discrimination in any form against any person," the resolution states.
"The City of Jackson believes in the essential worth and dignity of every human being, promotes fair and impartial treatment of all citizens, and encourages kindness, compassion, understanding and cooperation among all people."
"The City of Jackson does not sanction or tolerate discrimination against its citizens or visitors and seeks to preserve and protect the rights of all individuals regardless of religion or identity," the resolution continues.
After a reading of the Ward 4 Councilman De'Keither Stamps added the phrase "African American" into the language along with discriminations against "sexual orientations or transgender individuals or groups."
"You can use this House Bill to discriminate against African Americans as well as people (for) their sexual orientation," Stamps said. "We are in this together, black folks, gay folks ... we need to be in it together."
The resolution passed unanimously, and the amendments were added after a vote with Stamps and Stokes in support with the rest abstaining.
"As a predominantly black city in Mississippi, the Jackson community has endured racism, discrimination and injustice over the years," a statement from Mayor Tony Yarber, sent out to media after the meeting, stated. "We are Mississippi's capital city, and as part of our declaration of being the 'Bold New City,' we will not discriminate against any individual because of race, religious beliefs or sexual orientation, nor do we support legislation that allows for such discrimination."
"These are human beings whether you believe in what they believe in," Ward 3 Councilman Kenneth Stokes said. "To incite discrimination is always wrong. There should never be discrimination in this world."
"If the government is wrong and the governor is wrong, we need to let them know they are wrong," Stokes added.
Read more coverage of HB 1523 at jfp.ms/lgbt. Email city reporter Tim Summers Jr. at [email protected] See more local news at jfp.ms/localnews.
Support our reporting -- Follow the MFP.