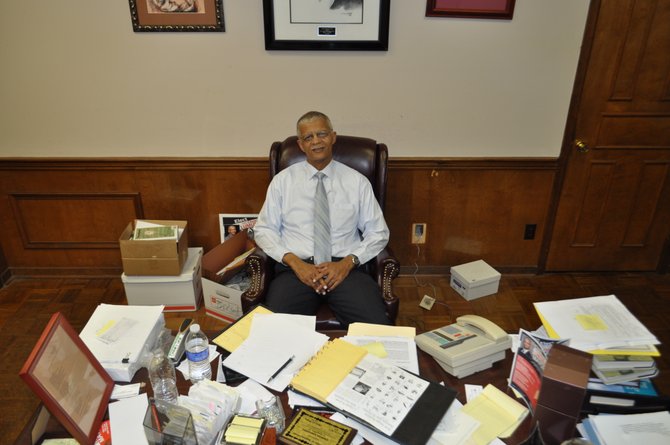 During his yearlong campaign, Mayor-elect Chokwe Lumumba did not tout big-box stores, movie theaters, waterfronts or Farish Street as the silver-bullet solution to economic development in the capital city.
Lumumba believes the real key to business growth is investment in people, not necessarily individual projects. His campaign website lists as top priorities broadening participation of Jackson residents in city contracting and business ownership, building cooperatives and growing "green" businesses. Other priorities include marketing Jackson nationally and internationally, infrastructure repair and developing such major corridors and districts as Highway 18 and Highway 80, Medgar Evers and, yes, Farish Street.
"First off, you have to put money into the pockets of the poor. You have to make them not poor," Lumumba told the Jackson Free Press during an April interview. "What that does is that creates a better economy for everybody."
Lumumba's economic philosophy is partly rooted in the cooperative economic principal known as ujamaa--familyhood in Swahili--espoused by Tanzania's first president, Julius Nyere. Nyere, a committed socialist, wrote of ujamaa in 1968: "The doctrine of self-reliance does not mean isolationism. For us, self-reliance is a positive affirmation that for our own development, we shall depend upon our own resources."
As Lumumba prepares to take the reins of the mayor's office, Jackson might be poised for growth. The capital city's 8.6 unemployment rate, while lower than the state's 9.1 percent average, remains above the rate of unemployment nationally. Jackson's population is also trending upward--albeit slowly.
But Lumumba, who rejects what he deems "rank capitalism," isn't calling for a municipal version of the nationalization of Jackson's existing economy but rather for ensuring the local citizens can enjoy the benefits of economic development in the city.
"I'm not about to make a declaration that we're going to seize all the businesses in Jackson and turn them over the people. That's not going to happen," Lumumba said.
"In fact, I don't have the power to do that. But what I am going to do, I'm going to say to businesses that come here and businesses that are here is that we're in Jackson, and 60 percent of your employees need to come from Jackson. I'm not talking about mom-and-pop businesses but businesses with substantial (numbers of) people."
Currently, the city has a goal of 8 to 12 percent African American participation in city contracts. It is unclear whether the mayor can impose quotas on business owners.
Another important component of Lumumba's economic roadmap comes from the Jackson Plan, written by the Malcolm X Grassroots Movement--which Lumumba co-founded--and calling for the development of a "solidarity economy." The Jackson Plan states: "Our conception of Solidarity Economy is inspired by the Mondragon Federation of Cooperative Enterprises based in the Basque region of Spain but also draws from the best practices and experiences of the Solidarity Economy and other alternative economic initiatives already in motion in Latin America and the United States."
Mondragon, which employs 83,869 people and generates 14.8 billion euros (about $19.6 billion) in revenues annually, is comprised of worker-owned cooperatives that includes insurance businesses, manufacturing of appliances, bicycles and office furniture, as well as construction and retail.
Lumumba is hopeful that the city can grow its summer jobs program, which employs about 500 teenagers each year.
"Look, people want to work. That's not the problem. We've got to put people in the position where they can work and get the skills that's necessary," Lumumba said.
"That's my economic transition. As we transition in Jackson, I want to be an influence on transitioning other parts of the state."
See Also:
More stories by this author
Support our reporting -- Follow the MFP.