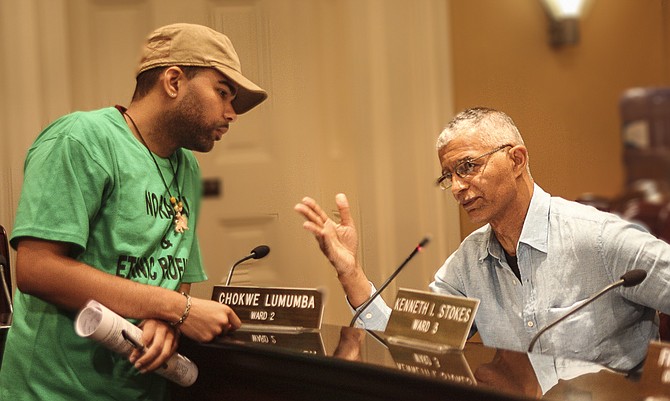 Nine months after Chokwe Lumumba's death while serving as Jackson mayor, a community center has opened and been named in his honor. Cooperation Jackson, an organization formed after Lumumba's death to promote the late mayor's vision of a grassroots solidarity economy, purchased the building at 939 West Capitol St. that formerly housed a daycare center.
Last night, the Chokwe Lumumba Center for Economic Democracy and Development opened to the public with its first public event: a town hall meeting about protests in Ferguson, Mo., sparked by the police killing of 18-year-old Mike Brown in August.
Panelists included several young organizing activists from Jackson—all of whom worked with Lumumba on his political campaigns or during his time as mayor—who participated in Ferguson protests and organizing efforts. The activists invited a Jackson Free Press reporter for their trip.
Brittany Gray, who quit a new job with a Jackson nonprofit to organize in Ferguson, called the protests "a beautiful thing" because of the number of poor and young folks for whom Ferguson was their first act of political engagement.
"The middle class has to join forces with poor people," she told the audience.
The panel is part of a two-year-long project to produce a documentary series called "The Myth of a Post Racial America" with Deep Dish TV and Jackson's Nubia Lumumba Arts and Culture Cooperative, which is named after Lumumba's late wife. The new center will serve as Cooperation Jackson's base and offer community meeting spaces, health and wellness programs, an organic community garden called Freedom Farms Cooperative and a cafe called Nubia's Place. The center is also raising money to renovate the building and install solar panels.
Chokwe A. Lumumba—a defense attorney, the former mayor's son and one of the candidates who campaigned to replace him this year—and his law partner C.J. Lawrence say their office has seen an uptick in prospective clients because of aggressive policing under way in west Jackson.
Echoing a point his father often made, Lumumba questioned the wisdom of responding to high crime rates—which is a result of chronic and intergenerational poverty—with more cops on the streets.
The forum took place ahead of the announcement from a St. Louis County grand jury that is weighing whether to bring criminal charges against Darren Wilson, the white Ferguson police officer who killed Mike Brown this summer. Earlier this week, a USA Today analysis of arrest trends in 70 American cities found that the arrest rate for African Americans is 10 times higher than people who are not black.
Adofo Minka, a Jackson attorney and native of north St. Louis County, provided a historical overview of St. Louis' public-housing policies that fueled a tense racial climate in Ferguson. In St. Louis, several poorly constructed and badly managed housing projects were eventually demolished and their residents were dispersed into the small, largely white municipalities just outside the city, including Ferguson.
Police often dealt with poorer, African American newcomers to the county with a heavy hand, which caused a divide between blacks and law enforcement. Minka believes a similar dynamic is brewing in his west Jackson neighborhood.
"I think the issue we have to look at is the larger issue (of) class, authority and social control," Minka said.
See the JFP's full archive of Ferguson coverage here.
More stories by this author
Support our reporting -- Follow the MFP.