Nine months after Chokwe Lumumba's death while serving as Jackson mayor, a community center has opened and been named in his honor. Cooperation Jackson, an organization formed after Lumumba's death to promote the late mayor's vision of a grassroots solidarity economy, purchased the building at 939 West Capitol Street that formerly housed a daycare center.
Stories this photo appears in: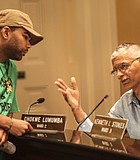 City & County
Last night, the Chokwe Lumumba Center for Economic Democracy and Development opened to the public with its first public event: a town hall meeting about protests in Ferguson, Mo. sparked ...