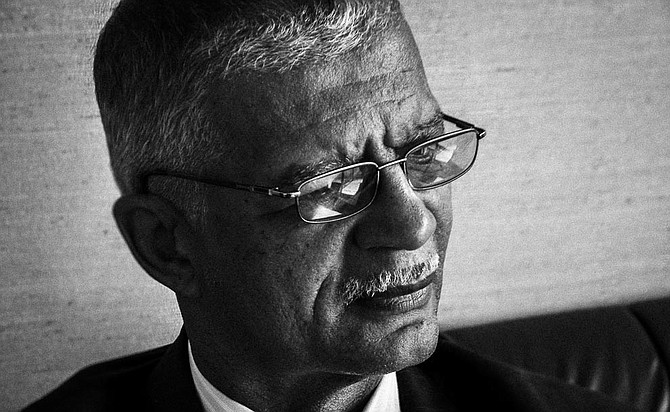 Akinyele Umoja first met Chokwe Lumumba in 1978. As founding members of the New Afrikan Peoples Organization and the Malcolm X Grassroots Movement, Umoja and Lumumba naturally shared a passion for the politics of the black-power movement. Their ideologies diverged on one big issue, however: basketball. A Los Angeles native, Umoja was a Laker fan; Lumumba, who grew up near Detroit, supported Motown teams, including the Pistons.
"He used to kid me that Magic Johnson was from Michigan, and that's why L.A. was so good," Umoja remembers.
One year ago, on the afternoon of Feb. 25, 2014, Lumumba passed away after less than a year serving as mayor of Jackson. Umoja, an author and chair of the African studies department at Georgia State University, performed the libation ceremony at Lumumba's funeral at the Jackson Convention Complex and says it's been difficult not being able to pick up the phone and talked to Lumumba.
The past year has also proved challenging for Lumumba's comrades, some of whom had settled in Jackson after he became mayor. At the time of his death, Lumumba was negotiating with Washington-based retailer Costco to relocate to Jackson, had shepherded the city through two tax increases—a 1-percent sales tax and, separately, a water-sewer rate hike—and was laying the groundwork to launch his economic vision.
With Chokwe A. Lumumba's unsuccessful bid to take his father's seat in City Hall, supporters of that solidarity economy formed an organization called Cooperation Jackson, which calls itself an emerging network of worker-owned cooperatives and has been acquiring property in west Jackson, including the site of the Chokwe Lumumba Center for Economic Democracy.
The center has hosted a number of events, including a soft opening in November with a panel discussion on the shooting death of Mike Brown in Ferguson, Mo., by a white police officer and the season of protests that sprang up following the deaths of several black men at the hands of policemen. Its grand opening will coincide with the one-year commemoration of Lumumba's death on Friday, Feb. 27.
Kali Akuno, a Cooperation Jackson organizer, said the Lumumba Center, located on West Capitol Street just west of Poindexter Park, serves as headquarters for Cooperation Jackson, a community space for events and programs as well as an incubator for cooperatives. It will also house the Nubia Lumumba Arts and Culture Cooperative, named in honor of the late mayor's wife.
Akuno, a former Lumumba mayoral aide, believes the timing is critical for such enterprises with what he calls a crisis in Jackson's waste management and public-infrastructure systems. Specifically, he points to a state-law change that will reduce the amount Jackson collects from a 1-percent sales tax for infrastructure, which he believes could have a domino effect and prevent the city from meeting the requirements of a U.S. EPA consent decree.
"I'm really concerned that Jackson may lose control of its water system at the end of the day. I haven't seen any serious plan from anyone that's shows how these additional revenues will (be supplemented) to deal with these problems," Akuno said, adding that Jackson's water system is a valuable prize, which, combined with sewer revenues is worth approximately $80 million in annual revenues.
Chokwe A. Lumumba says his father's death was a setback, but that grassroots organizing work has continued.
The Lumumba Center, he added, will also emphasize community-wealth building through connecting worker-owned coops and small businesses to the planned infrastructure upgrades, which city officials estimate will total close to $1 billion in the coming years.
The junior Lumumba acknowledges that the work would be easier if his father were still alive and serving as mayor, but he says Cooperation Jackson's work will not stop.
"The goal was never that the solution would come exclusively through electoral politics. The cooperation and support and local government goes a long way, but the work can't stop depending on who's in a particular office and who's not."
The grand opening of the Lumumba Center takes place Feb. 27 at 3 p.m. at 939 W. Capitol St. You can visit the site cooperationjackson.org for a schedule of events for Friday and Saturday.
More like this story
More stories by this author