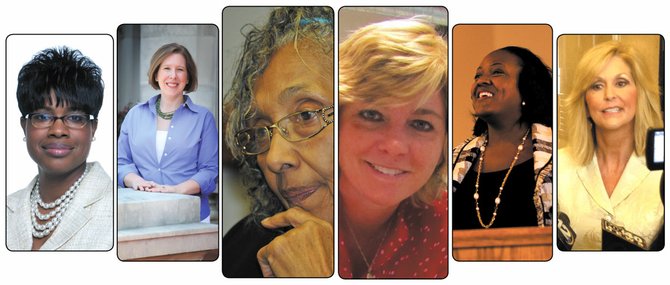 Alyce Clarke remembers her first day at the Mississippi Capitol. It was 1985, and Clarke was the first African American woman to serve in the state Legislature. 
When she asked where the women's rest room was, she was told the building had only one restroom for her.
She and her women colleagues eventually remedied the situation. But even with access to more facilities, in those days, women frequently had to make long treks to other parts of the building. Clarke said one of her colleagues would use a men's room if necessary, shouting "woman in the hall!" as she entered.
This year is Clarke's 27th year serving the people of Jackson in the House of Representatives. She declined to give her age, but her iron-gray and silver hair gives a hint. She walks slowly with a cane, but age isn't the problem: Clarke has been living with multiple sclerosis longer as she's been in office, about 30 years. She prefers to define the MS acronym as "magnificent spirit," and she believes her work keeps the worst of the debilitating disease at bay.
"That might just be one of the things that keep you alive," her doctor said when Clarke told him she was running for office.
For Clarke, her years in office are on a continuum of caring for people. She's the daughter of a teacher and a handyman who stressed the need for education in a world that was—and continues to be—harsh for women and people of color. Instead of allowing their daughter to run off to Chicago after high school, Clarke's parents insisted she go to college. She graduated from Alcorn State University in 1961, and went on to Tuskegee University for her master's degree.
Her degrees, in home economics and nutrition, might seem anachronistic, but for Clarke, they provided a laser-like focus into the issues women face: reproductive health, poverty, domestic violence, access to education and jobs, all complicated by race.
The political landscape might have shifted in Mississippi, but in 2012, women are still struggling with the same issues.
She Doesn't Run
Clarke believes that many of the problems women continue to face could be resolved if more women held elected positions, which stands at about 17 percent nationwide. Of 174 seats in the Mississippi Legislature, women hold 29—16.7 percent.
"If we had more women, I think our state and our nation would be a much better place," she said. "We take our time and really think about what it is that we're doing."
Some of her female colleagues in the Mississippi Legislature may not agree. Sen. Deborah Jeanne Dawkins said she frequently shoots from the hip.
"When I get pissed off, I tend to do something about it," Dawkins said. Being "pissed off" is what got her into politics in the first place with her only previous position was president of her local Parent Teacher Association. She never believed she would win.
"I thought to myself, 'I'll just go on and qualify, and then somebody else will jump in, and then I can help them,'" she said. "But once I was in there, I was in it."
It was a different kind of pissed off that got Flonzie Brown-Wright into politics. In 1963, she was in Biloxi, when she heard the news of NAACP field secretary Medgar Evers' assassination in Jackson.
"At this point, I knew I had to learn more about what was going on," she said.
Brown-Wright, now 70, began to attend civil-rights related events. Shortly after moving to Canton in 1964, Wright befriended civil-rights activist Annie Devine, who encouraged her new friend's interest.
In 1967, Devine convinced Brown-Wright to run for public office. The following year, she ran for and won the race for election commissioner in Madison County, becoming the first black woman in Mississippi to hold elected office.
Dawkins entered the Mississippi Senate in 2000. She bemoaned the fact that those in power, especially in Mississippi, don't even consider women for political office.
"[M]ost first-time candidates are groomed and encouraged," she said. "... In most instances, it's a bunch of rich old white guys deciding ... who will be their boy."
Men aren't always the reason for low numbers of women in politics. "Men Rule: The Continued Under-Representation of Women in U.S. Politics," a study released in January by the Women & Politics Institute at American University's School of Public Affairs, identified seven reasons that women don't run for office:
Women perceive the electoral environment as highly competitive and biased against female candidates.
Hillary Clinton and Sarah Palin's candidacies aggravated women's perceptions of gender bias in the electoral arena.
Women are less likely than men to think they are qualified to run for office.
Female potential candidates are less competitive, less confident and more risk averse than their male counterparts.
Women react more negatively than men to many aspects of modern campaigns.
Women are less likely to receive suggestions to run for office—from anyone.
Women are still responsible for the majority of childcare and household tasks.
The women who spoke to the Jackson Free Press confirmed the study's premises. But not one of them believed they were reason enough not to get politically active.
'An Imperfect Law'
Nothing gets people fired up quicker than attempts to take away their rights. Over the past several years, Republican politicians have introduced hundreds of bills proposing limitations to women's reproductive rights in the U.S. Congress and several state legislatures.
In this state, last year's personhood ballot initiative, which asked voters to declare that life begins at the moment of fertilization, lit a fire under many women, including Jackson computer programmer Atlee Breland and Oxford resident Cristen Hemmins, who helped stop the initiative from passing.
"All I set out to do was to put a little FAQ out on the Internet," Breland, a founder of Parents Against Personhood, said.
"... That was going to be my contribution to humanity. It turned out to be a little bigger than I bargained for."
Even before the United States granted women the right to vote in 1920, religious and morally upstanding folk outlawed birth control in America. The U.S. Supreme Court's Roe v. Wade decision in 1973 galvanized the forces opposed to abortion to wage a war to get the law overturned. Personhood is one salvo in their arsenal. At least six states and the U.S. House of Representatives have tried to pass Personhood bills, but beginning with Mississippi, not one has passed.
It's doubtful that anyone believed Mississippi voters—arguably the most conservative citizens in the most conservative state—would defeat the initiative, but that's what happened—by a vote of 58-42. The vote hasn't stopped some state lawmakers from attempting to bypass voters.
"I give them every credit for having sincere motivations. They feel that is what their religion calls for," Breland said. "Not everybody, and not every Christian, feels that way. We all have different judgments about what's acceptable. ... That's the core of the issue."
Personhood is also not only about religion, and as Hemmins said, "It's not about free dadgum birth control. It's about insurance companies covering medications that our doctors prescribe us," which includes oral contraceptives used to treat painful conditions such as endometriosis.
"I think people like (Gov.) Phil Bryant seriously think that voters were misled," said Hemmins, the mother of three. "... He personally said to me ... 'Well, I'm sorry about what happened to you, but that baby has every right to life that you do.' ... They don't respect our vote."
Heather McTeer, executive director of the Women's Institute for Excellence at Mississippi Valley State University, believes that women candidates must reframe the abortion issue into one of reproductive rights, taking some heat off the word "abortion," which is practically a curse word in this state.
Republicans' 55 Blows to Women
Republicans in the 112th Congress have been almost unanimous in voting against bills that would strengthen the wellbeing of American women and in voting for bills that would restrict women's rights. Here's how their votes break down:
11
Republicans voted 11 times to cut women's access to preventive care, including votes to repeal Affordable Care Act provisions that provide free preventive care for women and votes to eliminate the Prevention and Public Health Fund, used to support breastfeeding and immunizations and budgeted to pay for cancer screenings for hundreds of thousands of women in 2013 and beyond.
17
They voted 17 times to allow health-insurance companies to discriminate against women by charging women higher premiums than men or denying coverage based on "pre-existing conditions" like being pregnant.
10
They voted 10 times to restrict or roll back abortion rights or access to legal abortion, including votes to ban the use of federal funds to train medical students in the provision of abortions, votes to allow hospitals to deny emergency abortions to women's whose lives are in jeopardy, and votes to prohibit the District of Columbia from using local funds to pay for abortions.
7
Seven times, they voted to cut funding for key nutrition programs for women, including votes for significant cuts in the Supplemental Nutrition Program for Women, Infants, and Children (WIC) that provides nutrition, food counseling, and support for more than 9 million low-income pregnant women, new mothers, and infants each month.
3
Republicans blocked access to reproductive and maternal care services three times, including votes for a budget that prohibits funding of Planned Parenthood and eliminates funding for the Title X Family Planning Program, which provides family planning services for millions of low-income women every year.
6
They voted 6 times against protections for women from violence and discrimination, including votes against protecting the confidentiality of domestic violence victims, votes
to oppose additional funding for grants under the Violence Against Women Act and votes to place new restrictions on the citizenship rights of legal, foreign-born women who are victims of domestic violence.
3
They undermined Medicare and Medicaid programs three times, including votes to end the basic Medicare guarantee and votes to turn Medicaid into a block grant, slash $800 billion in existing federal support for state Medicaid programs, and repeal $640 billion of new Medicaid funding from the Affordable Care Act over the next 10 years.
14
They voted 14 times to weaken environmental laws that protect pregnant women, including votes to block EPA regulations that would protect pregnant women and women of childbearing age from exposure to mercury, a potent neurotoxin that poses particular risks to the brain and nervous system of unborn children.
SOURCE: "The Anti-Women Voting Record of The U.S. House of Representatives 112th Congress" by the U.S. House of Representatives Committee on Energy and Commerce, Minority Staff, September 2012
"It's talking about contraceptives; it's talking about decreasing the teen pregnancy rate; it's talking about how we save the taxpayer's money based upon being able to better help women define what are their own health needs," she said.
Clarke is concerned that the state's last abortion clinic may shut down because of a law passed last year requiring doctors to have hospital admitting privileges. That means even if a woman is a victim of rape or incest, she will be unable to get an abortion in the state. "I'm afraid that it will cause more people to do what women did years ago," she said, referring to dangerous self-induced abortions and resorting to back-alley hacks.
The legislator believes that recriminalizing abortion is misguided. "I've been trying to eliminate abortions ever since I got here with sex education," Clarke said. She sponsored the bill passed last year to allow abstinence-plus programs in schools. None of the women who fought for that legislation—including Clarke—believes it goes far enough.
"We're really happy that the law passed," Carol Penick, executive director of the Jackson-based Women's Fund, said cautiously. She added, "It's an imperfect law."
"(Teenagers) have all these misconceptions," she said, such as girl can't get pregnant if they're on top during sex, or that chlorine kills sperm, so sex in a hot tub is safe.
Among the changes Penick would like to see are making the program opt-out. Opting in is too easy for parents to ignore, she said. They can simply avoid making a decision and not deal with it. Opting out would require parents to make an active choice. She also wants to eliminate gender-separate classrooms that could strain an already under-resourced public-school system with three classes—one each for boys, girls and opt-outs. She said focusing on appropriate behavior—such as respecting "no"—is difficult in segregated classrooms. "Sex education ... should be about relationships," Penick said.
'Unexpected Excellence'
A conversation about women's rights is incomplete if it only focuses on reproductive rights. It must include equality issues, such as equal pay, and education and opportunity.
In 2004, when she was 27, McTeer became the first woman and the first African American mayor of Greenville, a position she held for eight years. In 2011, she ran for a spot in Congress in District 2. She lost that race to incumbent Rep. Bennie Thompson, but that hasn't stopped her activism.
Today, she has a law practice and an educational consulting business for women's issues, in addition to her work at Mississippi Valley. The Institute for Excellence is the brainchild of the university's president, Donna H. Oliver, and focuses on leadership development and skills training for female students, preparing them for work.
"They have a lot of challenges," McTeer said. "We take it for granted that they know certain things, such as how to dress for an interview. There is a basic level of training we have to do."

She said the program promotes putting unlikely women in leadership positions. The theme this year is "Unexpected Excellence."
"We look for the young ladies who aren't part of every organization," she said of the multi-ethic group, many of whom have backgrounds of poverty. She strives to give them the "nuts and bolts" of the workplace, including understanding how the media portrays women and how others may see them.
Equality issues are about basic human rights for many women McTeer counsels.
"It's very difficult for a woman in the Mississippi Delta to talk about equal pay when they don't have a job in the first place. The jobs that are available, either they're not properly trained for, or they're not aware of, or they can't make the link to it" in other ways, she said. "... People want to talk to them about 'you should be getting paid the same as your male counterparts,' and they're saying: 'Look. Just let me get paid. Give me something just to get a check.'"
Politicians often overlook poverty when it comes to women's rights. In the U.S., where 15.9 percent of all people lived in poverty in 2011, women and children top the statistics. Mississippi's rate of poverty is even higher: Recent statistics from the U.S. Census show that one in every four Mississippians live in poverty—more than 744,000 people.
Single motherhood is the most significant predictor of future poverty, said Marianne Hill, senior economist at the Center for Policy Research and Planning for the Mississippi Institutions of Higher Learning. In 2010, 42 percent of working mothers were the only job holder in the family in the state.
Several factors play into poverty for woman with children, including a lack of policies for maternity and family leave, and few options for affordable, quality child care.
"If you look at the history of poverty ... the people who are always the poorest are single women with kids," said Janice Brockley, associate professor of history at Jackson State University. "This nation, for whatever reason, has always been very reluctant to invest for providing services and support for those women compared to other countries."
Equal pay for equal work also remains elusive. "The pay gap is real," wrote Linda D. Hallman, executive director of the American Association of University Women, a Washington, D.C.-based non-partisan advocate group, in "The Simple Truth About the Gender Pay Gap," an AAUW report published this year.
"[W]omen working full time in the United States typically earned just 77 percent of what men earned, a gap of 23 percent" in 2011, the report states.
In Mississippi, that gap was slightly larger: Women earned 73 percent of what men earned, putting the gap at 27 percent.
"I can't believe that we still have jobs where men make more than women," Clarke said, but that's the reality.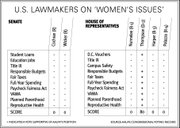 'Which is More Important?'
For consultants in the private-prison industry, the numbers of children who aren't making it by third grade become the predictor for how many more cells prisons will need in the next 10 years.
Experts say that pre-K education, starting with children at age 3, can break cycles of poverty and crime. Yet, Mississippi is one of 11 states without a public program.
"We don't have enough money (for pre-K education)," Clarke said, "but we have enough to incarcerate them."
"We can't afford a lot of things, yet (lawmakers) still find a way to put the money into (them)," Rep. Adrienne Wooten, D-Hinds and Rankin, said. "It's called prioritizing." Wooten, 38 and a lawyer, has been in the Mississippi House for five years.

"Is it more important to try to deter crime by investing more into our educational system so that we don't have to keep pumping money into the prison system?" she asked. "Which is more important?"
State Treasurer Lynn Fitch, a Republican from Holly Springs, agrees, and she intends to make a difference in the area. "Education is key" to the health of our economy, she said. "Those children become our workforce." She also wants to introduce financial literacy classes to schools.
Voters elected Fitch and Commissioner of Agriculture and Commerce Cindy Hyde-Smith last year in surprising victories over GOP men considered the front runners. They are the third and fourth Mississippi women to hold statewide office.
Sh*t Politicians Say (About Women)
Regarding pregnancy from rape:
"If it's a legitimate rape, the female body has ways to try to shut that whole thing down."
—Rep. Todd Akin (R-Mo.)
"The facts show that people who are raped—who are truly raped—the juices don't flow, the body functions don't work and they don't get pregnant. Medical authorities agree that this is a rarity, if ever."
—Former Rep. Henry Aldridge (R-N.C.)
"I would hope that when a woman goes into a physician with a rape issue, that that physician will indeed ask her about perhaps her marriage, was this pregnancy caused by normal relations in a marriage, or was it truly caused by a rape."
—Republican Idaho state Sen. Chuck Winder
"I just haven't heard of that being a circumstance that's been brought to me in any personal way, and I'd be open to discussion about that subject matter."
—Rep. Steve King (R-Iowa) on never hearing of a rape-induced pregnancy before
That short list contains former lieutenant governors Evelyn Gandy (1976 to 1980) and Amy Tuck (2000 to 2008).
Sen. Dawkins is drafting a pre-K bill for next year's legislative session. She's under no illusions. Her opponents will say there's no money for it, but she'll propose it anyway. "The infrastructure is already in place, so it won't cost that much," she said.
Rep. Clarke is exploring a state lottery supplement the state's education resources. "A number of states take (lottery) money and send the kids to college," she said, and challenges anyone to go to Louisiana and count the Mississippi license plates at businesses selling tickets. "Mississippians are playing the lottery; we're just not getting the money."
McTeer tossed out this statistic: For every $1 states put into early childhood education, they save $7 in prison and social benefit costs. But education must also deal with the current situation of teen motherhood.
"Very few of us who are focusing on the teenaged mother to train her and teach her what she needs to do to ensure (her) child's success early on in life." Part of her work through her church is teaching young mothers what they should be doing for their kids from birth to age 3.
'Do It!'
Voters may challenge women entering politics in ways that they won't confront men. That includes questioning a woman's competency, questioning her personal and family relations, and asking questions they would never ask men, such as "Who's taking care of your kids?"
McTeer advocates solid preparation. "People will question everything," she said.
"There are people who still think that there are certain positions that women just aren't ready for in Mississippi," she said. McTeer recalled a comment an older woman made during her congressional race.
"It's supposed to be congressmen, not congresswomen," the woman said.
Sh*t Politicians Say About PLANNED PARENTHOOD
"This is an organization that has protected those who prey on our children and has protected those who have raped our granddaughters."
—Rep Alan Nunnelee (R-Miss.)
"These Planned Parenthood women, the Code Pink women, and all of these women have been neutering American men and bringing us to the point of this incredible weakness. ... We are not going to have our men become subservient."
—Rep. Allen West (R-Fla.)
Abortions make up "well over 90 percent of what Planned Parenthood does."
—Sen. Jon Kyl (R-Ariz
(Editor's Note: 3 precent of Planned Parenthood's services are abortions.)
"My response to her was 'I hope that one day, when your granddaughter or your daughter is in a position, that you'll be able to call her congresswoman, and it'll be OK," McTeer said.
During her campaigns, McTeer held round-tables, "kitchen cabinets," where she would get "all of the hard questions" thrown at her from people she trusted. Her training as an attorney made those sessions a natural part of her research. "It's got to be intense; it's got to be real," she said.
The work paid off during public forums. "I never lost my cool," she said. "I never lost respect for (my opponents) or myself."
McTeer also spoke to the issue of campaign funding. Parties generally won't provide funds in primary races, but she said that if a woman has built good connections, she'll be more than able to raise funds.

"A lot of it comes from the candidate actually getting on the ground going and talking to people and making those relationships. ... It really takes a lot of ground work. ... Women cannot be afraid of going and having the meetings and building the relationships and selling themselves as the candidates. ... You have to over and over and over again."
Rep. Wooten takes her lawyerly training for preparation onto the floor of the House.
"I'm a young black woman. So all of those categories, people would say, 'wrong, wrong, wrong.'"
"I'm very outspoken, and I think I have just as much intelligence as those men folk who sit on the floor," Wooten continued.
"Trust me: You will be challenged. (It's) part of the process that you will have men folk stand up and question you. If you know your information well enough, then you don't have anything to be concerned about. ... There's no such thing as fear for me."
Fitch, like other women in this story, wouldn't have run without her family's unanimous support. "Running for office was one of the hardest things I've ever done in my life but certainly the most blessed," she said.
"You can't run for office without having several things intact," she said. Fitch said her faith was most important in her successful first run, followed by her family and a strong support network. "Be prepared to give 
110 percent of yourself as you go through the process of running for that position."
Sh*t Politicians Say (About Women)
General WTF-ery:
"Women are best suited for secretarial work, decorating cakes and counter sales, like selling lingerie."
—Larry Koon, S.C. state representative
"Put yourself in the father's situation. Yes, it is similar."
—GOP Pennsylvania Senate hopeful Tom Smith, comparing pregnancy from rape to having a baby out of wedlock.
"One of the things I will talk about ... is, I think, the dangers of contraception in this country. ... Many of the Christian faith have said, well, that's OK; contraception is OK. It's not OK. It's a license to do things in a sexual realm that is counter to how things are supposed to be."
—Rick Santorum, former Pennsylvania senator and former presidential hopeful
"The notion that college education is a cost-effective way to help poor, low-skill, unmarried mothers with high school diplomas or GEDs
move up the economic ladder is
just wrong."
—From former Republican presidential hopeful Rick Santorum's book, "It Takes a Family: Conservatism and the Common Good"
"Radical feminists have been making the pitch that justice demands that men and women be given an equal opportunity to make it to the top in the workplace."
—From former Republican presidential hopeful Rick Santorum's book, "It Takes a Family: Conservatism and the Common Good."
Sen. Dawkins highly recommended women read "Who Runs for the Legislature?" by Gary F. Moncrief, Peverill Squire and Malcolm E. Jewell (Prentice Hall, 2000, various prices online), which she says is full of practical advice.
"We politicians sign up to take a certain amount of abuse," she said. On the other hand, "It ain't rocket science."
Penick said that women mistakenly believe they have to have mountains of education and experience to run, adding that men don't have those kinds of concerns. It's simple, she said: "We need (women) to get angry. We need them to get active."
"Do it! Do it! Do it!" was McTeer's enthusiastic advice. Women can kindle passion for others. "Women have to see other women who can stand fearlessly, unafraid, intelligently and boldly, and declare, 'This is who I am, and this is who I stand for, and I'm standing for you and your daughters and our grandmothers—and our sons and our brothers and our fathers.' ... That's what Fannie Lou Hamer did, and Unita Blackwell and Shirley Chisholm—that's what they did.
"They did it in the face of knowing that there was no way in God's green earth, that they may or may not be successful, but the statements that they made and the lives that they changed, just by them standing and showing that they were fearless, that's what we've got to get back to."
Running the World
Clarke's voice is soft. To hear her clearly, a listener might have to lean in. It's not a sign of weakness. And although she says her foray into politics wasn't her idea, she hasn't been shy about leaving her mark on the Mississippi Legislature.
Among her many accomplishments, she counts youth courts, "where you sentence people to treatment instead of prison," bringing the federally funded WIC health and nutrition program (Women, Infants and Children) to the state and bringing the International Baccalaureate program to Jackson's Jim Hill High School. She hopes the program can have students enter college as sophomores.
Would she do it all again?
"I would have started younger to get a few more things accomplished," she said.
Clark's calm nature belies an unshakeable belief in the power of women.
"The truth is," she said, "women run the world, but (men) just don't know it."
More stories by this author
Support our reporting -- Follow the MFP.