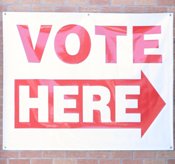 Valencia Robinson, founder and executive director of Mississippi in Action, an advocacy group, sat at a table in the front of the room and riffled through brochures and printouts from the American Civil Liberties Union, the Mississippi Department of Public Safety and the Mississippi Secretary of State's office, trying to sort out the requirements of the voter identification initiative that passed last week.
She and about five other people met last night to start an effort called Operation ID to make sure people who do not currently have government-issued photo identification can vote in the next election.
They have their work cut out for them. Their goal is to educate people about how to get an ID in the Jackson area as well as in the Delta and other areas of the state. They also want to help people register to vote and tell people about the importance of voting in general.
Although the initiative provides funding for free voter IDs for people who need them, the Legislature must work out the details of how people can get them. The U.S. Department of Justice must also approve any changes to voting laws in Mississippi before they can go into effect. In some other states, voter ID laws have also faced legal challenges. Operation ID supporters say they can't afford to wait for the legal system to work things out with the 2012 presidential elections looming.
"I'm trying to make sure people don't miss the opportunity," Robinson said. "If people have to pay for it (now), they have to pay for it. ... I don't want to wait until July."
Ruby Gray, who was at the meeting, said even when free IDs are available people will have to be nudged to go and get them. No one is quite sure how the Legislature will interpret the initiative, and Robinson said she doesn't want people to get frustrated with figuring out the requirements for getting a free ID and give up.
"We want to be proactive instead of reactive," she said.
Robinson is especially eager to get people their IDs quickly because she is not sure whether the new requirements will be in effect for the March 13 primary elections.
People will also need to know that the initiative allows people without ID to cast an affidavit ballot at the polls, but then they must bring identification to the circuit clerk's office within five days for their vote to be counted.
"There's going to be a lot of ballots cast and a lot of ballots thrown out," Gray said.
Operation ID is planning community events to register voters and tell them about the upcoming ID requirements and will announce the details soon.
Previous Comments
ID

165424

Comment

This is all so STUPID. With all of the cuts in programs, a state (MS) that continues to be on the bottom of all negative categories, has the nerve to pass a law that will cost the State even more money. It is my understanding that if Voter ID became law, the State would have to issue it free. An elderly couple was on TV this am. They were from Wisconsin and talked about the long lines and the problems they had trying to get s State ID. This is only another attempt to suppress voting for a select group of folks. With having a Republican Gov., Lt. Gov. House, and Senate, there isn't a need for any other tricks. MS is screwed!

Author

justjess

Date

2011-11-17T19:01:01-06:00
ID

165427

Comment

Thanks MS In Action for being pro-active. I agree we might be screwed, but now we just got to work harder to prevent this "con" from playing out in their favor.

Author

833WMaple

Date

2011-11-18T10:05:01-06:00
More like this story
More stories by this author