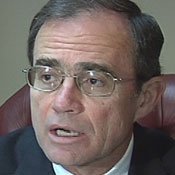 Mississippi Secretary of State Delbert Hosemann announced yesterday that his office will be "proactive" and distribute free voter ID cards to anyone who does not have the proper identification. But his office does not yet have a vendor in place to make the cards or know how much they're going to cost the taxpayers.
"Our office is taking a proactive, rather than reactive, approach to the constitutional change," Hosemann said in a statement. "We are hoping to find as many people as possible who need a voter ID while we are awaiting approval. We can then expedite the process for getting them the proper identification later."
Spokeswoman Pamela Weaver of the secretary of state's office said this morning that her office currently has no vendor in place to manufacture the free ID cards and, thus, cannot know how much the voter ID cards will cost.
The Jackson Free Press reported earlier that the U.S. Supreme Court has, to date, only upheld voter ID laws if states passing them provide free photo IDs to those who do not have one. According to the Brennan Center for Justice at the New York University School of Law, courts have held that requiring citizens to purchase their IDs is an unconstitutional poll tax.
Mississippi's new initiative, passed last November, mandates that the state will provide free photo IDs to those who don't have one and cannot afford to buy one. State ID cards currently are $14, and they cost $17.92 to manufacture.
The state's voter ID initiative stated that providing free IDs could cost up to $100,000, depending on how many people requested one. It would not be a one-time cost because the state would have to continue providing IDs to new voters that need them.
The secretary of state's office says the following IDs will be acceptable for voting under the new law:
• A current and valid Mississippi driver's license
• A current and valid ID card issued by a branch, department, agency or entity of the State of Mississippi
• A current and valid United States passport
• A current and valid employee ID card containing a photograph of the voter and issued by any branch, department, agency or entity of the United States government, the State of Mississippi or any county, municipality, board, authority, other entity of the State
• A current and valid Mississippi firearms license to carry a pistol or revolver
• A United States military ID
• A valid tribal photo ID
• A student photo ID issued by a Mississippi university, college, of community college
Section 5 of the Voting Rights Act of 1965 requires the U.S. Department of Justice to approve any voting policy changes in states with a history of voting rights discrimination, such as the poll taxes and literacy tests this state used to require.
The Northeast Mississippi Daily Journal reported that the state will have to put cameras in all 82 county courthouses to monitor the distribution of the free voter IDs. The Legislature would have to set aside funds to buy these cameras; however, lawmakers did not approve funds for the cameras during the 2012 session.
If the Department of Justice approves voter ID for the state, Mississippi will become the sixth to approve what the National Conference of State Legislatures calls "strict photo ID," which means that voters must have a photo ID in order to vote. Other states that have this requirement are Georgia, Pennsylvania, Tennessee, Kansas and Indiana.
South Carolina and Texas have voted on similar laws, but the Justice Department blocked them because they would reduce voter turnout among minority voters.
Under Mississippi's new law, a voter who shows up to the polls without ID will be allowed to fill out an affidavit ballot that will only be counted if the voter returns to the circuit clerk within five days after the election with the proper identification. For those whose religion prevents them from taking a photo, they may follow the same procedure but bring the circuit clerk proof that their religion prevents them from taking a photo.
Hosemann's statement said that office voters who need voter ID will not have to provide any information other than what is on the form on the http://www.MSVoterID.ms.gov website. Voters can also call 1-855-868-3745 or send an email to [e-mail missing]. If you prefer to mail your request, send it to P.O. Box 136 Jackson, MS, 39201.
For more information, see past Jackson Free Press stories on voter ID, including Putting a Price Tag on Voter ID, Voter ID: Excessive Regulation? And Voting Long Under Fire.
Additional reporting by Elizabeth Waibel.
Previous Comments
ID

167942

Comment

So, if it costs $17.92 to make an ID, but only $14 to buy, then the state's losing money! It's amazing how conservatives, when always seeming to cut the cost and size of government, doesn't let something like this get in the way to further their agenda.

Author

golden eagle

Date

2012-06-19T15:19:09-06:00
ID

167943

Comment

Eagle, you can't put the price on the integrity of an election, can you?

Author

RobbieR

Date

2012-06-19T16:25:59-06:00
More stories by this author
Support our reporting -- Follow the MFP.