Recent Commentary
Justice
Gov. Haley Barbour did the right thing by lobbying for a civil-rights museum.
Suddenly, the big cat began moving toward me, slowly at first, then faster...
Justice
Growing up in the Delta, I learned that bullies were a dime a dozen.
When Gov. Haley Barbour came out in favor of merging Mississippi University for Women with Mississippi State University, I was ecstatic.
Politics
A word of warning: If you don't want to know who's going to win the presidential election, don't read further.
Politics
The weekend after the Texas debate, I saw Hillary Clinton on television losing her cool over Barack Obama's criticism of her health-care plan. I don't think that I will ever ...
Mackey Wright was on his way to Toys R Us on County Line Road, where he planned to shop for a Christmas present for his son, when he saw something ...
I was talking to a friend the other day, and he asked me why Mississippians are always on the wrong side of every issue.
For a long time, I wanted to ask President Bush why, if the Dixie Chicks knew there were no weapons of mass destruction in Iraq, he couldn't figure it out ...
Earlier this month, President Bush signed into law revisions to the 1978 Foreign Intelligence Surveillance Act. It gives the Bush administration new power to screen your e-mails and listen in ...
Recent Stories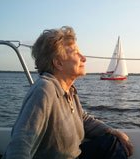 Media
When I entered the classroom at Millsaps College, where I teach a continuing education course for writers, there was a bright-eyed student seated at the table, notebook opened and ready. ...
Books
When I read the subtitle of this book—"Blues Tourism and the Mississippi Delta"—I thought it looked to be a winner. A book that offers pointers on blues promotion is greatly ...
Books
Everyone is probably familiar with Mississippi's historical role in the creation of blues, rock 'n' roll and country music. Without that incredible history, "American Idol" would be limited to contestants ...
Books
You've probably never heard of Daniel Lanois, but you've certainly heard his work. He has quite an impressive resumé: producer of CDs recorded by Bob Dylan, the Neville Brothers, Emmylou ...
Books
Tom Sancton has had an interesting career as a journalist. He is a former Time magazine reporter and editor, contributor to Vanity Fair, Fortune, and Newsweek, and author of a ...
Books
Lincoln "Chips" Moman is one of the most successful record producers in history. A music visionary with a knack for matching songs with artists, he was the genius behind Elvis ...
Music
I first met Jim Dickinson in the mid-1980s, when I was writing editorials about the Memphis music industry for The Commercial Appeal in an effort to revitalize the local music ...
Culture
Right off, I have to admit that Harry Truman is one of my favorite presidents.