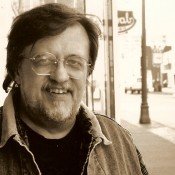 I first met Jim Dickinson in the mid-1980s, when I was writing editorials about the Memphis music industry for The Commercial Appeal in an effort to revitalize the local music scene, which had fallen on hard times since the demise of Stax Records.
From the moment he stepped into my office, Jim impressed me as someone to be reckoned with. He was irreverent, opinionated, and prone to exaggeration, but those are qualities any self-respecting writer reveres in an interviewee.
When I suggested to Jim that Memphis music was dead, he quickly objected: "Oh, no, it's not dead. It's alive everywhere on Earth but here. Here it's at home watching television."
"The Memphis Sound was produced by a handful of men in a dark studio in the middle of the night," he added. "It wasn't produced by committees, bankers or disk jockeys ... It is a thankless, unrewarding business until you get a hit and then it all changes."
By the mid-1980s, Jim already had a track record as a successful musician. He had performed with the heralded Dixie Flyers in the 1970s and collaborated on movie soundtracks such as "Paris, Texas" and "The Border."
Jim's biggest break came in 1971 when he rode to Muscle Shoals, Ala., with writer Stanley Booth to observe a Rolling Stones recording session. While the Stones were arranging "Wild Horses," Jim sat at an ancient piano in the back of the studio and started playing along with the music. Keith Richards and Mick Jagger were impressed. They asked him to play on the record. It was a serendipitous event that launched Jim's music career. Prior to that fateful day, he had studied drama at Baylor University and was giving serious thought to becoming a history teacher.
After that first meeting at the newspaper, we became friends and I turned to him whenever I wanted a thoughtful opinion on the disheveled state of music, most notably for my 100-year history of Memphis music, "Goin' Back to Memphis." The running joke that we had with each other was that we each received the other person's death threats because of the similarity of our names. Those threatening conversations usually ended apologetically with, "Sorry, man. Thought you were someone else!"
We laughed. But not without glancing over our shoulders. Memphis had made some beautiful music, but its reputation for most of the 20th Century was as the "murder capital of America." Paraphrasing bluesman Sleepy John Estes, Jim called the city "the center of all evil in the known universe." Maybe that was why he made his home in Mississippi and commuted to Memphis whenever he had a paying gig.
Jim's musical talents on the piano were considerable, but his greatest contribution to music was as a record producer. He produced the third—and final—Big Star album, and he produced a memorable album with the Replacements. Some would say that two of his finest productions were his sons Luther and Cody Dickinson, two thirds of the Grammy-nominated North Mississippi Allstars.
In recent years, he carved a niche for himself as a member of the Yalobushwackers on "Thacker Mountain Radio," which was broadcast live each week from Oxford and rebroadcast on Mississippi Public Radio.
I once wrote that Jim was a walking motion picture: "Images flicker on him like old-fashioned drive-in movie theaters. You can see him coming a half block away because of that iridescent glow. Voices emerge from his coat sleeve, his shoes, his hat. I think Jim has probably absorbed every image, every sound, he has ever come in contact with."
Jim passed away Saturday of complications following heart surgery at age 67. I'll miss not having a go-to man for comments on Memphis music. And I'll miss not having someone to laugh with about the politics of making music. But more than that I'll miss his music. Jim's comments about Memphis music reflect my own feelings about his unique contribution to American music.
"I think you can feel [it] when it's there," he once said about the city's music. "I'm not sure you can define it, but you can certainly hear it and feel it."
So it is with his music. Jim's gone, but his work endures.
More stories by this author
Support our reporting -- Become a JFP VIP.
The news business has changed dramatically in the past two years, and we need your help more than ever to keep bringing you important stories about Jackson and the Metro. Become a JFP VIP with an annual membership or you can Sign up as a monthly supporter. Thanks for anything you can do to empower our journalism!