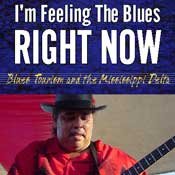 When I read the subtitle of this book—"Blues Tourism and the Mississippi Delta"—I thought it looked to be a winner. A book that offers pointers on blues promotion is greatly needed.
Imagine my surprise when I began reading "I'm Feeling the Blues Right Now" by Stephen A. King (University Press of Mississippi, 2011, $55) and discovered that it is an attack on the history of blues and its promoters and not how to get out the word on one of Mississippi's great treasures.
Among the author's positions:
The blues did not originate in Mississippi. "One of the most enduring and ubiquitous blues myths is the origin story: The Mississippi Delta (or alternatively, Mississippi) is the home or birthplace of the blues," writes King, a communications and drama professor at Delta State University and not a music authority. He trashes Mississippi as the home of the blues, suggesting that perhaps it originated in the midwest or Georgia, though he is not really sure where.
Blues clubs such as Clarksdale's Ground Zero are not authentic. Ground Zero, which is owned by Morgan Freeman and Clarksdale attorney Bill Luckett, has "hoodwinked some observers into believing that the club is actually an authentic juke joint," King writes. He is dismissive of the nightclub, declaring it to be inauthentic because it does not resemble the shanty nightclubs of previous generations. It is a romanticized view of juke joints. Would the author have Mississippi blacks return to life in a cotton field because it is more "authentic " than life in a tree-lined subdivision? If so, he won't get many volunteers.
Racial reconciliation should be linked to promotion of the blues. "Some of the current rhetorical strategies and practices, I suggest, may actually be counterproductive, perpetuating the social and political inequities that still characterize the lives of many black Mississippians," King writes. To my way of thinking, linking the blues with racial reconciliation suggests that the music cannot stand on its own as an original art form. If King knew more about the state, he would understand that racial reconciliation will only come through politics and economics. Holding the blues hostage is a bad idea that would be harmful to the art.
This book resembles a WWF grudge match more than it does a serious look at blues tourism. For me, "the thrill is gone" for this book. But maybe for you, "it ain't no big deal."
James L. Dickerson is author of the award-winning "Mojo Triangle: Birthplace of Country, Blues, Jazz and Rock 'n' Roll" and co-author of "Devil's Sanctuary: An Eyewitness History of Mississippi Hate Crimes."
More stories by this author
Support our reporting -- Follow the MFP.