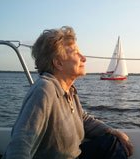 Media
When I entered the classroom at Millsaps College, where I teach a continuing education course for writers, there was a bright-eyed student seated at the table, notebook opened and ready. ...
Books
When I read the subtitle of this book—"Blues Tourism and the Mississippi Delta"—I thought it looked to be a winner. A book that offers pointers on blues promotion is greatly ...
Books
Everyone is probably familiar with Mississippi's historical role in the creation of blues, rock 'n' roll and country music. Without that incredible history, "American Idol" would be limited to contestants ...
Books
You've probably never heard of Daniel Lanois, but you've certainly heard his work. He has quite an impressive resumé: producer of CDs recorded by Bob Dylan, the Neville Brothers, Emmylou ...
Books
Tom Sancton has had an interesting career as a journalist. He is a former Time magazine reporter and editor, contributor to Vanity Fair, Fortune, and Newsweek, and author of a ...
Books
Lincoln "Chips" Moman is one of the most successful record producers in history. A music visionary with a knack for matching songs with artists, he was the genius behind Elvis ...
Music
I first met Jim Dickinson in the mid-1980s, when I was writing editorials about the Memphis music industry for The Commercial Appeal in an effort to revitalize the local music ...
Culture
Right off, I have to admit that Harry Truman is one of my favorite presidents.