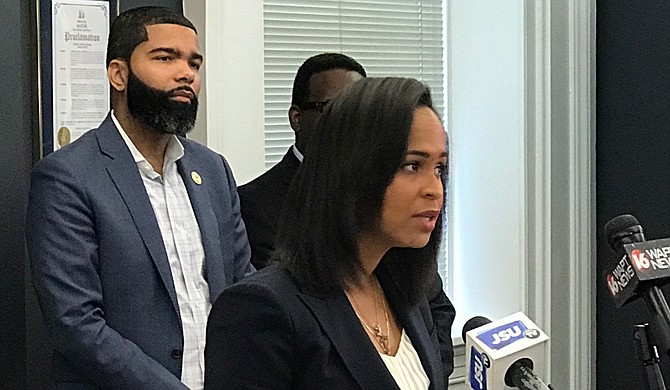 JACKSON — In efforts to put an end to rumors that Mayor Chokwe Antar Lumumba had been slowing down interlocal agreements between the City and the Hinds County Board of Supervisors, the mayor's office hosted a press conference at City Hall on Wednesday, July 11, where it announced a new committee to iron out this process moving forward.
"I want to assure everyone that I do not have a stack of interlocal agreements sitting my desk, and that I'm refusing to sign them, as it has been suggested by some," the mayor said. "That claim could not be further from the truth, and, unfortunately, it has been a ploy by some to gain political points."
Newly minted communications manager Candice Cole held up a highlighted spreadsheet of 42 interlocal agreements, most of which predate the Lumumba administration, she said. Of those, only 11 have come to fruition in the last year, and the mayor signed approximately five. The master list of interlocal agreements has not been made public yet.
In April, the City Council approved an interlocal agreement with the Hinds County Board of Supervisors to make up to $250,000 worth of improvements on Cabaniss Circle. In May, the council approved two interlocal agreements for bridges on Raymond Road and Henderson Road. At the most recent council meeting on July 3, members approved an agreement to release two years of funding to the devastated Jackson Zoo.
"If we take history into account, even with this efficient process, we're working at a faster pace than has historically taken place since we have seen 42 (interlocal agreements) that have started since 2016," the mayor said. "And if I'm at a pace of five of 11 within a year, then I'm working pretty quickly, but I am not satisfied with the process as it stands."
Chief Administrative Officer Robert Blaine said there is currently no collaborative process to deal with interlocal agreements, so the City wants to bring together a standing four-person project-development committee with a public-works representative from both Hinds County and the City, and a representative from each entity's legal department to survey the viability of each project ahead of time.
Part of the holdup with interlocal agreements, especially those that pertain to paving roads, is the City's 2009 consent decree with the U.S. Department of Justice following a lawsuit brought against public transportation system JATRAN by disabled citizens who complained that the city wasn't in compliance with the Americans With Disabilities Act.
The consent decree involves sidewalk repairs or putting new ones in all together. As the City said in a statement in May 2018, it has to assure that paving projects are in compliance with regards to sidewalks and curbs. This can delay even well-intentioned paving projects the county wants to fund.
Blaine also explained how the workflow could change. After the proposed committee evaluates the feasibility of a project, it would go to the board of supervisors for a vote. If it passes there, it would then go to the City's legal department, and attorneys would notify the county when they got said documents. The city attorney's office would then send the agreement to public works for a final review before it goes onto the city council's agenda. After the council vote, city clerks have to review the minutes and the votes before it goes to the mayor's office for signature. Then the agreement goes back to the county, and finally, to the attorney general's office.
"From that point, it is out of our hands," Blaine said.
The "misinformation" around the topic, as Cole characterized it, followed a May interview between Hinds County Supervisor Robert Graham and WJTV in which he said he had 23 streets ready for paving in Jackson, and also private contractors waiting to execute the work. Graham said then that he was frustrated that Lumumba had not signed any interlocal agreements.
At the June 5 council meeting, members discussed how to improve interlocal agreements moving forward, and Lumumba hinted that his office was working on a template process. Ward 7 Councilwoman Virgi Lindsay co-signed the mayor's comments that getting a finished product takes a lot of confusing steps.
Yesterday, the mayor said he cannot just make decisions like he is the "king," but that it does bring him joy to sign any documents authorizing pavement in Jackson—so he repeated there are no approved agreements in limbo.
"There is not one interlocal agreement in the mayor's office that is sitting on my desk or anyone else's desk," he said. "We have asked all the king's horsemen and all the king's men, and have seen no interlocal agreements again."
Email city reporter Ko Bragg at [email protected].
Support our reporting -- Follow the MFP.