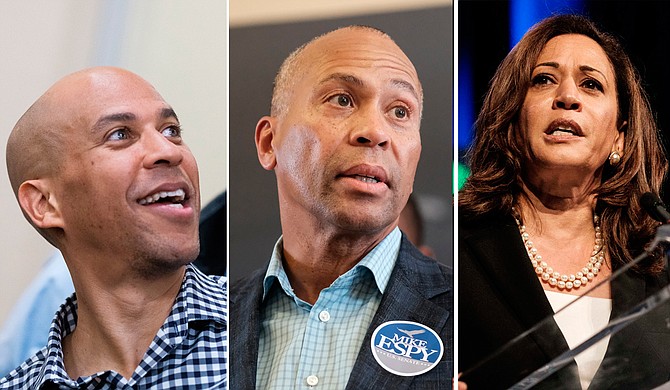 JACKSON — Former Massachusetts Gov. Deval Patrick was among potential Democratic presidential candidates who recently campaigned for Mike Espy in Mississippi, but now says he will not run, even as others who visited seem to be moving toward a candidacy.
On his visit here in September, Patrick was noncommittal when this reporter asked if he planned to run. Politico reported Patrick's decision Wednesday morning.
Patrick had been considered a likely 2020 contender for the Democratic nomination, and allies of President Barack Obama urged him to consider it, but he called allies in recent days to let them know he has decided against it, the report says.
He plans to hold off on making an official announcement until after former President George H.W. Bush's funeral services. Bush died Friday at age 94, and funeral services are scheduled for Wednesday in Washington, D.C., and Thursday in Texas.
In September, Patrick said he was worried it would be hard to gain traction if he ran in 2020.
"It's hard to see how you even get noticed in such a big, broad field without being shrill, sensational, or a celebrity—and I'm none of those things, and I'm never going to be any of those things," he told former Obama adviser David Axelrod on a podcast.
Biden Touts Experience; O'Rourke Shows Fundraising Prowess
Patrick's decision helps narrow down what is expected to be a broad field of candidates ranging from governors, to senators, to business leaders. Among the candidates considering runs are former Vice President Joe Biden and two of Patrick's fellow Massachusetts leaders: U.S. Sen. Elizabeth Warren and former U.S. Sec. of State John Kerry, who unsuccessfully ran against President George W. Bush in 2004.
At a stop on his book tour in Montana Monday night, Biden said he considers himself "the most qualified person in the country to be president."
"The issues that we face as a country today are the issues that have been in my wheelhouse, that I've worked on my whole life," Biden said.
Had Patrick run, his position as a director at Bain Capital, the private equity firm founded by 2012 presidential candidate Mitt Romney, was expected to be an issue in party primaries. Patrick succeeded Romney as governor and joined Bain after his term was up. During the 2012 campaign, President Obama attacked Romney for his work at Bain, claiming Bain enriched itself at the expense of others. Since, the Democratic Party base has only become more critical of politicians with corporate ties.
The Democrats' increasingly populist tilt means the next nominee will face calls to turn away corporate donors and influence and rely instead on raising money through individual and small-dollar donors as Vermont U.S. Sen. Bernie Sanders did in his 2016 run for the nomination.
One candidate with a proven ability to raise large sums while eschewing corporate donations is Texas Rep. Beto O'Rourke, who narrowly lost a bid to unseat U.S. Sen. Ted Cruz last month. In the third fundraising quarter, O'Rourke raised over $38 million from over 800,000 individual donors, setting the record for the most money raised by a U.S. Senate candidate in history.
Though he lost, O'Rourke's run was still impressive. In 2014, Democrat David Alameel lost his race against U.S. Sen. John Cornyn by 27 points; in 2012, Cruz beat Democrat Paul Sadler by nearly 16 points. O'Rourke lost by under three points in a state that has not sent a Democrat to U.S. Senate since 1994.
Racial Justice Leaders Feel 'Excluded' By Sanders
Bernie Sanders, who sat for a public discussion with Jackson Mayor Chokwe A.Lumumba in April 2018, is also making plans for a potential 2020 run even as he faces criticisms of his political approach to both women and African Americans. At a three-day Sanders Institute event last week in Burlington, Vt., where he was once mayor, Sanders hosted supporters of his 2016 bid. Speakers included Sanders 2016 surrogate Nina Turner and actress Susan Sarandon, who refused to support Hillary Clinton and urged other progressives to do the same after the former secretary of state beat Sanders in the 2016 Democratic primary.
Sanders, who struggled to win support from African Americans in 2016—particularly in southern states like Mississippi—drew criticism from racial-justice leaders in Vermont who said they felt "excluded."
"How do you say that you are a person of the people, how can you be 'awoken,' in the words of Victor Lee Lewis, when you come home to Vermont to talk about justice and institutional oppression and don't invite the very people your (sic) represent?" read an open letter circulated by more than a dozen social and racial justice activists in the state.
At least three African American supporters from out-of-state spoke at the event, though, including Mississippi-native and actor Danny Glover, former NAACP President Ben Jealous, and philosopher and activist Cornel West.
Harris: "I Know We Are Better Than This"
Two other Democratic leaders who campaigned in Mississippi for Espy—who lost his bid to unseat Republican U.S. Sen. Cindy Hyde-Smith last month—are also considering runs: California U.S. Sen. Kamala Harris and New Jersey U.S. Sen. Cory Booker.
Harris, Booker, and Warren spoke at the Netroots Nation convention in New Orleans in August. In her speech, Harris insisted America is "better than this," referring to Trump administration policies such as its ban on immigration from majority Muslim countries, its rollback of rights for LGBT people, and its immigrant family separation policy.
"I know we are better than this, because 13 years ago, New Orleans was underwater, and the initial response was appalling," she said. "Katrina exposed a shocking level of racism and neglect but, ultimately, Americans of every race, religion and background came together to bring this city back to life."
She then invoked Ruby Bridges, the civil rights activist who, at age 6, faced abuse and harassment when she became one of the first African American children to attend an integrated school in New Orleans.
"I know we are better than this because, less than 60 years ago, about four miles up the road, Ruby Bridges needed federal marshals to escort her to school," Harris said. "And yet today, Mayor LaToya Cantrell is the first woman—and first black woman—in history to lead this city. That's our American identity."
New Orleans elected Cantrell in a 2017, when she was one of two African American women in a runoff with Desiree Charbonnet—guaranteeing a historic outcome. Cantrell replaced the term-limited former New Orleans Mayor Mitch Landrieu, who has also been floated as a 2020 presidential candidate. Like other prospective 2020 candidates, Landrieu released a book, "In The Shadow of Statues," earlier this year and embarked on a book tour.
Landrieu drew national acclaim for a rousing speech he gave explaining his decision to remove Confederate statues from public spaces in the city.
"[A] friend asked me to consider these four monuments from the perspective of an African American mother or father trying to explain to their fifth-grade daughter why (Confederate General) Robert E. Lee sat atop of our city," Landrieu said in the May 2017 speech.
"Can you do it? Can you do it? Can you look into the eyes of this young girl and convince her that Robert E. Lee is there to encourage her? Do you think she feels inspired and hopeful by that story? Do these monuments help her see her future with limitless potential? Have you ever thought, have you every thought that if her potential is limited, yours and my potential (is limited) as well?"
Biden Leads Democratic Primary Polls
If Democrats follow the 2016 timeline, candidates will start announcing in early 2019, with the first Democratic debate likely to take place later in the year.
A Nov. 26-27 Harvard/Harris survey of 1,400 found Biden would lead the pack with 25 percent, with Sanders in second place with 15 percent and Clinton in third place with 13 percent. The 2016 nomination has said she will not run again.
When Clinton was left out of the equation, Biden and Sanders' support grew to 28 and 21 percent respectively, while O'Rourke came in third place with 9 percent. Just 4 percent of voters chose Warren, 3 percent chose Booker, and 2 percent chose Harris.
In November, outgoing Ohio Gov. John Kasich said he is "very seriously" considering challenging Trump in a Republican Party primary.
The Harris/Harvard survey found 44 percent of Republican voters said they would support Trump in a GOP primary. Romney, who Utah elected to the U.S. Senate last month and has not indicated plans to run in 2020, placed second with support from just six percent of GOP voters.
Ashton Pittman covers politics and elections for the Jackson Free Press. Follow him on Twitter at @ashtonpittman. Email him at [email protected]. Read more 2018 campaign coverage at jacksonfreepress.com/2018elections.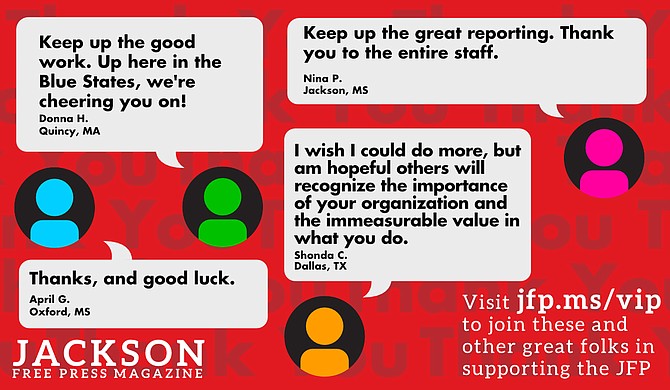 Thanks to all our new JFP VIPs!
COVID-19 has closed down the main sources of the JFP's revenue -- concerts, festivals, fundraisers, restaurants and bars. If everyone reading this article gives $5 or more, we should be able to continue publishing through the crisis. Please pay what you can to keep us reporting and publishing.