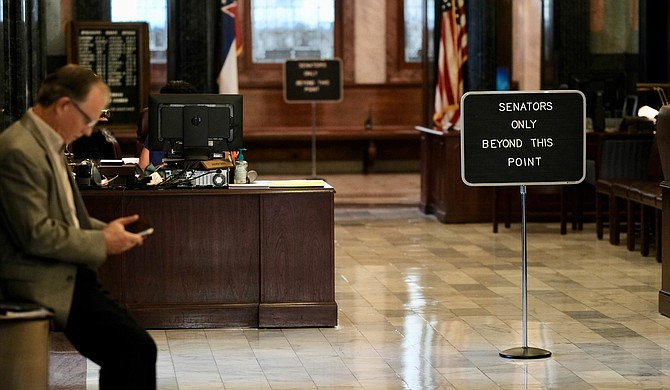 JACKSON — Mississippi senators passed a bill that would establish a state lottery at a special session of the Legislature Thursday evening.
Republican Gov. Phil Bryant led the effort to pass the lottery bill to fill an infrastructure funding gap. If the lottery becomes law, it is expected to generate $40 million in state revenue in its first year and $80 million per year in later years. For the lottery's first 10 years, the State would spend all revenue it generates on state highways.
The 135-page bill was not available to most senators until Thursday morning, leading them to complain of a rushed and secretive process. After hours of often confused debate, the Senate passed the bill 30-20. The bill now goes to the House, where it members should take it up Friday morning.
The bill mandates the creation of a Mississippi Lottery Corporation to administer the lottery. The governor would appoint five members to an oversight board; the Senate would approve the members..
The purpose of a corporate structure, the bill states, is to "enable the lottery to be managed in an entrepreneurial and businesslike manner." Under the bill, corporation employees would not officially work for the State of Mississippi.
Some senators raised concern over a section in the bill that would exempt both the lottery board and the lottery corporation from the Mississippi Public Records Act of 1983, meaning they would not be required to make documents available to the public.
"This is the Public Records Act," Sen. David Blount, D-Jackson, said during debate. "This law governs every single state agency. These folks are going to have over $200 million in state money, and you don't want those records to be public? This is not the way to make an important decision."
The Louisiana Lottery Corporation runs that state's lottery with a similar corporate structure, but unlike the Mississippi bill, its lottery corporation is subject to public-records requests, as the corporation notes in its privacy policy.
One of the bill's co-sponsors, Sen. Willie Simmons, D-Cleveland, struggled to explain details of the bill and referred questions to the governor's office.
Sen. Hob Bryan, D-Amory, said he opposed the legislation on principle.
"I don't believe it's the proper role of government to operate a numbers racket and swindle its citizens," Bryan said, adding that even if he did support a lottery, he could not support the bill because of its corporate structure.
Sen. Billy Hudson, R-Hattiesburg, raised concerns that the bill would allow a governor to appoint his or her "buddies," and suggested it should have allowed for representation from each congressional district instead.
In a Thursday morning press conference, Bryant estimated that the bill would help Mississippi retain $15 million that residents spend in Louisiana each year on its lottery. Bryant said he wasn't big fan of a state lottery, but that it would be a necessary step to generate money for infrastructure.
An overall infrastructure package would use funds from the lottery, sports betting, and the Internet sales tax to put $200 million toward infrastructure yearly.
In 2016, Bryant signed the largest tax cut in state history, cutting over $400 million per year in taxes, including ending Mississippi's corporate franchise tax, which added $260 million to state coffers each year before it was axed.
Democratic House Minority Leader Rep. David Baria, D-Bay St. Louis, said the legislature should freeze the implementation of that cut to pay for infrastructure funding before looking for other options. Baria is the Democratic nominee for the U.S. Senate seat currently held by U.S. Sen. Roger Wicker, whom he faces in November's national midterm elections.
If the lottery bill is signed into law, only five states would be left with no lottery: Alabama, Alaska, Hawaii, Nevada and Utah.
Ashton Pittman covers politics and elections for the Jackson Free Press. Follow him on Twitter @ashtonpittman. Email him story tips to [email protected].
CORRECTION: The original version of this story had the part of the state David Baria represents as Pascagoula. It's actually Bay St. Louis. The Jackson Free Press apologizes for this error.
Support our reporting -- Become a JFP VIP.
The news business has changed dramatically in the past year, and we need your help more than ever to keep bringing you important stories about Jackson and the Metro. Become a JFP VIP with an annual membership or you can Sign up as a monthly supporter. Thanks for anything you can do to empower our journalism!