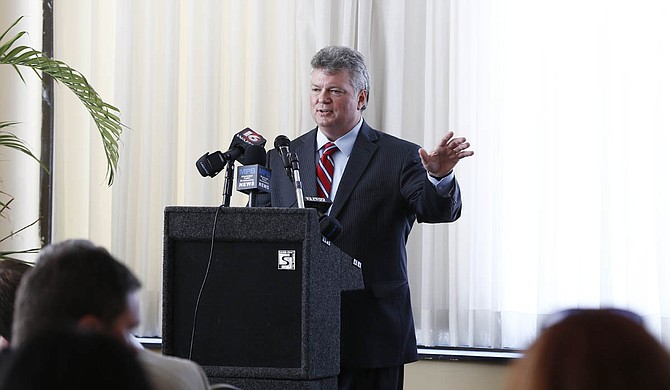 JACKSON — Attorney General Jim Hood is tackling problems in Mississippi's mental-health system to make it easier for people to get treatment and to improve the commitment process, he said last week.
Hood announced a new mental-health taskforce made up of both state agencies and advocacy organizations to recommend improvements to the state's mental-care system and potential changes to state law. Representatives from 31 of the different organizations had their first meeting last week.
"We must make it easier on parents and loved ones to help their family member get the treatment they need," Hood said in a press release. "My goal is to make the commitment process easier and more uniformed, whether voluntary or involuntary. Right now, each county plays by their own rules, and we need to make sure that whether you're someone in DeSoto County or Hancock County, the forms, filing fees and processes of being committed are the same across the state."
Mississippi court commitments to state hospitals must begin with a mental-health assessment, which can take months and sometimes years for those charged with a crime looking to be deemed mentally unfit to stand trial. In Hinds County, Judge Tomie Green uses independent evaluators to conduct mental health assessments because in years past, defendants seeking mental-health claims would wait behind bars for years before they came up for assessment.
The forensic unit at the Mississippi State Hospital only has 35 beds for Mississippians who have been criminally charged.
Judges are represented on the mental-health task force too, along with 30 other organizations and offices.
The U.S. Department of Justice sued the state of Mississippi for its over-reliance on institutionalization in its adult mental-health system back in 2016. The case has yet to be resolved. In the midst of the legal turmoil and budget cuts, the Department of Mental Health publicly expressed several times how they had to cut services back. Hood, for his part, advocated for some of the funds his office recovered earlier this year to go to the department.
In September, however, in legislative budget hearings, the agency requested no increase in funding.
The structure and process of the task force's role going forward is still fluid, Hood's Communication Director Margaret Morgan said, and more groups may join the panel going forward.
In its first meeting, the task force discussed training for law enforcement officers; authorizing judges to get an arrested person mental health evaluations instead of charging them with crimes; creating a centralized referral network; and prioritizing mental-health treatment in jails and detention centers, the statement from Hood's office says.
The task force members include:
-Governor's Office
-Mississippi State Senate
-Mississippi House of Representatives
-Chancery Judges & Special Masters
-Chancery Clerks
-County Court Judges/Mississippi Conference of Youth Court Judges
-Department of Mental Health
-Mississippi Association of Community Mental Health Centers
-Community Mental Health Centers
-Mississippi State Hospital (Whitfield)
-Mississippi Hospital Association
-Mississippi State Medical Association
-Mississippi Primary Care Association
-University of Mississippi Medical Center
-Mississippi Department of Health
-Mississippi Board of Pharmacy
-Mississippi Association of Drug Court Professionals
-Mississippi Mental Health Commissioners Association
-Mississippi Psychological Association
-National Social Workers Association, Mississippi Chapter
-Mississippi Division of Medicaid
-Mississippi Chancery Clerks Association
-Mississippi Sheriffs' Association
-Mississippi Association of Police Chiefs
-Mississippi Department of Corrections
-Mississippi Board of Supervisors Association
-National Alliance on Mental Illness (NAMI) Mississippi
-Families as Allies
-Disability Rights Mississippi
-Mississippi United to End Homelessness (MUTEH)
-Mississippi Urban Research Center
-Centurion of Mississippi
-American Medical Response
-Mobile Crisis Response
-Mississippi Administrative Office of Courts
-Mississippi College Department of Sociology & Social Work
-Mississippi Nurses Association
-Mississippi Licensed Professional Counselors Association
Read more about mental health care in Mississippi at jfp.ms/mentalhealth.
More stories by this author
Support our reporting -- Follow the MFP.