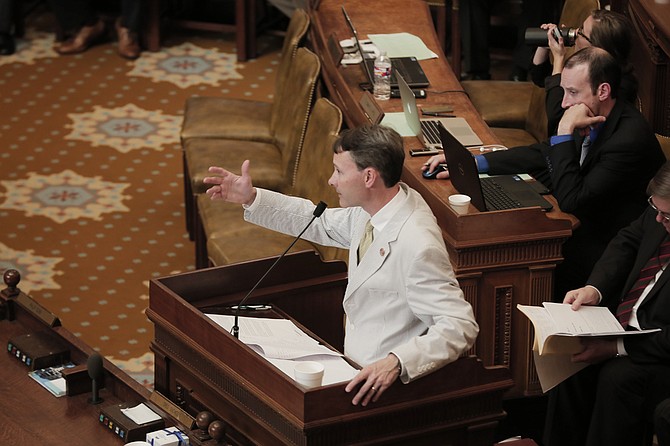 JACKSON — The Mississippi Legislature is cutting millions of dollars from state health-care services, and Democrats are not happy about it, especially with lawsuits looming.
Rep. Sam Mims, R-McComb, presented several health-related budget bills this morning, including cuts to the Department of Human Services, Mental Health and Rehabilitation Services. Mims repeatedly told House members that the budgets were "challenging" but did not specifically address what positions or services are facing budget cuts.
Democrats questioned the chairman repeatedly on the cuts and consistently offered motions to send the health budget bills back for further conference—to hopefully add more funds or work on them further.
"We have a challenging budget this session ... we're not going to be able to find more money in this process, so let's move forward," Mims said in opposition to the motions.
Rep. John Read, R-Gautier, who chairs the House's Budget Committee, told members there is no more revenue to add to the bills. Both the Senate and the House must pass all budget bills by midnight this evening.
Addressing the State of Mississippi's struggling budget, Read told the House he's "never seen it this bad."
Tensions ran high when the House took up the Department of Mental Health's budget, which will be cut more than $10 million cut this year. Several lawmakers wanted to know what services would be cut, but Mims could not give specifics. He said the department would have some flexibility in how it handled the reduction in funding.
Rep. Tom Miles, D-Forest, asked if budget writers had added additional funds that the attorney general recovered into the department's budget as he had requested.
Last week, Attorney General Jim Hood announced that he recovered more than $34 million mainly from settlements with Moody's Corporation. In a statement, he urged lawmakers to appropriate $7 million of those funds for the state's mental health department, which had to close its chemical dependency unit last year due to budget cuts. Today, Rep. Read said lawmakers used that money to plug current fiscal-year deficit holes in the Division of Medicaid's budget.
The state still faces two federal lawsuits brought against the state for its over-reliance on institutionalization in providing mental-health services, one focusing on children, the other on adults.
Rep. William Shirley, R-Quitman, asked Mims about how many positions in the Department of Mental Health the cut would affect. Mims estimated that hundreds of positions are at risk but that the agency would start by not re-hiring into positions of those retiring.
The House passed the Department of Mental Health, Department of Human Services, Department of Rehabilitation Services and Child Protection Services budget but did not take up the Department of Health's budget by press time.
Email state reporter Arielle Dreher at [email protected].
More stories by this author
Support our reporting -- Follow the MFP.