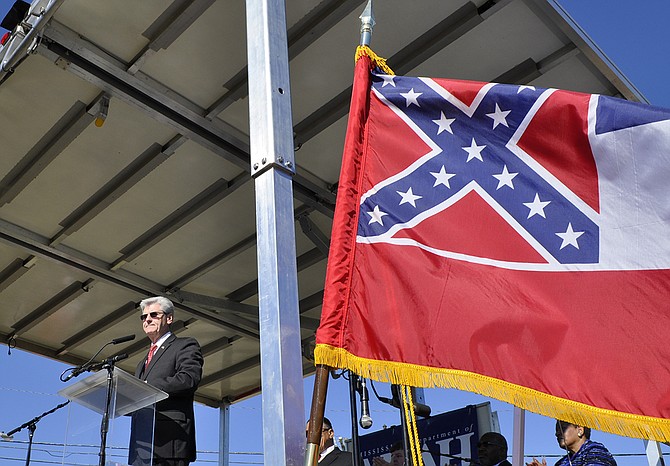 JACKSON — A new poll shows that 49 percent of Mississippians favor the current state flag, signaling the first time a majority of state residents does not support the banner.
Forty-one percent of Mississippians polled want to retire the state flag, and 10 percent of respondents were undecided, a new poll from Chism Strategies shows.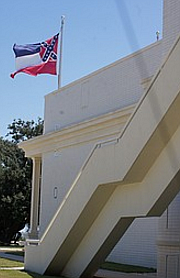 The Mississippi Sons of Confederate Veterans are fighting hard to keep the state flag to honor the Confederacy. Others are fighting back.
The same poll found that while African Americans strongly support a new state flag, 62 percent of white Mississippi voters oppose the change.
The Mississippi flag, which features a Confederate battle flag in its canton corner, has been in the public eye in recent years, with all of the state's public universities furling the banner, joining several municipalities statewide. House Speaker Philip Gunn, R-Clinton, was the first state leader to go on the record in favor of changing the state flag, but has not had much luck convincing other Republican legislators in the statehouse.
Lt. Gov. Tate Reeves and Gov. Phil Bryant do not support legislative action to change the state flag, and repeatedly express that it is a decision best left to Mississippians to vote on any change. In 2001, Mississippians rejected a new state flag along racial lines, with 64 percent of voters rejecting a new banner.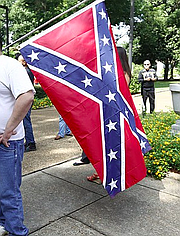 In their own words, Confederate leaders explain secession, the Civil War and their views about black people.
After a white supremacist murdered eight churchgoers in South Carolina in 2015, renewed calls to remove emblems of the Confederacy echoed nationally, and U.W. Sen. Roger Wicker, R-Miss., publicly supported changing the Mississippi flag.
The South Carolina Legislature removed the Confederate battle flag, which flew outside their statehouse shortly after the mass shooting, but efforts to change the state flag in Mississippi started up then lagged. Ballot initiatives to change and to keep the state flag died, and legislative actions to change the banner never made it out of committee. More than two years later, Mississippi's state flag remains.
The U.S. Supreme Court might weigh in on the state flag debate, and the governor must file his response to Mississippi attorney Carlos Moore's petition by Oct. 18.
The Chism Strategies poll surveyed 500 Mississippians in mid-September, weighting results to reflect the 2015 general election turnout.
Read more about efforts to change the Mississippi state flag at jfp.ms/slavery. Email state reporter Arielle Dreher at [email protected].
More stories by this author
Support our reporting -- Follow the MFP.