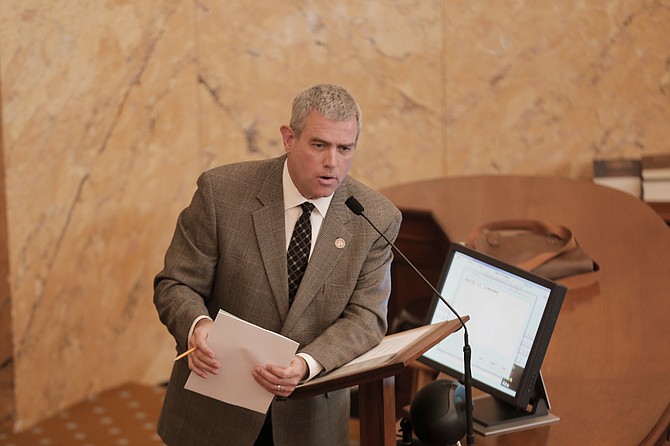 JACKSON, Miss. (AP) — Mississippi universities that refuse to fly the Confederate-themed state flag could lose proposed tax breaks, the latest twist in a long battle over a symbol critics see as racist.
All eight of Mississippi's public universities have stopped flying the flag because it prominently features the Confederate battle emblem, and that has angered supporters of the banner.
The state House voted 57-56 Wednesday to withhold proposed tax exemptions to public universities that refuse to fly the flag. However, a top lawmaker — House Ways and Means Committee Chairman Jeff Smith, R-Columbus — said the flag provision is likely to disappear from the final version of the bill in the next few weeks. Senate Bill 2509 would provide tax exemptions for Mississippi State University and the University of Southern Mississippi, but it could be expanded to add other schools.
Republican Rep. William Shirley of Quitman wrote the flag amendment and said universities should fly the state symbol, whatever it is, if they take state money.
"It has nothing to do with the current design at all," said Shirley, who attended a rally at the Capitol in 2016 to support the current flag.
Democratic Rep. Chris Bell of Jackson said forcing universities to fly the flag will hurt academic and athletic recruiting.
"Let's stop hindering the future of Mississippi," Bell told House colleagues. "This takes us back. I ask that you not take us back."
Mississippi is the last state with a flag that that includes the Confederate symbol — a field of red, topped by a tilted blue cross dotted by 13 white stars. The flag, in use since 1894, has been a source of division for years. Voters chose to keep the design in 2001, but only after a series of public hearings that devolved into shouting matches over a symbol that supporters see as a representation of history and heritage, and that critics see as a reminder of slavery and segregation.
Like other symbols of the Old South, the Mississippi flag has come under increased scrutiny since the June 2015 massacre of nine black worshippers at a church in Charleston, South Carolina. The white man convicted in the slayings had posed for online photos holding a Confederate battle flag. South Carolina lawmakers removed a Confederate battle flag from the Statehouse lawn soon after the slayings, and there were bipartisan calls in Mississippi for the state to change its flag to better represent a state with a 38 percent black population. Petitions calling for elections to either change the flag or preserve the flag both failed, however, because organizers gathered too few signatures.
Mississippi House Speaker Philip Gunn, a Republican, publicly called for changing the flag in 2015, but bills have failed because Gunn said there is no consensus in the Republican-majority House.
GOP Gov. Phil Bryant has said repeatedly that if the flag design is to be reconsidered, it should be done by voters and not by lawmakers or courts.
The 5th U.S. Circuit Court of Appeals heard arguments Tuesday in New Orleans over whether to revive a flag lawsuit. The attorney who filed the suit, Carlos Moore, argues the flag portrays him and other African-American residents of Mississippi as second-class citizens. A federal district judge Mississippi ruled in September that Moore lacked legal standing to file the suit, but Moore is asking the appeals court to reverse that decision and order a trial on the merits of his arguments.
Copyright Associated Press. All rights reserved. This material may not be published, broadcast, rewritten, or redistributed.
Support our reporting -- Follow the MFP.