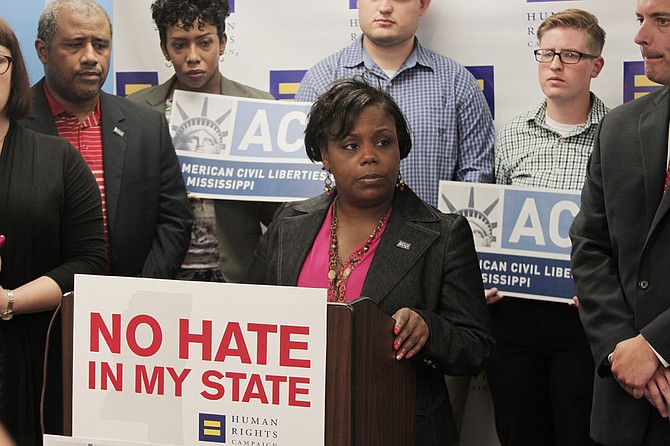 JACKSON — What critics call the nation's "most discriminatory anti-LGBT law" took effect in Mississippi last week after the 5th U.S. Circuit Court of Appeals panel struck down the lower court's injunction on House Bill 1523, saying plaintiffs had not proved "injury in fact" to give them standing to file a lawsuit in the first place.
Gov. Phil Bryant signed the "Protecting Freedom of Conscience from Government Discrimination Act" in April 2016. But before it became state law a year ago, U.S. District Judge Carlton Reeves struck it down, issuing a preliminary injunction in the Barber v. Bryant case, brought on behalf of several Mississippians. Plaintiffs in the case alleged that HB 1523 violated the Establishment Clause ("Congress shall make no law ... respecting an establishment of religion") because it outlines and protects three specific religious beliefs from discrimination by state government.
The bill defines the sincerely held religious belief or moral conviction protected in the act with three parts: marriage should be recognized as a union of one man and one woman; sexual relations are reserved for such a marriage; and "male" or "female" refer to an individual's immutable biological sex as determined by anatomy at birth.
Federal law required the numerous plaintiffs challenging HB 1523 to prove that they have suffered or will suffer injury that is concrete and particularized, as well as actual and imminent. The three-judge panel of the Fifth Circuit's opinion, written by Circuit Judge Jerry Smith, notes that while injury in Establishment Clause cases can be elusive, the examples that exist involving policies "must have some concrete applicability to the plaintiff."
Smith wrote that previous cases involving an establishment of religion have involve a particular item or event.
"Here, however, there is not a similar item or event to 'encounter,'"Smith wrote.
The judges did not venture into hypotheticals, however, and did not say how they would rule if injury is proven in a similar case.
"We do not speculate on whether, even with those allegations, the injury would be too attenuated to satisfy the standing requirements. The plaintiffs have not shown an injury-in-fact caused by HB 1523 that would empower the district court or this court to rule on its constitutionality," the opinion says.
Gov. Bryant and the executive director of the Department of Human Services, John Davis, appealed to the 5th Circuit initially, with the Alliance Defending Freedom providing legal representation. Bryant told reporters last week that he suspects more legal challenges to the law.
"We'll let the lawyers worry at this point how it goes forward from there," Bryant said June 23 after receiving an award for protecting the state's children at a Division of Child Protection Services awards event. "I'm sure there will be another lawsuit filed and perhaps another injunction."
The governor went on to say that he does not think the bill had any economic impact on the state, citing the state's 4.9-percent unemployment rate.
"I think this idea that there's some detrimental effect to the state of Mississippi is perpetrated by those people who are against that law, and it's just unfortunate that they hope something bad will happen to the state of Mississippi," Bryant said. "They are desperately hoping for that, and I would hope that they could assuage that anger."
So what are lawyers planning next?
The Other Lawsuit
Before the Barber v. Bryant case took over HB 1523 headlines, the ACLU of Mississippi and a young couple, Nykolas Alford and Stephen Thomas, also sued to stop HB 1523 from becoming state law.
Their lawsuit is much more narrow than the Barber v. Bryant case, which names several defendants.
Alford and Thomas, a Mississippi couple planning to get married in the next three years, sued Judy Moulder, the state's registrar of vital records, because HB 1523 states that any clerk wishing to recuse themselves from authorizing or licensing same-sex marriages must send their recusal to Moulder's office.
Judge Reeves ruled that Alford and Thomas did not have standing to cause a preliminary injunction on HB 1523, but did not close their case. Reeves ruled that their injury was not imminent because their complaint states that they will get married within the next three years. The ACLU member, also a part of the suit, however "intends to enter into a same-sex marriage in 2017." At the time, Reeves said "any injury is six months away."
Fast forward to June 2017, however, and the ACLU intends to pick up the stayed lawsuit and proceed.
ACLU of Mississippi Executive Director Jennifer Riley-Collins told reporters last week that they plan on continuing litigation with Alford and Thomas' case.
"We will continue with our partners to proceed on behalf of Nikolas and Stephen to protect them and other same-sex couples from this harmful and discriminatory law," she said at the Human Rights Campaign state office last week.
"We urge anyone experiencing discrimination as a result of HB 1523, particularly the members of the transgender (community), LGBT (person) or single parent to contact us or our partners."
The ACLU's lawsuit focused primarily on House Bill 1523 violating the 2015 Obergefell v. Hodges U.S. Supreme Court ruling that legalized same-sex marriage nationwide.
"On its face, HB 1523 violates the Fourteenth Amendment by subjecting the lawful marriages of same-sex couples to different terms and conditions than those accorded to different-sex couples," the initial complaint says.
"By creating a separate and unequal set of laws applying only to the marriages of same-sex couples, HB 1523 imposes a disadvantage, a separate status, and so a stigma upon all married same-sex couples in Mississippi."
Moulder, represented by the state, denied most of the claims made in Alford and Thomas' initial complaint and then opposed their motion for a preliminary injunction.
"Far more problematic than this, however, is that this facial challenge is contingent upon a number of hypothetical events that may never transpire," the opposition motion to the preliminary injunction says.
In August 2016, Moulder successfully asked the court to issue a stay on the case because both Alford and Thomas' case would be impacted by the result of Barber v. Bryant.
The State Office of Vital Records is housed in the Department of Health. Liz Sharlot, the communications director there, said no recusals are currently filed with the office, but they had received one a long time ago, but it was sent back during litigation. Beverly Kraft, communications director with the Administrative Office of the Courts, said no judges have filed recusals with their office, either. Judges could recuse themselves from presiding over same-sex marriages under House Bill 1523.
To the Highest Court?
Lawyers in the Barber v. Bryant case have a few options. Rob McDuff, who represented several of the plaintiffs in the combined case, told the Jackson Free Press that he and other counsel plan to appeal the panel's decision, asking for a full hearing of the case before the Fifth Circuit.
"We will likely file a petition with the full 5th Circuit to review the case, and if that is unsuccessful, we will seek review in the U.S. Supreme Court," McDuff told the Jackson Free Press.
McDuff maintains that the statute violates the 14th amendment on its face.
"The discrimination is built into the statute itself because it provides certain rights to people who hold certain religious views that target others," he said. "And the people who hold these particular religious views are given special rights that no one else is given, so it's clearly discriminatory."
Plaintiffs have the option to appeal for a full hearing before the 5th Circuit or go straight to the U.S. Supreme Court.
Mississippi College constitutional law professor Matt Steffey said that when a three-judge panel makes a unanimous decision, it's less likely to get a full hearing before the full circuit court. Steffey also believes that House Bill 1523 does little more than the state's Religious Freedom Restoration Act, passed into law in 2014 and referred to as RFRA, other than add insult to it. That measure specified that state government could not put a burden on religious practices, without a compelling reason, the Associated Press reported, and parts of that bill that would have allowed private businesses to refuse service were removed.
Even still, the "We Don't Discriminate" campaign took off in Mississippi businesses as a result of the bill because advocates feared that the legislation would allow state government officials "to look away from anti-gay actions that are carried out in the name of religious beliefs," AP reported.
Kevin Theriot, a lawyer who helped represent Bryant in the HB 1523 case, however, believes that the law goes further than the state's RFRA.
"The anti-coercion law (HB 1523) basically says that the government cannot force these people to act contrary to their beliefs," Theriot told the Jackson Free Press. "What the state RFRA does is say the government cannot force these people to act contrary to their beliefs unless they have a really, really good reason."
In other words, Theriot believes that HB 1523 does go a step further than the state's RFRA, he said.
Under state RFRA laws, there's a balancing test that gives the judge the opportunity to force a person to do something, like marry a same-sex couple for example, because the state could have a compelling interest to do so. House Bill 1523 precludes that possibility, Theriot said.
"This is better than a RFRA that's for sure," Theriot said.
Read how HB 1523 went from the Legislature to the courtroom at jacksonfreepress.com/hb1523. Email state reporter Arielle Dreher at [email protected] and follow her on Twitter at @arielle_amara.
More stories by this author
Support our reporting -- Follow the MFP.