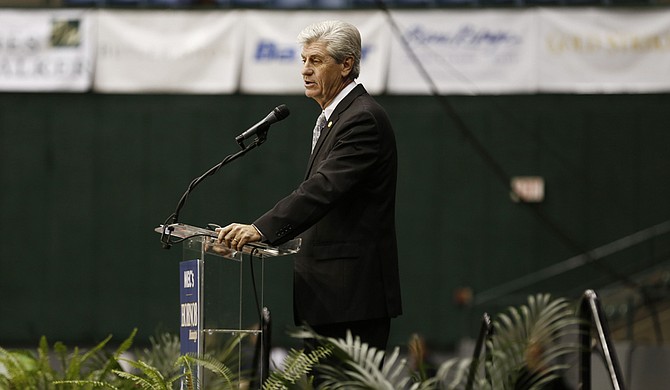 JACKSON — Gov. Phil Bryant has appealed to the U.S. 5th Circuit Court of Appeals, asking them to reverse U.S. District Judge Carlton Reeves' decision to block House Bill 1523 from becoming law last week.
Bryant has also asked Judge Reeves to issue a stay on the preliminary injunction and allow HB 1523 to become law. Bryant's memorandum says that the state is likely to succeed on appeal because none of the plaintiffs has standing or was able to show "injury in fact" in the case and says the injuries described in Reeves' opinion are "too speculative."
"Even before HB 1523, Mississippi law has permitted businesses to discriminate on account of sexual orientation," Bryant's memorandum says. "There is no allegation or evidence that this regime caused homosexuals to suffer 'arbitrary denials of service' from businesses or government officials, and there is no allegation that any of the twelve plaintiffs will be victimized in this fashion if HB 1523 is allowed to take effect."
Rob McDuff, who is representing more than 10 Mississippians who brought one of the lawsuits, Barber v. Bryant, against the State of Mississippi, said that the State already made all the arguments in Bryant's memorandum and that Reeves rejected them. Bryant's memorandum also argues that House Bill 1523 is constitutional and reiterates that the law protects "the citizens of Mississippi from being forced or pressured to act in a manner contrary to their deeply held religious or moral beliefs."
McDuff told the Jackson Free Press that he fully expects Judge Reeves to deny Bryant's request for a stay in the case. Bryant's memorandum cites a 1970s religious objections ruling from the Supreme Court, which protected pacifist views directed at all wars—not particular ones, and Bryant asserts that political branches can decide which beliefs are worth of special protection.
"The political branches may decide that some beliefs are worthy of special protections and accommodations, while other beliefs aren't," the memorandum says. "It is the prerogative of the political branches to decide whether—and to what extent—these conscientious scruples should be protected."
McDuff said that the Gillette v. United States case is nothing close to the HB 1523 case and that Judge Reeves' decision was the right one.
"Even at this late stage in the game, neither the governor nor any of the supporters of 1523 have demonstrated why the opponents of same-sex marriage need some sort of special privileges under the law," McDuff said.
If the governor continues to challenge Reeves' ruling, McDuff said he will continue to defend his plaintiffs in the case.
Attorney General Jim Hood told a public forum this morning that his office, which is named as a defendant in the two lawsuits brought against the State challenging the constitutionality of HB 1523, has not determined whether or not it will appeal the case.
"This is not the case to get to the Supreme Court to decide, 'Where is the line with religious liberties?'" Hood told the Friday Forum at Koinonia Coffee House in Jackson. "The reason for the First Amendment is so that we can worship or not, and others can't impress or force their beliefs on you, and certainly the governor can't."
Hood said his office will announce that decision when it's final.
For more coverage of HB 1523, visit jacksonfreepress.com/lgbt. Email state reporter Arielle Dreher at [email protected].
More stories by this author
Support our reporting -- Follow the MFP.