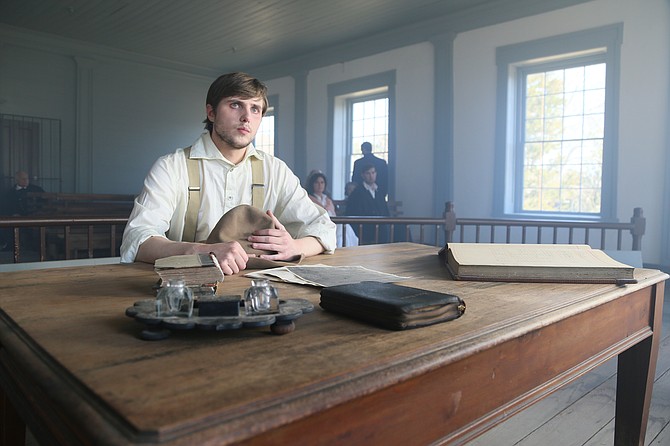 When the John Krasinski film "The Hollers" was holding an open casting call in Jackson in 2015, 33-year-old engineer Matthew Horton says he didn't have anything going on, so he decided to check it out.
"I had always had on my bucket list to be in a film, even if it was just in the background," Horton says. "I could check that off the list."
When he got to The Ice House for the audition, he didn't think the line was especially long, but he soon realized after he got into the building that that was where the line actually started. He waited for a couple of hours, following the line's serpentine pattern through the warehouse. Things took an unexpected turn when one of the building's circuits blew.
"Fortunately, I had a bunch of cables in my car," Horton says. "So I told one of the casting directors that they could use them and go hook up to another outlet. I went out in the rain (and got the cable), and he grabbed me before I got back to my spot and asked what I was auditioning for, and then he kind of threw me to the front of the line."
While the audition went well, the role ended up getting cut, but not too long after that, he got a solicitation for the Matthew McConaughey movie "Free State of Jones." Horton ended up getting a role in the film, which whet his appetite for working both in front of and behind the camera.
"I got to see enough how film sets works and how interesting that was and how all the components work together to make a film—that kind of managed chaos," he says.
He went on to work on director Travis Mills' 2016 film "Porches and Private Eyes" as a production assistant. Afterward, Horton saw a Facebook post where Mills said he was looking for a local producer to step in on his upcoming project, "Blood Country," while he was finishing up some films in Arizona. Their working relationship grew organically from there, Horton says.
"Blood Country" is the latest movie from Mills' company, Running Wild Films, which he started in 2010 while living in Arizona. He made eight films there and recently expanded the company to Mississippi. "Blood Country" is the third film that he's made in the state.
Having grown up visiting his mom's hometown of Brookhaven, Mills' Mississippi ties resulted in his films screening in the state, and eventually, he developed an interest in making a movie here. He filmed both "Porches and Private Eyes" and "Don't Come Around Here" in Mississippi last year and then started raising funds to do four more Mississippi films, two a year, with "Blood Country" being the first of those four.
The Western is based on Brookhaven-native author Robert E. Jones' short story "The Outlaw, the Sheriff and the Governor," which appeared in a book that Mills' grandfather gave him. Mills and Horton had discussed a few potential projects but weren't really happy with any of them, so Mills picked up the book and started reading.
"It was just this crazy Western story set in Mississippi," Mills says. "It's just action packed. I thought it would be the perfect movie."
Having recently wrapped production, Horton and Mills decided on a unique route to premier the film. It is going to screen for the first time on Sept. 30 at a horse ranch at Brushy Creek Ranch near Liberty, Miss., where most of the horses in the film are from.
"It's a little bit of a different idea, premiering it kind of in the middle of nowhere," Mills says. "People can come and ride the horses from the film; there will be a cook off, live music—it will be a real Western experience for the premier."
Following the premier, "Blood Country" will screen across the state. The two filmmakers have scheduled 10 dates thus far and plan on expanding that number.
They will be showing both "Porches and Private Eyes" and "Don't Come Around Here" as a double feature at the Capri Theater (3023 N. State St.) tonight, June 23, at 7 p.m. Admission is $10 per person, and food and drinks available for purchase. For more information, find the event on Facebook.
More stories by this author
Support our reporting -- Follow the MFP.