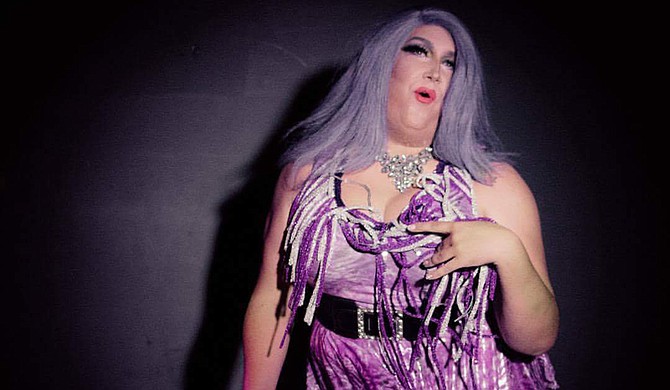 "That's Shamu in disguise over there," Ke'Charra Illuminati says, giving a side-eye to Starr Alexander.
"Now be nice," London DuMore half-heartedly replies.
"Well, you gotta be nice, London, lookin' like that!" Starr answers without even glancing away from the mirror as she applies mascara.
In WonderLust's walk-in-closet-size changing room, entertainers Starr, Ke'Charra, London and Brooklyn Alexander prepare their make-up, wigs and dresses for the evening's performances.
The room is hot, with multiple fans trying to keep the queens as comfortable as possible while they get ready. The room's wall-to-wall mirrors allow the entertainers to not only see themselves from every angle as they prepare the female illusion, but also to give each other glares and smirks from anywhere in the room.
'How We Express Ourselves'
The snappy back-and-forth, or "reading," between the drag performers isn't malicious, but it is an integral part of the thick skin that they have to develop over time, and it is inextricably linked to both queer and drag culture.
"That's just how we express ourselves," Ke'Charra tells the Jackson Free Press while sitting in the dress room. "Instead of coming back here and being all serious, we come back here and read and have fun."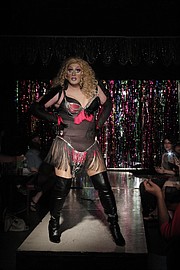 London echoes the sentiment.
"As a drag queen, you have to be able to take criticism. Whether we're giving it to each other or not, the crowd is going to give it to you, so if you can take it from these people back here, you can take it from them," she says.
About 30 minutes before the queens are set to go on stage, Ke'Charra has an idea.
"I think I'm going to do ('I Wanna Dance with Somebody (Who Loves Me),' because everyone keeps asking me to do it," she says.
"Want to go last and end with that, then?" London asked her.
Ke'Charra agrees.
The lights go dark in the performance area. On the small stage with a catwalk jutting out, the drag queens take the stage one at a time as the crowd cheers.
After numerous lip-sync performances from the queens ranging from Beyonce to Alaska 5000, and multiple outfit changes during Starr's Adele medley, Ke'Charra takes the already-enthusiastic crowd up a notch with the Whitney Houston classic.
As soon as the chorus hits, everyone is on their feet as she dances across the stage, dollar-bill tips essentially raining down on her during what has become a typical Saturday night at WonderLust.
'I Hadn't Shaved or Anything'
Zachary Salter, 26, who performs as Tara Shay Montgomery, says he didn't even know what drag was until he got to college. He grew up in a Southern Baptist and military family in Bay Saint Louis and had no exposure to the culture there.
"The only look into gay culture that I had was like 'Queer Eye for the Straight Guy' or 'Queer as Folk,'" Salter says. "After I got to Mississippi College, I started watching 'RuPaul's Drag Race' on the Internet in my dorm room, and then I started doing dollar-store drag makeup on, like, Chat Roulette to see if I could pass (as female) to guys on the Internet."
Salter's professional start in drag began through complete happenstance when he visited a friend in Jackson who bartended at the now-closed gay club Bottoms Up on Northview Drive.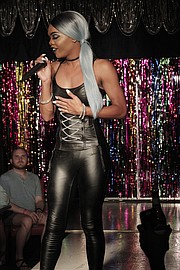 The club owner had booked a show, but none of the entertainers showed up. The owner asked if Salter's friend, Josh, knew any drag queens, and he said, "My roommate is a drag queen!"
"I had not done anything yet; I wasn't ready; I hadn't shaved or anything," Salter says. "They asked if (I) could be ready in an hour ... so I put on a bad dress from Belk, danced to 'Edge of Glory' by Lady Gaga, and I've been doing it ever since."
Salter says he tries to convey to people what drag really is—an art form, a character and a persona.
"A lot of people, especially around here, think that it's like a fetish, or a lifestyle, and confuse it a lot with being transgender and think that I want to be a woman all the time. That's not the case," he says. "If you've ever seen 'Mrs. Doubtfire,' Robin Williams is in drag, in the Madea movies, Tyler Perry is in drag, and I don't think people always realize that because it's Hollywood."
Salter says that drag is not necessarily something he ever did to make money; it was something that he just enjoyed doing and thought he could eventually be good at. He eventually met local pageant queen Tanisha Foxx, who put him in touch with another performer, Tori Mattison.
"(Tori) is another plus-sized white queen, and she would help me paint my make-up, help me pick outfits, teach me how to sew and how to form the body, and actually create this illusion," Salter says.
"At that point (in my career) it was a matter of finding people who had been doing it for a long time, and getting some guidance and mentoring."
Through that mentoring, Salter was able to develop and create the drag persona that became Tara Shay Montgomery.
"It's definitely an extension of my real personality," he says. "When I started doing it, I didn't have a clear idea of what Tara Shay was or who she'd become. Now I consider her to be this sophisticated southern socialite, in that I kind of based her on Madison moms who spend the afternoon in yoga pants and get Starbucks coffee every single day.
"And that's just very naturally who I am. I'm a very social person, so when you add drag to it, and I already like to meet people, then people want to come and meet you, and I just like to be out there."
In 2013 Salter moved to New Orleans, where he worked a day job and performed regularly at clubs. After a couple of years there, he moved back to Jackson and found out that Bottoms Up had closed, but that Jesse Pandolfo was opening a new LGBT-centric club in the same location. Through a connection with the club's show director, Adam Graves, who performs as Madyson Andrews, Salter was added to the recurring cast when WonderLust opened on Sept. 19, 2015.
"Because where all I've worked and performed, I had a lot of connection to other entertainers, so we started pulling from those recourses to get more entertainers here through the doors at WonderLust," Salter says. "Madison accepted a job in Shreveport, and I stepped in as show director, and that's when you (started) seeing 'RuPaul's Drag Race' girls come in."
The Drag-Celebrity Hierarchy
For many aspiring queens, the VH1 reality competition, "RuPaul's Drag Race," is the pinnacle of the drag-celebrity hierarchy. The show began in 2008 as a low-budget project on LogoTV; however, after eight seasons and gaining a fervent cult following, VH1 picked up the show and aired 2016's "RuPaul's Drag Race: All-Stars" season 2 and the show's ninth season, which wrapped up this past June.
In recent years, "Drag Race" has catapulted performers from obscurity to the forefront of LGBT culture. This is evident through "Drag Race" alumni Alaska, Willam Belli, Courtney Act and Shangela's more mainstream gigs, including American Apparel ads and appearances on shows such as "Glee," "Community" and "CSI."
One such performer is Leesburg, Fla.-native Ginger Minj, who appeared on season 7 of "Drag Race" and came back for last year's "All-Stars" season. She performed in Jackson on Aug. 5 at WonderLust.
"We had one little gay bar, Attitudes," Minj says about her hometown. "I would sneak in there when I was younger, and that's actually how I started doing drag. Because the only way I could use my cousin's boyfriend's I.D. was under makeup and a wig. So I would dress up for amateur night with his I.D., and it was the first time that I actually experienced our community and the positive aspects of being gay."
While a large portion of the most popular queens hail from New York or L.A., Ginger cites her southern heritage as the source for how she came up with her drag persona.
"I'm a theater baby," she says. "I grew up doing theater, so my drag certainly stems from that. Ginger is just an amalgamation of all the Southern Baptist church ladies that I grew up with, the kind of person who will give you the shirt of their back but will read you under the carpet for not having one in the first place."
While she acknowledges that performing in drag is her job, she tries not to take it too seriously.
"I'm a man in a dress after all," Ginger jokes. "Yeah, you want to be the best at what you do, but you're never going to enjoy it unless you have fun with it. Find the ways that it makes you happy and inspires you, and run with that.
"When I started doing drag as an actual job, not just to sneak into the club, I was the only Broadway queen around here. There were no Broadway-themed shows, there was no live singing, there was none of that. So when I started, people told me, 'You're going to have to lose some weight, get some more revealing costumes, and learn how to dance 'cause that's what sells around here.'"
Ginger refused to do that.
"Broadway is what made me happy, so I just ran with that, and that's what ended up setting me apart and catapulted me into a different level from the rest of the girls around here," she says. "And now there's four Broadway shows a week full of every cross-dresser who's ever heard a show tune, and it's fabulous."
Ginger says she has had the time of her life being able to travel around the world and perform. For her, the biggest struggle has been trying to walk the line between the subversive nature of drag and the younger audience, especially LGBT youth, that "RuPaul's Drag Race" has brought in since it has become more mainstream and accessible.
"I don't think that we are as free to be as openly political as we could when drag found its footing originally," she says, "and I do think that that's very important because of the whole Stonewall movement (and) everything. Gay rights were founded on the back of drag, so you don't want to lose that, but you don't want to do anything to push those kids away ,either."
Ginger says that drag is going to play the same role that it always has with LGBT rights in the crosshairs of both the state and national government.
"It's up to us to satirize and bring up these uncomfortable topics in a way that is entertaining and will make people think," Ginger says.
"I think the most important message that we can get out there is to not stop creating art, because when we lose art, and we lose that expression, then we lose ourselves and the community. So I think it's really important that we fight the only way that we know how: by being artistic."
While not every performer can reach the levels of success within the world of drag and beyond that Ginger has achieved, that is certainly the goal Salter has for his stage persona, Tara Shay Montgomery.
"I've auditioned now for two seasons (of 'Drag Race')—I tried out for the one that just aired and the one that's coming on," he says. "And there are people who have no aspirations to do 'Drag Race.' For them they just enjoy doing drag. For me, I've always wanted that next level of fame and stardom and success."
More stories by this author
Support our reporting -- Follow the MFP.