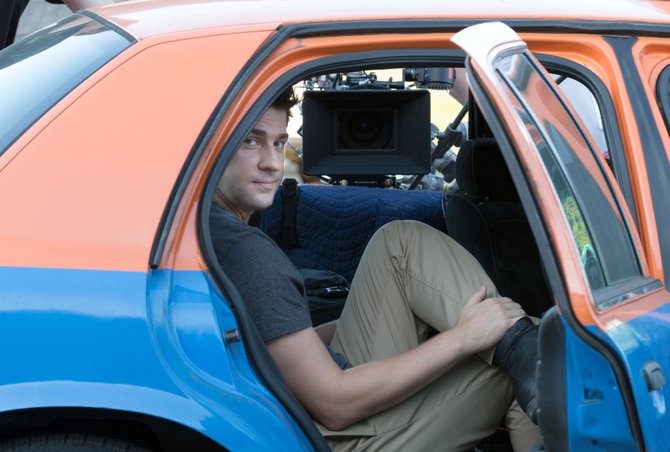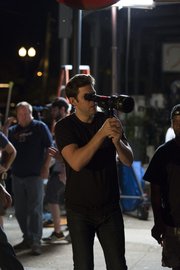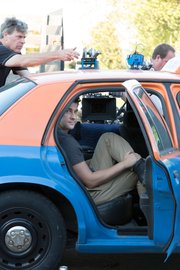 The first time I met director and actor John Krasinski, I waited on him at the local restaurant where I worked. I didn't recognize him until I handed him a menu. The realization of who this person was caught me suddenly, and I froze. I'm not sure how long I stood in silence before I slowly extended the menu in a robotic motion. He later described our first encounter: "You just dropped the water and started sliding across the floor like a sloth. I was like, 'Oh, that woman is injured. Somebody help her.'"
Eventually, Krasinski began asking me questions about college, my Jackson Free Press internship and what I want to do with my life, sprinkling the conversation with jokes and animated remarks. As a resident of the real world beyond television—as a husband, father and actual person—he was genuine, courteous and accessible.
Krasinski was in Jackson to film his upcoming movie, "The Hollars," which concluded shooting last month. Though he is best known for his role as Jim Halpert on the hit NBC television series "The Office," Krasinski has been in films such as "Away We Go," "Leatherheads" and "Promised Land." He also wrote the screenplay for his directorial debut, "Brief Interviews With Hideous Men," in 2009. "The Hollars," his second time in the director's seat, features Hollywood faces such as Anna Kendrick, Richard Jenkins, Charlie Day, Margo Martindale, Josh Groban and Sharlto Copley. While the fictional location for much of the film is in the Midwest, its filming is our own Mississippi. Before filming concluded, I sat down with Krasinski to talk about fame, "The Hollars" and what it's like filming in Jackson.
Tell me about your upbringing. Were you always interested in performing?
I was always interested in sort of making people laugh, and I had the best upbringing. My family is incredible. I don't know how they put the pieces together in this perfect way to raise us so well. Now that someone hands you the puzzle and says, "Here's all the pieces. You have to put together," you're like "This can't happen." For so long, I mean, before high school, really all I cared about was hanging out with my family and making my brothers laugh and laughing with (them). It's almost like we had our own little aesthetic or something, and I think that, to me, is inherent in who I am as a person but also in who I am as a performer. You know, I always, in the back of my mind, remember moments in movies when I'm like, "I think my mom's gonna like this." And that's true. I say it out loud all the time, and "I know that that's going to make my brothers laugh," and I know I'm onto something good when they like it.
I remember being a young kid and staying up to watch "The Tonight Show" or "Saturday Night Live" anywhere there was a TV. Most of the time my parents didn't know until I started coming down doing impressions from the night before, and my mom was like, "Why are you doing impressions of current events?" Then I remember in high school I was definitely into making people laugh, just telling jokes, not in performing. I never wanted to be an actor. I always wanted to be an English teacher. I got into Brown University, and there was a small part of me that thought I would play basketball. Then I got there and opened the gym door and saw literally five seconds of these guys, and I was like, "Too big. Too good. I'm out!"
I walked across campus and pulled down a flyer for a sketch comedy group, and because I'd liked "Saturday Night Live" so much ... that became not only one of the main activities I did at Brown, but the gateway to this entire world that I had never experienced. All of the sudden this decision to go into this world of having fun and acting with my friends turned into ... a deluge of independent movies, independent music, this whole new world that I hadn't experienced and that I very quickly realized was the world I was always meant to be in. That is when I sort of felt—it sounds so stereotypical—but my weird creative awakening, and all the stuff that was new was making sense.
As you gained fame, was the realization sudden, and how did it feel?
It was so sudden. It was literally overnight. I was waiting tables, had no money, could barely afford an apartment, had shut off my cell phone for a time, because I couldn't afford that ... but they were the most fun days ever. Then I got "The Office."... We shot the pilot, and then we got picked up for, I think, six episodes. It was a slow drip process. NBC had no idea what to do with the show at first. I'll never forget the day, for me, that it changed. B.J. Novak—we went to high school together—we shot his episode that he wrote called "Diversity Day," which was the racial training. When we shot that I, again, said, "I know my brothers are going to like this. I know my mom is going to like this. I know I like this." It felt electric and a little dangerous.
Still, at that point we were being told by NBC that we wouldn't be picked up, and probably the show wouldn't come back for a second season. ... The moment that I realized (fame) happened was we were in the second season. My friend Danny and I went to the same diner everyday. (One day) we were just having breakfast like we always do, and then the next day we went in, and we walked through the door, went to our same table, and (in) the 25 feet to get from the front door to the table we always sat at, there (were) murmurings and whisperings and pointing and people being like, "That's the guy. That's the guy."
The night before, the episode "Sexual Harassment," which was B.J. Novak's episode, had just aired. The day before, no one knew anything. Also our show, right at that time, was at the exact moment that iTunes started releasing television shows on iTunes.
I was walking through New York (City) a few weeks later, and some guy was walking with earphones, and I thought (he) was talking on the phone, and then he turned to me, and he was like, "Oh, hey!" I thought I should know him, and he was like "You're on my iPod!"...There was that moment where I was looking at a stranger's iPod, and my face was on it, and I was like, "This is different."
One thing that I will say about "The Office" is that because of iTunes and because of what was happening, and because we were an underdog and really shouldn't have made it, we can lay claim to the truth that we don't actually exist without our fans. Our fans saved the show.
Tell me more about "The Office."
It was more than a job. It was a complete life change, and it gave me every opportunity I've ever wanted. You're watching a family of people. I mean, you are literally watching a family of people, and I think that's the reason why so many people like the show, because you really had to fall in love with all of us. I think the family aspect is what I miss most about the show. The best thing that could have happened to "The Office" was that none of us had really done anything. None of us were really known for anything. I certainly wasn't, unless you frequented the restaurant I was at. We bonded like a theater company does, knowing that our theater company is going under, and then all of the sudden someone said, "Not only is it not going under, it is one of the most popular shows on television."
I connected to Jim in so many ways. I think he's a normal guy who is nervous about the choices he made in life and whether or not it's too late to make different choices. I think that's pretty much everybody at some point in their life, and so I think that you can see yourself in him, and you can see yourself in a lot of these characters. I think that was one of the fun things about all of us was that we were playing real characters, and that we had gotten it down so well, and it was a well-oiled machine. We had so much fun with it that by the time we were known, we were just doing the same thing, Whereas, I think if we had gotten super well-known and super well-loved early, I do think it would have changed the trajectory of the show.  
The thing about being recognized for Jim, it really is nice. It's an honor to do that. One of the greatest things that ever happened to me was a girl came up to me at an airport. She followed me and gave me this note: "I just wanna give you this note. Don't read it now, but, you know, I just wanted to say 'Hi.'" I opened up the note in the car, and it said, "My dad was dying of cancer, and for the three years that I was by his bedside, all we did was watch 'The Office,' and it was the only thing that made him laugh." I just burst into tears. That's when you start thinking that this whole entertainment thing, you know, not at all taking credit for it, but this entertainment thing, to be able to share experiences with people that you weren't even in the room with, is just such an honor.
Why do a movie like "The Hollars"?
"The Hollars" came to me, actually, as a script just to act in, about four and half, five years ago, and it was one of the best scripts I had ever read. Period. The reason why it was so good was because it was extremely genuine. This is one of the most quintessential movies about family that I've seen in a long time, because it's honest. It's not pushing the ... family into one realm or another.
Whether you have a great relationship with your family or you don't have that great of a relationship, you'll find yourself in this movie. I connected to it so much, and then weirdly, right when I got the rights, my wife (Emily Blunt) was three months pregnant, so all of the sudden this guy who was nervous about his life and whether he was doing all the things he wanted to do and being the guy he wanted to be kicked into high gear for me, and I started reading the words much differently. ... That's when I decided to direct it.
Anna Kendrick's character is pregnant with our child in the movie, and I was like "I know how to play this," because I just went through it. Bringing it full circle, it holds your life to a mirror in a way that you've never had (it) held up to you before, and that's basically what the movie is about for my character. Right at the moment when he's sort of in this transitional phase of not knowing if he's everything he wanted to be, his mom gets sick, and he goes home to take care of her in what he thinks is sort of a routine situation. ... The situation turns out to be not so routine.
The greatest part about this movie is in its writing by this guy named Jim Strouse, who is incredible. He wrote a script that does these hairpin turns between ... these beautifully real moments, and then (he) turns it on its head into these hysterically funny moments that are also still real. I felt like I had to do it. The last phase of it was like, "I need to assemble a team who will protect me and take care of me." You find out how good the script you have is when you start getting responses from actors. When you get people like Margo Martindale and Richard Jenkins who are, in my estimation, two of the great actors we have. Then you get people like Anna Kendrick, Charlie Day, Mary Elizabeth Winstead, Sharlto Copley ... it's surreal. The thing just starts coming together on its own.
What drew you to Mississippi and Jackson?
Well, I never planned on shooting in Jackson. Then, we got these producing partners and financiers, and Sycamore Pictures, Tom Rice and Ben Nearn. They brought up the idea of Mississippi. The way I am in life, but especially creatively in any endeavor, is I always want to do what's honest and best for the project. So I came down here.
It was a different take on the movie than I had thought. In the first sort of driving around, I was trying to search—not to sound super heady—but I was searching for my movie. I was searching to see, "Do I see the movie here?" There were places I saw it, and there were places that I didn't, and then at the end of the driving around (Tom Rice) said, "Oh there's this one last place I want to take you to. It's called Fondren," and he drove me through it, and I was just like, "Done."
Describe your experience filming in Jackson.
(Shooting in Jackson has) been phenomenal. I love going to different places, so getting to experience this state and also these people, you know, we're all different wherever you come from, and being down here has been really, really special. They all say, "Thank you for shooting here," which I think is so nice that there is an awareness that we could have gone somewhere else, but we chose here, which does not happen when you go anywhere else.
The other thing that does not happen is like, "Are you enjoying Mississippi?" and you go, "Yes!" And then they go, "Come over to our house on Friday." It's, again, totally genuine, and people being like, "I will cook for you." To me that's such an open-armed, warm environment that you don't get to experience very often. To have people still so positive and so loving and so open hearted is hugely inspiring to me.
It's going to be really sad to leave. We had a lot of fun. You sort of embed yourself in a place and feel like you're a part of (it), and then, all of the sudden, that place gets taken away from you. Mississippi is in our movie. We never say it's Mississippi, but what Mississippi is, as in who the people are, and there is an inherent thing that will come out on screen, that if you shot somewhere else wouldn't be the same, so that's a huge testament to the people we've met, the places we've shot and how open people are. I actually think that people down here would be open to anything. They're that nice.
It's like "We're gonna have Jetsons' cars flying overhead all the time," and they're like, "That would be cool. You seem like nice people. You should have Jetsons' cars flying overhead all the time." Jetsons' cars will start here.
Any parting words to Mississippi and Jackson?
This is such an amazing place to shoot. More people should come down here. It's refreshing, I think, to not shoot in a place (that) has had 84 movies shoot there, and they're over it. They're eye-rolly about the whole thing. As far as Jackson goes, I've hung out down south every now and again. It is a lifestyle and a group of people that you very much admire what they have. You guys have a very, very special thing that in more cosmopolitan places, we've lost. You get down here and you realize what a tight-knit community is and that everybody actually does know each other. You feel it everywhere you go. That's so rare to have people have your back like this.
This Mississippi community, you have something very, very special. I think the rest of the country could take a huge page out of your book.
This interview has been edited for clarity and space.
John Krasinski Bio
John Krasinski, 34, was born in Newton, Mass. His father, Dr. Ronald Krasinski, was a Polish American internal medicine doctor and his mother, Mary Clare, was Irish American. He graduated from Newton South High School in 1997. Before he went to college, John taught English in Costa Rica. He went to Brown University and graduated in 2001 with a bachelor's degree in English literature. He also studied at the National Theater Institute in Waterford, Conn, The Royal Shakespeare Company in Straford-upon-Avon, England and The Actors Center in New York City. He is currently married to Emily Blunt and has a daughter named Hazel.
Support our reporting -- Become a JFP VIP.
The news business has changed dramatically in the past year, and we need your help more than ever to keep bringing you important stories about Jackson and the Metro. Become a JFP VIP with an annual membership or you can Sign up as a monthly supporter. Thanks for anything you can do to empower our journalism!