JACKSON — State leaders kicked off Mississippi's bicentennial celebration at the Capitol on Tuesday, announcing several events around Mississippi as well as grants for communities to apply for in order to host events in honor of the state's 200th year. The state is not, however, likely to change the Mississippi flag in time for the big birthday on Dec. 10, 2017.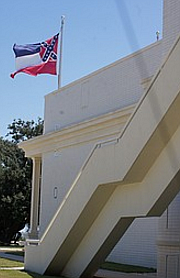 The Mississippi Sons of Confederate Veterans are fighting hard to keep the state flag to honor the Confederacy. Others are fighting back.
"There's a lot of things about our state and history that we're proud of and some things that we're not; some things we've done well, and some things we have not, but overall, Mississippians are a hardy group of people and we continue to move forward and make Mississippi a great place to live and to work," House Speaker Philip Gunn, R-Clinton, said at the Capitol Tuesday.
The Legislature set aside $500,000 for bicentennial celebrations in communities, and communities are encouraged to apply for $10,000 grants through the Mississippi Humanities Council to host bicentennial celebrations that relate to Mississippi history, contemporary culture or the bicentennial itself. The grant deadline is through Nov. 1 or until the funds are gone.
Lt. Gov. Tate Reeves, also a Republican, said Oxford, Jackson and Gulfport would host large celebrations. He also repeated a controversial phrase he uses often—that Mississippians should "stop apologizing," presumably for our brutal civil-rights past.
"I believe our state is home to great sports giants, literary legends and never-before-achieved scientific breakthroughs," Reeves said. "I believe strongly that in many instances we need to stop apologizing and start bragging about Mississippi's many great accomplishments."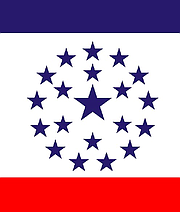 Since July 2015, JFP readers have submitted designs for a new Mississippi Flag.
In the past, Reeves has used loaded language against "outsiders" influencing the state on whether to dump the Confederate canton in the Mississippi state flag—in the only state that still officially flies a symbol saluting the Confederacy.
"If the citizens of our state want to revisit that decision, and I am sure at some point we may, it will best be decided by the people of Mississippi, not by outsiders or media elites or politicians in a back room," Reeves said in a statement about the controversial flag in 2015.
During the last legislative session, lawmakers introduced several bills in both the House and the Senate to change the state flag ahead of the bicentennial celebration, but none was successful. The Jackson Free Press also revealed in February that Gov. Phil Bryant had quietly proclaimed April as Confederate Heritage Month, long a tradition in the state but particularly fraught the year after the Charleston, S.C., church massacre that led to that state finally taking down a Confederate flag from its Capitol grounds.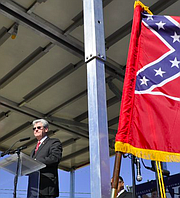 The Jackson Free Press revealed to the world in February 2016 that Gov. Bryant had declared April "Confederate Heritage Month," but with no mention of slavery.
"We're a state that believes in tradition. We're a state that believes in history. We're a state that believes in respect," South Carolina Gov. Nikki Haley said before signing the bill to bring the flag down there. "So we will bring it down with dignity, and we will make sure that it is put in its rightful place."
In Mississippi, though, the state flag still celebrates the Confederacy. In December, House Speaker Gunn, who supports changing the state flag, said there would be discussions about it again this session. Last session, all bills to change (and some to keep) the state flag died in committee.
Lt. Gov. Reeves, however, does not support legislative action to change the state flag and still believes it should be a decision left to the people, he emphasized Tuesday.
"It's pretty clear that the people of Mississippi made a decision about 15 years ago, and I am therefore against unilateral action by the governor, I'm against unilateral action by the Mississippi Legislature to change the current state flag," Reeves said. "And if the people of Mississippi want to make a change, and at some point they might, then it is imperative that the people have a chance to vote on changing that flag, so that's the only bill I would support."
The 2017 legislative session has begun. Follow state reporter Arielle Dreher on Twitter @arielle_amara and read more about the Mississippi flag debate at jfp.ms/confeds.
More stories by this author
Support our reporting -- Follow the MFP.