JACKSON — Mississippi lawmakers' ban on Medicaid reimbursements for the state's only Planned Parenthood clinic stalled in federal court last year, but another anti-abortion bill did become state law last summer despite advocates warning of its shifty legal standing and legal challenges in surrounding states.
The "Mississippi Unborn Child Protection from Dismemberment Abortion Act," is modeled after National Right to Life Committee model legislation, Ingrid Duran, director for the Department of State Legislation at National Right to Life confirmed. Mississippi's law is similar to one Kansas lawmakers passed in 2015, along with four other states. Mississippi's law passed easily in the supermajority Republican statehouse last session.
Mississippi is one of six states with such a law on the books, but along with West Virginia is one of two that have escaped legal challenges of the legislation. Louisiana, Alabama, Kansas and Oklahoma "dismemberment" laws are all on hold, pending litigation.
The law allows a woman who received a "dismemberment abortion," her spouse, parent or doctor, or any prosecuting attorney with appropriate jurisdiction to seek civil or criminal penalties against a doctor who performs a "dismemberment abortion."
"Dismemberment abortion" is not a medical term, however, and anti-abortion groups use it in legal documents to describe a second-trimester abortion medical treatment called dilation and evacuation, or D&E.
Doctors accused under this law in Mississippi can seek a hearing at the State Board of Medical Licensure. John Hall, the executive director of the board, said there have been no hearings since the bill law went into effect.
"It was signed in mid-2016," Hall told the Jackson Free Press.
"And we have not had a single hearing. Of all the doctors that we see on a regular basis, I can't remember the last time we've had a complaint about an abortion provider."
'A Legal Term of Art'
"Dismemberment" abortion is not a medical term used in the field, said Autumn Katz, senior staff attorney at the Center for Reproductive Rights, which is challenging the laws. "In medical literature and terminology that doctors use, there is no such thing as 'dismemberment abortion,'" Katz told the Jackson Free Press.
"But D&E is a common term that refers to a method of abortion used in the second trimester, and we think that's what these bills are targeting."
D&E stands for dilation and evacuation, the most common method of abortion that doctors use for women in their second trimester of pregnancy, or about 13 to 27 weeks.
Duran, of the National Right to Life Committee, said that while "dismemberment" is not a medical term, it is a "legal term of art," a lot like "partial-birth abortion." That phrase, used instead of "late-term abortion" by the procedure's opponents, became a part of the legal discussion of abortion during the Gonzalez v. Carhart case, in which the U.S. Supreme Court upheld the "Partial-Birth Abortion Ban Act of 2003."
"Partial-birth," like "dismemberment," is not a medical term.
"The purpose behind the bill is to shed a light on what exactly happens during a D&E abortion," Duran said. "And this conversation started during the partial-birth abortion ban hearings (in 2006). Justice Kennedy was talking about what was happening during the dismemberment process."
Katz sees the bills as more attacks on abortion clinics and the ability for doctors to perform what is a safe and legal procedure.
"To broaden the authority of anybody who can try to file a complaint, I think, goes to show the true intentions of politicians to harass women and to harass doctors in this case and make it impossible for them to provide this care to women," she said.
Targeting the Second Term
D&E abortions are not the most common form of abortion performed in Mississippi and nationwide. Data from the Centers for Disease Control and Prevention show that most abortions in the U.S. and in Mississippi take place in the first trimester of pregnancy. More than 90 percent of abortions were performed at or before 13 weeks of pregnancy in 2013, the most recent year that data is available for, and in Mississippi 92 percent of abortions in that same year occurred in the first trimester. Doctors did not perform abortions after 18 weeks of pregnancy in Mississippi in 2013, CDC data show.
Abortion is legal in the United States until the point of fetal viability in a pregnancy, or when the fetus is capable of living outside the mother's womb, a point that varies from pregnancy to pregnancy. The point of viability defined in Roe v. Wade was around 28 weeks of pregnancy, well into a mother's third trimester. Katz said the "dismemberment" bills target second-trimester abortions, which are legal, even though they are not common.
"When we're talking about second-trimester abortions, we're talking about before the point of viability, so states are not supposed to be able to ban or prevent a woman from accessing abortion care prior to the point of viability. ... That's exactly what this type of bill is seeking to do," Katz said.
No one legally challenged Mississippi's "Unborn Child Protection" bill before it became law last July, so Duran said she is not worried about its legality in the state.
Katz said legal challenges are more common in states with more direct threats to access of safe abortion care.
"My understanding then would be that it (the laws in Mississippi and West Virginia) hasn't threatened access in the same way that it would have in states where they've been challenged," Katz told the Jackson Free Press.
Katz said she expects more states to file "dismemberment" bans in the new year, and in Arkansas lawmakers have already pre-filed a bill to impose a ban like Mississippi's, Duran said.
"We've been getting a lot of buzz and a lot of requests," said Duran, who works directly with state affiliates of National Right to Life. "I think other states will follow suit."
The 2017 legislative session (#msleg) started on Jan. 3. Email state reporter Arielle Dreher at [email protected]
jacksonfreepress.com and follow on Twitter at @arielle_amara..
More stories by this author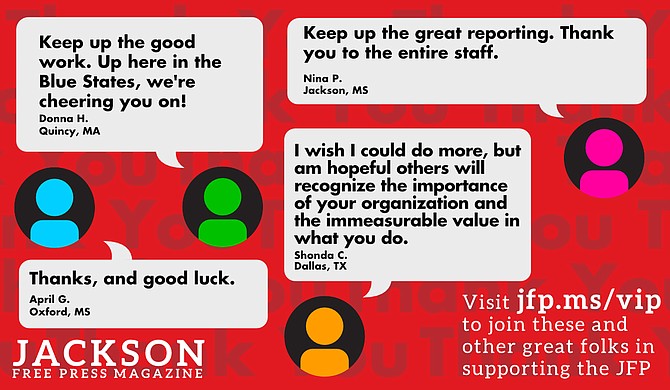 Thanks to all our new JFP VIPs!
COVID-19 has closed down the main sources of the JFP's revenue -- concerts, festivals, fundraisers, restaurants and bars. If everyone reading this article gives $5 or more, we should be able to continue publishing through the crisis. Please pay what you can to keep us reporting and publishing.