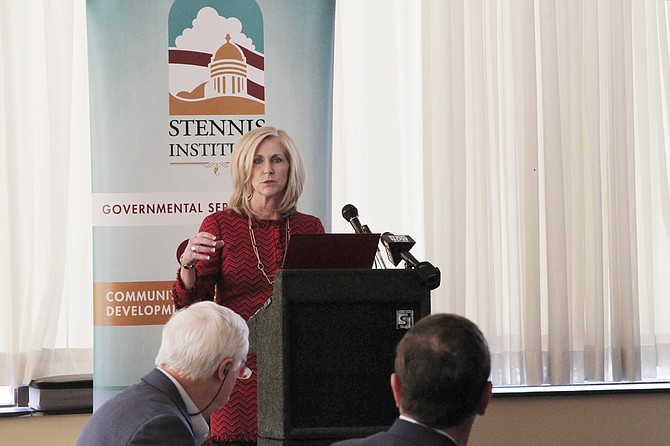 JACKSON — State Treasurer Lynn Fitch is disappointed that legislation addressing the state's gender-pay gap and requiring financial literacy education for students did not see the light of day in the Mississippi Legislature this session.
Fitch said Mississippi is one of two states that has not addressed the gender-pay gap with legislation—the other state is Alabama.
"I'd really like for us to beat Alabama on this one," she told the Stennis Capitol Press Forum on Monday.
A 2017 IHL study found that currently women in Mississippi who work full‐time earn approximately 27 percent less than men who work full‐time. That is above the national average of 19 percent. Stats on Fitch's website show that women overall earn on average $0.75 for every $1 men earn.
A mom who works full-time, year-round in Mississippi earns just $0.67 for every $1 earned by a dad working full-time.
Had the gender-pay legislation passed, it would have addressed disparities between pay for women and men who do similar jobs requiring similar skills and responsibility. It read: "No employer may pay an employee a wage at a rate less than the rate at which an employee of the opposite sex in the same establishment is paid for equal work on a job, the performance of which requires equal skill, effort and responsibility, and which is performed under similar working conditions, except where payment is made pursuant to a differential based on: (a) A seniority system; (b) A merit system; (c) A system which measures earnings by quantity or quality of production; or (d) Any factor other than sex."
For Fitch, financial literacy and addressing the gender-pay gap are two of the main ways the state can deal with its poverty. Mississippi has the highest poverty rate in the nation at 22 percent. Fitch supported legislation several lawmakers introduced this session to address financial literacy and gender pay, but none made it to the floor for debate in either the House or the Senate.
Fitch said gender-pay is not a political issue and refused to agree with lawmakers who said the bill was "pandering."
"It's not a political issue; 48 states have passed some type of law, it's not a Republican or a Democrat(ic) issue, it's a right-thing-to-do issue," she said. "We all need to rally around and make sure the next time the Legislature is in session, this comes up."
Mississippi is facing a balloon-debt payment in fiscal-year 2018, but Fitch said her office is working to restructure those payments, so the state can pay its debt off in a more equitable way. The Legislature will need to allocate more than $7 million to pay off the state's debt this session, or Fitch said she will have to use unencumbered funds in the state's budget to pay off the state's debt instead.
The state of Mississippi holds a debt of almost $1.3 billion, making it the third-largest part of the state's budget. Fitch said that debt equals out to over $1,700 per Mississippian. As a state, Mississippi lags behind the national average of debt ratios. Fitch has to pay the state's bills by April 1.
"It's going to be important that I have that money in my hand so we can pay on time ... the ratings agencies take this very seriously," she said.
Email state reporter Arielle Dreher at [email protected] and follow her #msleg tweets at @arielle_amara.
More stories by this author
Support our reporting -- Follow the MFP.