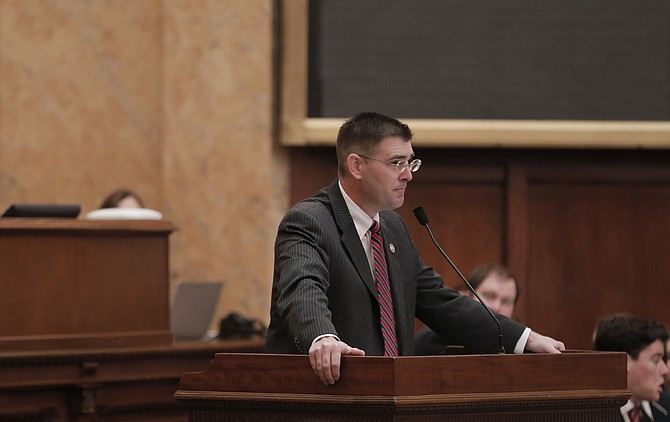 JACKSON — "Tort reform" rose from the past at the state Capitol last week as lawyers in the House of Representatives battled it out over a short, seemingly inconsequential bill, House Bill 481, which would affect personal-injury litigation in the state. What some referred to as the "Phantom Damages" bill would change how those seeking damages for injury could prove their injury in court—meaning that the legislative branch was potentially crossing into judiciary territory.
Rep. Andy Gipson, R-Braxton, authored the bill and presented it on the floor. He said it was narrow in scope, and its effect would be that anyone asking for damages in court could only claim medical expenses for what they actually paid for themselves.
That would mean anyone who could not afford to pay for their medical expenses they received could not recover monetary damages for their injuries.
Lawyers on the floor were quick to point out that this would negatively affect potential clients who had no health insurance or weren't on Medicaid—or anyone who would not have paid for their emergency medical care.
"What they can't do is hold up some false bill, some bill that claims to be a bill that's not, and not get these phantom damages awarded to them," Gipson said to explain the bill.
Rep. Trey Lamar, R-Senatobia, asked why the Legislature would look at passing a law that is unconstitutional. Lamar said the bill seemed to broach the separation of powers that prevent the Legislature from telling the judiciary branch what is and is not admissible as evidence in court.
"I disagree that it's expressly unconstitutional ... over 30 states have rules like this in place, so why not Mississippi?" Gipson responded.
Rep. David Baria, D-Bay St. Louis, who said he practiced in civil litigation that the bill would affect, asked the House not to vote in its favor.
"If you pass this bill, you will eliminate collateral source doctrine, which has been around for years .... Every lawyer in here who does civil work knows exactly what I'm talking about. If you do away with the collateral source doctrine, you will turn our tort law—the law that allows them to make a claim in tort ... (and) our judicial system, turn it upside down," Baria told the House last week.
The debate augured back to Gov. Haley Barbour's first term when the corporate lobbyist fought hard and successfully to limit lawsuit damages in the state, which many believed was also a way to limit the ability of lawyers to fund Democratic candidates. (Read more at jfp.ms/tortreform.)
Baria said the insurance companies would have the most to gain from the bill, while poor Mississippians who cannot afford to pay for their health insurance in the first place have the most to lose. He also said hospitals and doctors would feel the effects of the bill.
"If I represent them, and they go into a hospital, and they've been injured because of no fault of their own and they pay zero, and then we have to go to court and make a claim against somebody who injured him," Baria said of potential clients, continuing, "and I go to court after this bill is passed, you know what I put on as proof of their medical expenses? Zero, because that's what they paid. So what is that going to do to that hospital? They will get zero, folks."
A few more lawmakers spoke against the bill that passed 63-56, and is now in the Senate's hands.
Sexual Assault, Domestic Violence
Legislation addressing sexual assault on college campuses and adding domestic violence as a grounds for divorce passed overwhelmingly in the House and the Senate last week.
Rep. Angela Cockerham, D-Magnolia, authored a bill that will force state universities and community colleges to develop comprehensive plans and policies for addressing complaints of sexual assault on college campuses, including a measure that would force college officials to follow up on reports of sexual assault or domestic abuse within 12 hours of the report being made. The bill also requires colleges and universities to provide victims with a list of their options in terms of recourse and make such information publicly available on their websites.
Rep. Sally Doty, R-Brookhaven, re-introduced her domestic-violence divorce bill this year, which adds "cruel and inhuman treatment, including spousal domestic abuse" as an official ground for divorce in the state of Mississippi. Habitual drunkenness, drug abuse and pregnancy by another person "if the husband did not know of the pregnancy" are already grounds for divorce in the state.
Fantasy Sports Regs
After a study committee met in 2016, the Fantasy Contest Act regulates fantasy contests, namely fantasy sports leagues, under the Mississippi Gaming Commission's purview. The Senate's version of the act prescribes fees and regulations that companies offering fantasy sports leagues (like Fantasy Football, Basketball, Baseball) must follow in order to operate in the state.
The act only allows operators to offer fantasy contests for professional sports—not for collegiate, high-school or youth sports in the state.
Fantasy-sports companies must apply for a license with the gaming commission if Sen. Sean Tindell's, R-Gulfport, bill becomes law. The House passed its own version of the law last week too.
Other Bills to Watch:
Back the Badge Act vs. Blue, Red and Med Lives Matter
The House and the Senate took two different approaches to legislating "Blue Lives Matter" bills, and what the final result will be might be worked out in conference. The Senate's "Blue, Red and Med Lives Matter" bill would classify crimes against law enforcement and emergency personnel as hate crimes. The House's "Back the Badge" Act would triple penalties for capital or first-degree murder of law enforcement or emergency personnel.
Sanctuary Cities
With little debate, Sen. Tindell's anti-sanctuary cities legislation passed through the Senate last week. Senate Bill 2710 would deem ordinances, like in the City of Jackson, that prevent cops from asking about a person's immigration status unlawful and prevent any city or state entity from ever creating such a policy.
Limiting the AG
House Bill 555 would require the attorney general to get permission from the governor, lieutenant governor and the secretary of state before entering litigation that would likely cost over $250,000 in attorneys' fees. The bill initially failed in the House by two votes, but passed by seven votes when brought back up.
Criminal Justice Reforms
The re-entry council's reforms are mainly in House Bill 1033, including stopping judges from throwing people in jail for not paying fines, not taking away a person's driver's license for a simple drug possession charge and changing parole eligibility requirements in the state.
More stories by this author
Support our reporting -- Follow the MFP.