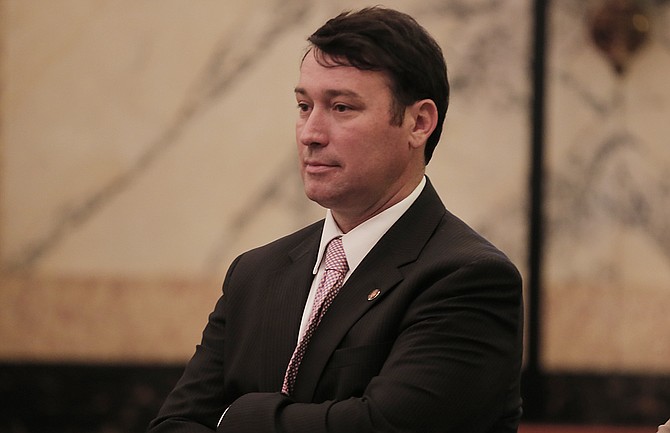 JACKSON — Mississippi's hate-crimes law would also cover law enforcement officers, firefighters and emergency medical technicians who are targeted because of their jobs if Senate Bill 2469 becomes law. Sen. Sean Tindell, R-Gulfport, brought up the bill this morning for a vote in the Senate chamber.
Any felony or misdemeanor committed against one of those three types of first-responders would be subject to enhanced penalties, as long as there is proof that "the felony or misdemeanor was committed with the specific intent to target an individual or group because of actual or perceived employment as a law enforcement officer, firefighter or emergency medical technician."
Tindell said the legislation is in response to incidents in Baton Rouge and Dallas in 2016 where assailants targeted law enforcement officers were, shooting and killing them.
"They (law enforcement officers) are putting their lives on the line every morning when they leave and put their uniforms on; they don't know [if] they're coming home to their wives and children," Tindell told the Senate.
Some Senate Democrats questioned Tindell on the measure, pointing to the state's enhanced penalties for assault and murder of law-enforcement officers and officials that already exist in state law. Tindell said other circumstances could be subject to double penalties under the bill. Some lawmakers asked why the state needs the bill, even when there have been no one has specifically targeted law-enforcement officials here.
"Although we haven't had any situations like this in the state, you feel the need to enhance the penalties at this time?" Sen. Willie Simmons, D-Cleveland, asked Tindell.
"I do," Tindell said.
Sen. Derrick Simmons, D-Greenville, offered an amendment to add body-camera legislation to the bill "in light of the situations occurring in this country."
"I think it would be safe for law-enforcement officers to have body cams as well as those individuals (being targeted)," Simmons said.
Sen. Tindell raised a point of order, saying the amendment was not germane to the bill at hand, and Simmons' amendment was put aside as not pertinent to the bill.
Sen. Barbara Blackmon, D-Canton, presented an amendment saying if a "victim is targeted by a law enforcement officer, the penalty for any felony or misdemeanor on victim shall be subject to enhancement."
Blackmon defended her amendment as a special classification for the victim and later listed the names of young black men law enforcement officers had killed nationally, such as Eric Garner and Alton Sterling, when speaking on her amendment.
"A young black male can be targeted for just being black and being a black male," Blackmon said.
Sen. Briggs Hopson, R-Vicksburg, said he believes the state's hate-crime laws cover crimes committed against a person because of race already. Tindell agreed, opposing Blackmon's amendment, saying it "muddies the water on this bill."
Blackmon asked for a roll call on her amendment, which failed by a vote of 15-34. After almost two hours of debate and after several senators spoke on the bill, the Senate passed it 37-13.
Lt. Gov. Tate Reeves and Gov. Phil Bryant have both voiced support for "Blue Lives Matter" legislation earlier this month.
The House Judiciary B Committee passed out a different "Back the Badge" measure this morning, which does not amend the state's hate-crime laws.
Correction: The reporter originally misstated the first name of Eric Garner, killed by New York police, in the original version of this story. We apologize for the error.
Email state reporter Arielle Dreher at [email protected].
More stories by this author
Support our reporting -- Follow the MFP.