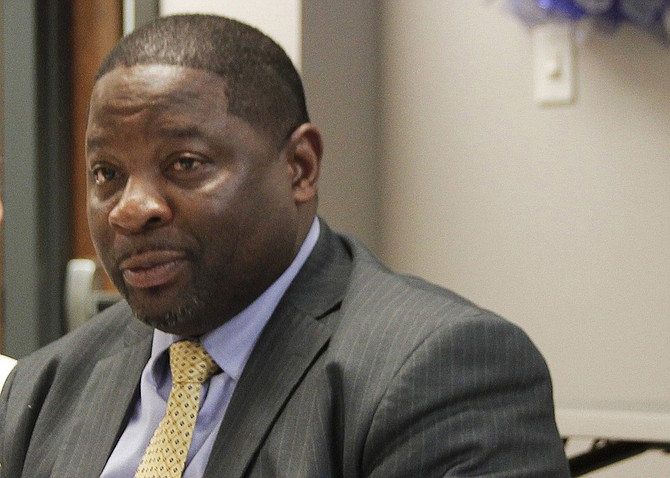 A pregnant girl received no information about her condition and had no one "to talk with her about her thoughts/feelings about her pregnancy," while she was detained at Henley-Young Juvenile Justice Center, states a report from a mental-health monitor sent to review the conditions of the facility.
However, Henley-Young will soon be able to offer mental-health assessments and treatments after a court-appointed monitor's report led the county to allocate $190,000 to expand the facility's staff.
"We're excited that the board has allocated some funding to meet those needs. I don't know if it is enough," Hinds County Board of Supervisors attorney Pieter Teeuwissen said during a Sept. 15 interview, the same day the board approved its budget. "I don't think any of us know, yet, because we are starting from a clean sheet. I do think that is a significant commitment."
The report outlines deficiencies in Henley-Young's approach to the mental health of minors it houses, including a lack of trained mental health-care staff. A June 27 memorandum of understanding, or MOU, between the parties involved in the 2012 lawsuit concerning the conditions at Henley-Young led to the report.
Deficiencies in Care
Leonard Dixon, the federal court-appointed monitor, chose Dr. Lisa Boesky, a clinical psychologist and expert in adolescent mental health and suicide, to perform an evaluation of the mental-care practices and facilities Henley-Young offers children detained at the center. She visited the facility for two days, July 27-28, and released the report to the court Sept. 8.
Boesky, who declined to comment on the report, criticized the lack of mental-health screening for young people admitted to the center, especially for trauma.
"Trauma," Boesky's report states, "among detained/incarcerated juveniles is the rule, not the exception. A study of youth in custody found 93 percent had at least one traumatic incident; over half had experienced trauma six or more times."
Trauma is a broad category, including "abuse, neglect, witnessing domestic violence, repeated moves, forced removal from parent/caregiver, raised by parents with untreated mental health and/or substance use disorders, violent neighborhood, death of a loved one," Boesky wrote. She even included the conditions of detention itself. "Some features of juvenile detention," including the uncertainty of their situation or being searched, "can exacerbate traumatized youths' feelings of vulnerability and loss of control, which often triggers an automatic, biological programmed 'fight or flight' survival response/trauma-related reaction such as verbal or physical aggression, emotional or physical withdrawal, destructive behavior, and/or out-of-control behavior."
A trauma assessment could curtail continued and perhaps repeated stays in Henley-Young, but only one part-time mental-health professional was at the facility during Boesky's visit there. She reports that, of the children in the facility whose documents she reviewed, most were diagnosed with a mental disorder and that some had been locked up in the detention center more than 10 times in the last two years.
"The majority of youth at the Henley-Young Detention Center likely suffer from significant mental health and substance use disorders," Boesky states in her report.
Tackling Trauma
Boesky recommends that Henley-Young not be used as a substitution for mental-health services.
"Youth should not be detained/incarcerated at the Henley-Young detention facility in order to receive mental health, substance use or trauma-related assessment or treatment services."
However, Boesky recommended that the county provide the facility with "two full-time licensed doctoral-level clinical psychologists to work with youth" and a psychometrist to help administer the appropriate tests, including trauma screenings.
Johnnie McDaniels, executive director of Henley-Young, said during a Sept. 21 interview that the facility would use the county's newly allocated funds to build a whole department to treat youth.
"We are definitely moving forward with that. The federal monitor will be here (this) week to look at some of the new stuff that we are proposing for the fully functional mental-health department that includes a psychologist, a licensed clinical psychologist, which will be something new and first for this facility."
"I'm optimistic and hopeful," McDaniels said. "I think that by the end of this process we can have four to six in place in total."
McDaniels said that would end practices that have been in place for years.
"We have kind of fallen short over the years because you know once they were in the facility, the court would send them out somewhere," he said. "Our long-term objective is to be able to provide mental-health services and treatment here so that kids won't have to be sent to Diamond Grove and Alliance Health."
Diamond Grove and Alliance Health are two "acute mental-health facilities" that children from Henley-Young were sent to for periods of seven to 10 days at a time, to receive treatment the juvenile-justice system in Jackson could not provide.
Before, Boesky's report explained, children were usually transported, sometimes over a hundred miles away, to receive any mental-health attention and usually for a short time, a move that could compromise treatment progress.
"It typically takes time for youth with mental health/substance use disorders and trauma-related needs to adjust to a detention facility," Boesky reported. "Because these youth thrive with security, consistency and predictability, moving youth out of detention to a new placement for 7-10 days with new rules, expectations, routine, staff, peers, etc. can be stressful and disruptive."
McDaniels said the new funding would allow the children to remain in one place to receive the treatment they need.
"I'm excited for the effort that the county has made," he said.
Email city reporter Tim Summers Jr. at [email protected]. Read more coverage of juvenile detention and preventing violence at jfp.ms/preventingviolence.
Support our reporting -- Follow the MFP.