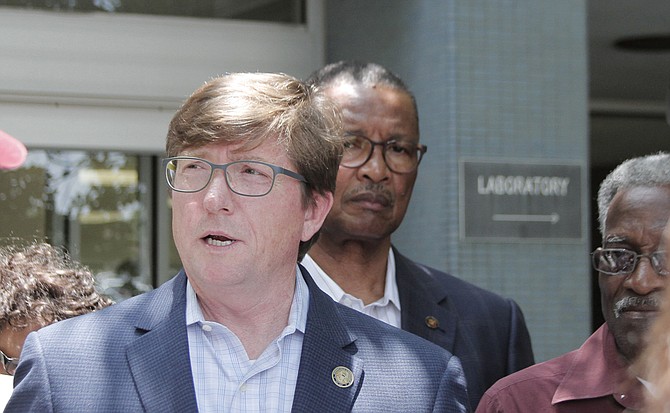 JACKSON — Legislative Democratic leaders decried budget cuts to the state health department on Wednesday outside agency offices, calling on Gov. Phil Bryant to take action and call a special session to address cuts that will affect emergency response, health and safety inspections, and other services the health department provides across the state.
House Minority Leader Rep. David Baria, D-Bay St. Louis, said that Senate Bill 2362, which denies state agencies from paying other agencies for services, would affect how the state's Department of Health can or cannot respond to emergencies like tornadoes or hurricanes. In the past, the state health department responds to MEMA's call during disasters, under the pretense that MEMA pulls down federal disaster-response funds to reimburse the department with. Without that reimbursement, the state health department might be unable to respond to disasters.
The state health department has asked the governor's legal team for an interpretation of Senate Bill 2362, Liz Sharlot, communications director from the department, said in an email, and they are waiting on an answer.
"This will help us clarify the situation and give us direction on how to move forward," she said in an emailed statement.
Baria and other legislative Democrats called on the state's leaders to remedy the budget cuts through a special session.
"We are asking for a return to fiscal sanity in our state," Baria said. "We would like to see the governor call a special session to address these issues and somehow fix what Senate Bill 2362 has done to the way our agencies operate, so we don't lose federal dollars we rely on very heavily."
Democrats also addressed how the Department of Health's budget cut would affect health and safety inspections throughout the state.
Senate Minority Leader Sen. John Horhn, D-Jackson, said the department will have to cut 79 investigator positions by July 1 due to cuts. Investigators certify hospitals, nursing homes and community-based centers to ensure that they can receive Medicaid and Medicare reimbursements.
"We have nine hospitals and 100 nursing homes that need to be re-certified over the course of the next fiscal year," Horhn told reporters Wednesday. "If they don't get certified, they run the risk of losing millions of dollars in Medicaid and Medicare reimbursements."
Horhn said this will mean less of these inspections will be done done, or they will be done in a less thorough manner because the department is so strapped for personnel.
Baria suggested using money in the rainy day fund as an immediate source of funding to fill the deep department cuts. He said corporate tax cuts from the past four years are to blame for the budget deficit today.
"We do know that the corporate tax cuts that we've passed over the past four or five years have cost the state about $200 million in revenue, so if you replace that revenue and we had that today, or had that when we put together this fiscal-year 2017 budget, then I don't think we would be having these problems," Baria said. "But we are where we are."
At the end of the 2016 session, both Lt. Gov. Tate Reeves and House Speaker Philip Gunn, both Republicans, told reporters they plan to study the state's overall tax structure this summer. Democratic leaders agree that this is necessary but feel that the leadership put the cart before the horse implementing cuts and passing Senate Bill 2362 before studying the structure.
"We could have used money from the rainy day fund to give agencies an opportunity to find out how this would work and whether or not this would work. We didn't do that; we just went head first into what sounded good on paper," Rep. Robert Johnson, D-Natchez, said Wednesday. "We would ask that we come back and have an open debate and come up with a solution that will tide us over until we find out what will happen."
Democrats have already called for a special session to address cuts to the Department of Mental Health since the session let out at the end of April.
For more state coverage visit jacksonfreepress.com/state. Follow state reporter Arielle Dreher on Twitter @arielle_amara.
More stories by this author