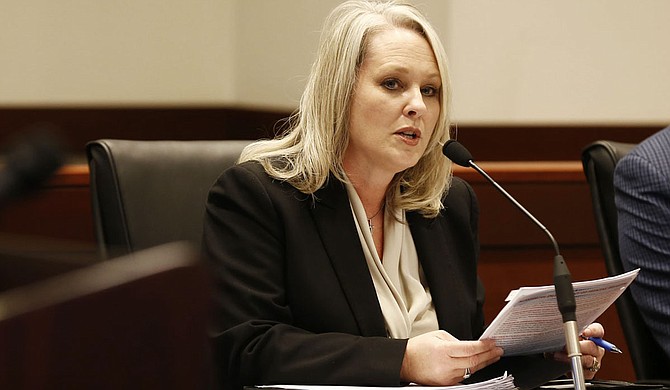 JACKSON — Overnight chemical-dependency services for men in Mississippi state hospitals will end as a result of budget cuts in fiscal-year 2017, the Mississippi Department of Mental Health said in a statement last week.
DMH is looking at a 4.4-percent or $8.3-million cut in state support funds for fiscal-year 2017, and the result will be a loss of services: 67 male chemical-dependency beds and 29 acute medical psychiatric beds in state hospitals. The department shared that other options are available for treatment through local mental-health centers and programs through chancery courts with drug and alcohol commitment orders.
Ellisville State School, which serves people of all ages with intellectual and developmental disabilities, has to stop its early intervention services for children who are 3 years old and under. The program served 128 children and was "designed to enhance development through routine-based intervention and parent training/coaching in the child's natural environment," the department's press release says.
"It has been a very difficult process to determine how to take these cuts," said Diana Mikula, DMH executive director said in a statement last week. "The agency's main focus has been and will continue to be ensuring the health and welfare of the people currently receiving services. Reduced funding requires a reduction in staff, which requires a reduction in service so that the safety of people served and staff is not put at risk due to understaffed services."
Sen. Buck Clarke, R-Hollandale, wrote an op-ed piece that Lt. Gov. Tate Reeves and Sen. Brice Wiggins, R-Pascagoula, posted on their Facebook pages about the cuts. Clarke said he and his colleagues were "fully aware of the funding needs of the Department of Mental Health and to say (they) have been negligent in the appropriations process could not be further from the truth."
In his letter, as posted on Sen. Wiggins' Facebook page, Clarke wrote: "Since I became Chairman of the Senate Appropriation Committee in 2012, we have increased state support spending for the Department of Mental Health by more than $17 million. Most of this increase has been used to improve the care provided in the state's community based programs."
"In this coming fiscal year's budget, which begins on July 1, Mental Health will in fact have a decrease in its state support revenue of $4.2 million. However, what has not been reported clearly is that the agency will reduce its interagency fees to be paid by $5.6 million. These are fees paid to other state agencies for costs such as rent, legal fees and technology support that have now been eliminated as part of their budget. The net effect is that Mental Health will have a net increase in funding of $1.4 million. Thus a claim that programs and services will be drastically eliminated must be based on some other reason we are not aware of."
Like other state agencies, DMH has had to consolidate and close programs prior to the 2016 legislative session that have caused budget anxieties in the past.
In June 2010, DMH closed a 16-bed unit at the Mississippi Adolescent Center in Brookhaven for youth with intellectual and developmental disabilities, leaving 32 beds. In 2009 and 2010, DMH closed several early-intervention programs across the state. The programs were designed to enhance the development of infants, toddlers, and young children with disabilities or children who are at risk for developing disabilities.
"The people we serve are the heart of everything we do, which is why cutting services and supports is so difficult," Mikula said in the press statement. "DMH's organizational mission and vision are vital, but they mean little apart from the story that explains why what we are doing is important in the first place. That story is the people we serve—and their family members, their friends—everyone that we know whose life has been touched by mental illness, IDD and/or substance use."
Some Democratic legislators and the former mental-health director released a letter Friday calling on the governor to call a special session to find funding for the department.
"Speak with any of Mississippi's hard-working mental-health workers, and they will acknowledge that they have stretched to make things work. However, this recent round of cuts has simply gone too far. Mississippi is in serious danger of losing its matching federal funds for services. We are in crisis; there is no other word to describe it," the letter says.
Ed LeGrand, the former state mental-health director, Senate Minority Leader Sen. John Horhn, D-Jackson, House Minority Whip Rep. David Baria, D-Bay St. Louis, and Legislative Black Caucus Chairwoman Sonya Williams-Barnes, D-Gulfport, all signed the letter along with several (but not all) Democratic lawmakers in the Legislature.
For more state news visit www.jacksonfreepress.com/state. Email state reporter Arielle Dreher at [email protected].
More stories by this author
Support our reporting -- Follow the MFP.