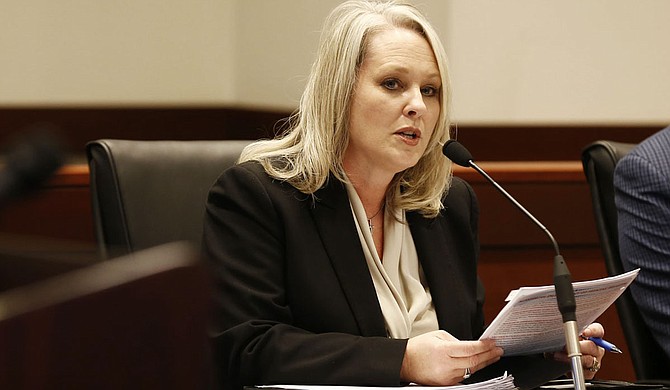 Money was front of mind over the last week in the Mississippi Legislature as Senate and House appropriations committees began budget hearings for state agencies last week. Several agencies are grappling with the 1.5 percent tax cut to all agencies (not including large agencies like Education and Medicaid) that Gov. Phil Bryant announced in mid-January when tax collections were falling short of projections. Agencies came to the Capitol last week for what has become the norm in terms of budget requests: Don't cut us; give us more cash please.
Several state agencies have dealt with budget cuts in recent years without having to cut personnel, but the hearings showed that more cuts might force state agencies to lay off state workers.
The Mississippi Department of Mental Health is struggling with turnover for its on-the-ground employees. Executive Director Diana Mikula told the House Appropriations Special Committee on Public Health last Wednesday that direct-care workers in the department—who work directly with the mentally ill—have an annual turnover rate of 48 percent. The department is attempting to implement employee training, but Mikula said that several direct-care workers have other jobs.
The department continues to transition patients to home and community-based services, but Mikula said that she cannot meet the demand of those requiring such services without the funding. Currently, 2,293 Mississippians benefit from home and community-based services, the type of treatment proven to successfully treat mentally illness (unlike institutionalization), but there is a long wait list. Mikula told the committee that 1,780 people are on the waiting list for wraparound services in the state.
"We have more people living in the community than we ever have in the past in Mississippi," Mikula said. "... (But) we have moved about all the individuals that we can to relocate and meet their needs."
Like several state agencies, the Department of Mental Health receives a certain amount of federal funding as long as the state funds the department up to a certain amount.
The Department of Mental Health is embroiled in a 2010 lawsuit filed on behalf of children in the state who are institutionalized at high rates, despite research that shows they need home and community based services instead. Mikula said her department is still in discussions with the U.S. Department of Justice about how to resolve the lawsuit, despite reports that negotiations had reached an impasse called by the U.S. Department of Justice and plaintiffs in December.
"We are still having negotiations with DOJ, we're still talking to them and getting calls ... we've been giving them updates about our expansion of community-based services," Mikula said.
The state must provide funding up to a certain level in order for the department to function as it has been. In one part of the Department of Mental Health's budget, it would lose $8 million in federal funding without its Medicaid match.
The state Division of Medicaid, which represents one of the state's largest budgets, addressed the House Appropriations Subcommittee on Public Health last week. Executive director David Dzielak asked the committee for $1.017 billion for fiscal-year 2016, which is a smaller request than the agency's initial Legislative Budget Office request.
Committee members expressed concern over the number of Mississippians enrolled in Medicaid and CHIP benefits, which the majority of the division's funding goes toward. The transition to managed care—meaning Medicaid and CHIP beneficiaries get a health plan through United Healthcare or Magnolia Health—seemed at first to lead to a dip in enrollment statewide. At the start of 2014, 714,338 Mississippians were on Medicaid or CHIP benefits, and by March 2015, the enrollment hit its high point at 796,103.
In 2015, however, the numbers seemed to dwindle. Dzielak attributed this down-tick to the possible number of new enrollees who were new to the system and were not aware that they had to re-enroll in the program. January's enrollment numbers prove he might be right. After a downward trend in enrollment since March 2015, January Medicaid and CHIP numbers saw a jump to 777,866 enrollees, about where the state was in October 2014.
"As they (first-time enrollees) went and tried to access healthcare and they find out that their status wasn't active, then they went back and reapplied," Dzielak said. "We think that is why there was a decline and also now why they're might an uptick."
Appropriations hearings continued this week for several House subcommittees. The Mississippi Department of Human Services and the Division of Family and Children's Services presented their budget requests to the House Appropriations Subcommittee on Public Health on Feb. 15.
The Mississippi Division of Family and Children's Services told the committee that it needs the funding to get started—and to avoid federal receivership. The division asked for $34.4 million, which would provide funding for an infrastructure of social workers that have yet to be hired.
Read more legislative coverage at jfp.ms/msleg. Email reporter Arielle Dreher at [email protected].
More stories by this author
Support our reporting -- Follow the MFP.