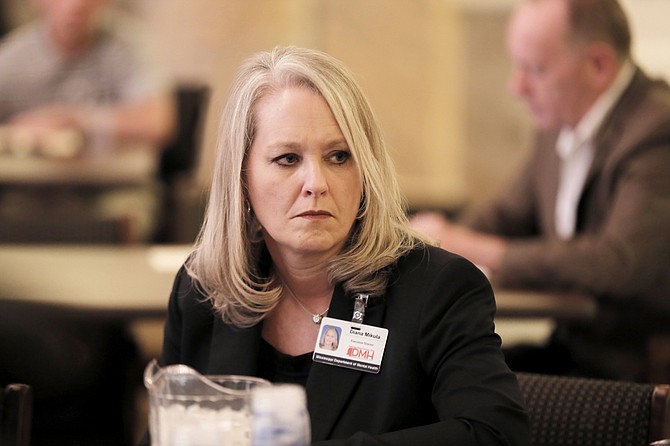 JACKSON — Laila* was 8 years old when she came to live with her stepmother, father and two stepsiblings in Perry County. Laila had a difficult, probably abusive childhood and has since been diagnosed with several mental-health disorders, which caused her to act out at school, get kicked out and eventually cycle through every mental-health program the state can offer her.
Laila's family wanted to keep her close to home, but has been forced to send her to several residential treatment facilities because infrequent home-based services did not work to stabilize her, and no one seemed to be able to work with her consistently enough to use the proper therapy she needs to treat her post traumatic stress disorder or the medication necessary to treat bipolar disorder at such a young age.
Ramona Russum, Laila's stepmother, thought she was doing the right thing by taking Laila to see a therapist initially, but after she realized that the girl would not be able to see her counselor on a regular basis, she switched gears.
Three years later, Laila has been through every available cycle of services, treatment centers and state hospitals in and outside the state, all the while never really getting better.
"I felt like this child was a living guinea pig," Russum told the Jackson Free Press. "There's a lack of qualified health-care providers."
Laila has been in Brentwood Behavioral Healthcare seven times, Pine Grove Behavioral Services twice, tried Mississippi Youth Program Around the Clock, or MYPAC, services and six court-ordered commitments to the state hospital in just three years. She is only 11, and Russum said no treatment facility or program has served to successfully stabilize Laila.
The mental health-care system for a girl receiving treatment through Medicaid in Mississippi, Russum says, is a labyrinth, and Laila literally exhausted all of the options open to her. Russum said the news of budget cuts was devastating.
"They are eliminating beds when there aren't enough to go around as it is," she said.
Chop, Chop on the Budget Block
Mississippi's mental-health system is mainly run through the Mississippi Department of Mental Health, which certifies private and public mental health-care providers, rapid-response teams of mental health-care professionals and public community mental-health centers around the state.
Like most state agencies, the department took a cut this year of $8.3 million, and while that might seem par for the course, any deeper cut to the state's mental health department hurt, mainly because reinvestment in other strategies is not possible. The state had to eliminate several beds in state hospitals with budget cuts. And while little to no research shows that institutionalization works to heal mental illness, the inability for the department to reinvest those dollars in other areas is just as painful.
The Mississippi Department of Mental Health has less than two months' worth of reserve cash on hand, due to filling budget holes during the past year.
Cuts mean longer wait times for services around the state, and in some cases, having to pay for treatment that the state previously covered, starting July 1. Two of the state hospitals will have to cut 67 male chemical-dependency units, which served more than 700 people in fiscal-year 2015.
In a budget hearing with the Legislative Black Caucus earlier this month, Executive Director Diana Mikula told lawmakers that the loss of chemical-dependency units means more pressure on the community mental-health centers, which can offer primary residential treatment for males across the state.
"However, this service will no longer be free; it will be on a sliding fee scale," Mikula told lawmakers. "But the majority of people can be served in the community mental-health centers."
South Mississippi State Hospital will have to close five psychiatric beds, which helped serve 80 people per year. Lawmakers asked how that service would affect those in the state who need mental-health services.
"Is there any concern that people who are suffering from mental illness, that because there aren't beds or beds have been cut, for them to end up incarcerated in county jails versus being able to get mental health treatment?" Rep. Sonya Williams-Barnes, D-Gulfport, asked Mikula.
Mikula said South Mississippi State Hospital patients in need of mental psychiatric treatment would have to wait longer to access the services they need due to the cuts. "And of course a judge will have to determine where that individual will wait," Mikula said. "There are options for counties, they can wait in crisis stabilization units, run by community mental health facilities ... or in hospitals."
'We're Not Doing It'
While the department had to cut several institutional services, funding for community-based services avoided the chopping block, and Mikula thanked lawmakers for recognizing how important those funds are. The Legislature appropriated $16.1 million in the department's fiscal-year 2017 budget to address the expansion of community-based services in the state in order to comply with the 2009 Olmstead U.S. Supreme Court ruling, which required states "to provide community-based treatment for persons with mental disabilities when the State's treatment professionals determine that such placement is appropriate, the affected persons do not oppose such treatment, and the placement can be reasonably accommodated, taking into account the resources available to the State and the needs of others with mental disabilities."
While level-funding is important, the state has been in legal hot water since 2010 for violating the Olmstead ruling and the Early and Periodic Screening, Diagnostic and Treatment part of the Medicaid law in the federal Social Security Act, which ensures that youth under age 21 with Medicaid have access to preventive health-care services, including mental-health care.
Mississippi technically spends 59 percent of its mental-health budget on community-based treatment, fiscal-year 2013 data show from NRI show, and senior director at NRI Ted Lutterman said fiscal-year 2014 data reveals the same pattern for Mississippi: spending: more on community-based treatment but overall much less proportionally than other states spend.
However, this number is significantly lower than other states. Oklahoma and Kansas, for example, both spend 73 percent of their state mental-health budgets on community-based treatment versus psychiatric hospital spending. Mississippi spends 40 percent of its mental-health funds on the state psychiatric hospital, a number that advocates say is way too high to provide the type of services Olmstead requires.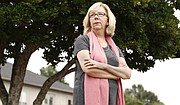 Joy Hogge, executive director of Families as Allies, also addressed the Legislative Black Caucus in early June, warning lawmakers about the J.H. v. Barbour lawsuit brought against the State for not providing appropriate or adequate mental-health services for youth. Hogge stressed the importance of good mental-health services in the community versus institutionalization.
"When someone goes to an institution, especially a child, they end up losing out on a whole lot of things that any normal human being needs, like living with their family, being raised by their parents, going to school, all of those kinds of things," Hogge told lawmakers last week. "The reality is that Mississippi over-relies on residential and institutional care."
The solution, Hogge said, is already written into state law, which created a statewide system of care. Hogge presented lawmakers with a copy of the law last week, which outlines how the state is supposed to provide "child-centered" and "community-based" services for youth in the state.
"This is going to take all of the state agencies working together, all of you guys, me, families working together to fix this," Hogge told lawmakers. "That law says how we should do that, and we're not doing it."
In fiscal-year 2015, 35,221 youth were served by the 14 community mental health centers across the state, and 3,221 were served certified nonprofit providers. In the same year, 416 youth were served at state hospitals, the DMH annual report shows.
J.B. v. Barbour
In 2010, the Southern Poverty Law Center and the Bazelon Center for Mental Health Law sued several state officers, asking Mississippi "to create and provide the intensive home and community-based mental health services they need and to which they are entitled" for youth entitled to services under Olmstead and EPSDT. The Department of Justice got involved in the case, investigating the state's mental-health system and issuing a damning letter that said the state failed to comply with Olmstead standards, which categorized unjustified isolation as discrimination based on disability.
The letter stated: "'I'm really wanting to get out.' These words were spoken to DOJ civil rights investigators by a person confined to a Mississippi facility. They illustrate the urgency of our findings. Thousands of Mississippi residents with mental illness or developmental disabilities are institutionalized.
"While confined in these institutions, they are segregated from non-disabled persons and lead lives of limited choice or independence. They are deprived of meaningful opportunities to choose friends, participate in employment, or make choices about activities, food or living arrangements."
Four years later, negotiations and attempts at a settlement between the state, the Department of Justice and plaintiffs in the lawsuit ended in an impasse in December 2015. But then nothing happened—until recently. Plaintiffs in the case filed a motion May 25 asking U.S. Magistrate Judge Michael T. Parker to proceed with the case and allow for discovery. The lawsuit sat for years while the state bargained with the feds to work on a deal that never came to pass.
The original complaint said thousands of children were separated from their families and treated for their mental illness in hospitals and institutions out of the home.
"Children in Mississippi with behavioral and emotional problems face a rigid, facility-based mental health system that both ignores and exacerbates their needs. In order to access intensive mental health services in Mississippi, children must either deteriorate to the point of crisis required for involuntary hospitalization, or submit to unnecessary institutionalization," the 2010 complaint says.
Vanessa Carroll, one of the plaintiff attorneys at Southern Poverty Law Center, said the state's mental-health system has not changed for children since the lawsuit was filed. "The State has elected to expand an already-excessive number of institutional beds, while intensive home- and community-based services remain under-developed and largely unavailable," she said in a statement. "Consequently, children with significant behavioral and emotional disorders continue to face the same dilemma that existed at the time this suit was filed."
Rosie D: A Cautionary Tale
The Olmstead Supreme Court ruling emphasized the importance of community-based services, affirming years of research that show the advantages of such services over institutionalization.
Mississippi is not the only state that is dealing or has dealt with Olmstead challenges. Massachusetts settled their version of J.H. v. Barbour, Rosie D. v. Romney, in 2006. Plaintiffs in that case, led by the Center for Public Representation, sued the state for violating EPDST part of the Medicaid law, which allows children to access mental-health services with Medicaid funding.
Document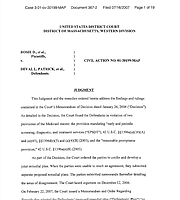 The judge overwhelmingly ruled in the plaintiffs' favor, and an overhaul of the state's mental-health system ensued. Its system is still court-monitored today.
Dr. Barbara Burns, a researcher and professor at Duke University who served as an expert witness in the Rosie D case, says leadership is the first step to changing a state's mental health-care system. Research, she says, also proves that institutionalization is not the evidence-based approach to treating those with mental-health issues.
"There is no evidence whatsoever on hospitalization and almost no evidence on residential treatment centers and some for group homes," Burns told the Jackson Free Press.
Burns said community-based services, like multi-systemic therapy teams that go to client's houses every day for six to eight weeks, are a completely different way of viewing the system—and they're more cost effective, research shows. Steven Schwartz, litigation director of the Center for Public Representation, agrees. He said in the Rosie D case, the law seemed to be in strong favor of the children his staff represented.
"Any state that is threatened with or sued under EPDST has got to understand that there's a significant risk of liability for them," Schwartz told the Jackson Free Press.
In order to comply with the Rosie D suit, Massachusetts changed five big-picture aspects of its system, Schwartz said. They developed seven specific treatment programs or services that were community or home-based, received federal Medicaid approval with funding mechanisms in place to pay for the services, planned for training with future program staff, developed services with community partners and nonprofits and began collecting data on each service and patient.
Laila is now in the state's custody and has been since June 2015. The judge is hesitant to restore custody to Russum and her husband, because she said, Laila is still not stable, although her hygiene habits have improved and she suffers from "less clinical depression" than last year. Her behavioral and emotional wellness, however, still fluctuate. For now she's at a residential treatment facility, but Russum laments that what started as getting help for a troubled child has turned into a revolving door of different services that don't seem to work.
"Here I am thinking we have done everything right, but even the best care available is nowhere near enough," Russum said. "And that's what's scary: is that how many other kids are not getting the help and the services they need?"
*Name has been changed to protect the child's identity.
Comment at jfp.ms. Email state reporter Arielle Dreher at [email protected].
Correction: The first version of this story said the "Mississippi's mental health system is mainly run through the Department of Health." It should have said "Department of Mental Health." We apologize for any confusion.
More stories by this author
Support our reporting -- Follow the MFP.