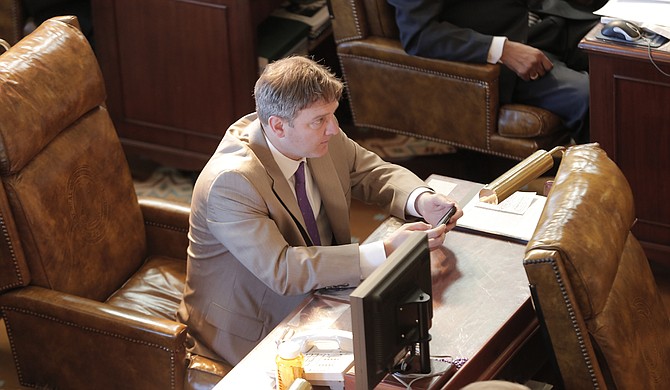 Medicaid recipients seeking birth control, STI testing or cancer screenings at the state's only Planned Parenthood clinic might get cut off if a Senate bill, which passed yesterday and then was held on a motion to reconsider, becomes law.
Sen. Joey Fillingane, R-Sumrall, authored the bill that originally was written to prevent Medicaid reimbursements for "abortion and abortion-related" services at Planned Parenthood locations in the state. On the Senate floor yesterday, however, Sen. Brice Wiggins, R-Pascagoula, presented Fillingane's amendment that would prevent the Mississippi Division of Medicaid from reimbursing Planned Parenthood for "family planning services." Those services include birth control and STI and cancer screenings.
Mississippi has only one Planned Parenthood clinic, which is in Hattiesburg. It does not offer abortion but does offer birth control, STI and cancer screenings and pregnancy testing and services.
Wiggins said on the floor that the amount of reimbursements to Planned Parenthood would only amount to $600 to $800, and Senate Democrats questioned the necessity of such a bill when it does not save the state a lot of money.
Sen. Deborah Dawkins, D-Pass Christian, spoke against the bill, asking that the Senate get "some education on the matter" because the bill does not define what "family planning services" includes. Dawkins spoke on the bill after an almost hour-long debate and handed out materials to senators, explaining the process of choosing a birth-control method.
"I had a feeling that many of you are not up to date on this," she told the Senate, speaking against the bill.
Sen. David Blount, D-Jackson, also spoke against the bill, defending Planned Parenthood's family-planning services.
"What do we need this $600 for?" Blount said. "Planned Parenthood has done very good work for many, many millions of women."
Sen. Hob Bryan, D-Amory, expressed frustration at the changed amendment, which did not allow senators to research the matter, but he did find a similar bill that passed in Alabama, which brought a lawsuit from Planned Parenthood in the state.
Felicia Brown-Williams, director of public policy at Planned Parenthood Southeast, said the Alabama legislation has cost that state $50,000 in legal fees. "This is infuriating and frankly, it's illegal," she said at the Capitol this morning.
In debate, Democrats said that Medicaid reimbursements affect mainly poor people in the state.
Sen. Derrick Simmons, D-Greenville, questioned Wiggins about the population that the bill affects and the family-planning services that Medicaid recipients would have to go elsewhere to seek.
"This is only referring to Medicaid, this is not dealing with procedure," Wiggins said.
"You don't believe reimbursement for services has anything to do with the services being provided?" Simmons asked.
Wiggins said women can seek services from other service providers.
Brown-Williams disagrees; she said that Mississippi has a provider shortage. "Our legislators should be doing everything within their power to make sure Mississippians have access to health care," Brown-Williams said at the Capitol this morning.
Lt. Gov. Tate Reeves released a statement in support of the bill, saying it stops funding to the nation's largest provider of abortions but continues spending on family-health services to other providers.
"The taxpayers of the state of Mississippi do not want and should not be forced to spend money on Planned Parenthood," Lt. Gov. Reeves said. "This legislation ensures taxpayers' dollars are funding services that support women's health through family planning needs, reducing the teen pregnancy rate and lowering the infant mortality rate. I am committed to making Mississippi the safest place in America for an unborn child."
The bill passed 34-17 but was held on a motion to reconsider by Dawkins.
Email state reporter Arielle Dreher at [email protected] For more legislative coverage visit jacksonfreepress.com/msleg.
More stories by this author
Support our reporting -- Follow the MFP.