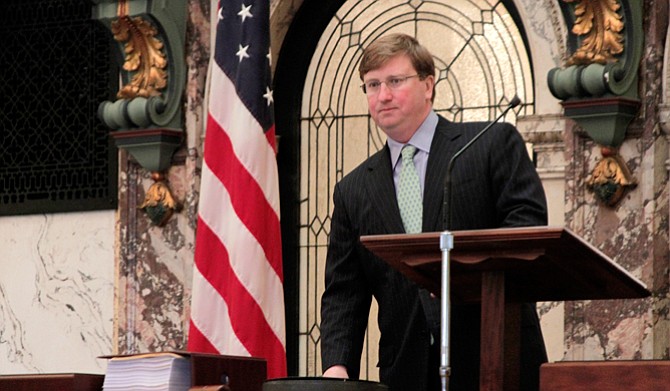 JACKSON — The Mississippi Legislature is one step closer to defunding Planned Parenthood services for Medicaid recipients, allowing Uber free rein in the state and guarding the identities of the state's execution team and lethal drug supplier.
Monday was the final deadline for general bills held on motions to reconsider to get off both the Senate and House calendars and move to the opposite chamber for consideration. Plenty of important legislation died on the calendar, but at the mid-way point in the session what is still eligible to become law is just as important, and last week was critical for certain bills to stay alive.
Secret Executioners?
The state's execution-team members' identities as well as the name of the lethal injection drug supplier could become secret if a Senate bill passes through the House to become law.
The ACLU of Mississippi as well as some senators strongly condemned the bill, which the attorney general's office initially requested. The bill would make "any portion of any record of any kind that could identify a person as being a current or former member of an execution team or current or former supplier of lethal injection chemicals or those witnesses (defined as up to two physicians, up to eight members of the press, up to two pastors, two members of the condemned person's family, two members of victim's family) shall be privileged."
Sen. Hob Bryan, D-Amory, expressed concern that, as written, the bill would actually make it illegal for members of the press to interview a family member of the condemned person. "I don't think it's wise to tell member of the news media what they can and cannot report," Bryan told the Senate on Thursday before they tabled the motion to reconsider on the bill, thus moving it forward.
The ACLU of Mississippi said citizens have the right to know this public information. "Too often states have been allowed to conduct executions cloaked in secrecy and free of public and judicial scrutiny, to rely on drugs from unknown and untested sources, and to employ personnel of unknown and unverifiable qualifications—with disastrous results," it said in a statement. "This pattern should be unacceptable in a civilized society dedicated to transparency and the rule of law."
Attorney General Jim Hood, in a statement to the Jackson Free Press, said that his reason for the bill was to "protect the identities of the pharmacy and state executioner assisting the state in carrying out the law." When asked for comment about the changes that have been made to the originally filed bill, Hood said:
"I have the utmost respect for the privacy right(s) of victims, but I also recognize the constitutional concerns involved. We will work with the Legislature to address the concerns raised by members of the media in regard to the identity of execution witnesses."
Uber Bills Cruise Forward
Mississippi could open its arms to the ride-sharing app, Uber (and potentially other digital platform ride hailing services), if one of two transportation network company bills become law after almost-identical bills passed in both the House and the Senate. The legislation would require transportation companies that use digital networks to obtain licenses from the Department of Insurance and each driver to pay an annual fee of $5,000 to the department.
Uber, one of the popular ride-hailing apps, sent lobbyists to the Legislature this year after attempts to bring Uber to the state last year failed. Only certain Mississippi cities allow Uber to operate currently, including Jackson. This bill would allow the service to operate statewide.
Senators expressed concerns last week about putting a state regulatory system in place instead of letting city municipalities to regulate ride-hailing apps on their own. Sen. W. Briggs Hopson, R-Vicksburg, asked Sen. Willie Simmons, D-Cleveland, how taxicab regulations would differ from the regulations proposed in the bill.
"We are treating this different than how we treat taxicab companies?" Hopson asked Simmons.
"Currently we have it in Jackson, so we wanted to take it to a larger level," Simmons responded. "If it was going to spread across the state, we figured we would have state regulations."
Uber supports both bills still alive. Uber spokesman Bill Gibbons said in a statement that both bills "create a modern, sensible regulatory framework for ridesharing that will help expand access to safe transportation options and flexible work opportunities throughout the State of Mississippi." Mississippi would join 26 other states that have adopted similar regulations.
Targeting Planned Parenthood
Medicaid recipients seeking birth control, STI testing or cancer screenings at the state's only Planned Parenthood clinic might get cut off if a Senate bill passes through the House to become law.
Sen. Joey Fillingane, R-Sumrall, authored the bill that he originally wrote to prevent Medicaid reimbursements for "abortion and abortion-related" services at Planned Parenthood locations in the state. Last week, Sen. Brice Wiggins, R-Pascagoula, presented Fillingane's amendment that would prevent the Mississippi Division of Medicaid from reimbursing Planned Parenthood for any "family planning services." Those services include birth control, sexually transmitted infections and cancer screenings, and pregnancy testing and services.
Mississippi has only one Planned Parenthood clinic, which is in Hattiesburg. It does not offer abortion but does offer all family planning services described above.
Wiggins said on the floor that the amount of reimbursements to Planned Parenthood would only amount to a total of $600 to $800 of Medicaid money, and Senate Democrats questioned the necessity of such a bill when it does not save the state a lot of money.
Sen. David Blount, D-Jackson, also spoke against the bill, defending Planned Parenthood's family-planning services.
 "What do we need this $600 for?" Blount said. "Planned Parenthood has done very good work for many, many millions of women."
In debate, Democrats said that Medicaid reimbursements affect mainly poor people in the state, but Wiggins said women can seek services from other service providers.
Planned Parenthood Southeast's director of public policy Felicia Brown-Williams disagrees; she said that Mississippi has a provider shortage.
"Our legislators should be doing everything within their power to make sure Mississippians have access to health care," Brown-Williams said last week at the Capitol.
Lt. Gov. Tate Reeves said in a statement on behalf of the bill that "taxpayers of the state of Mississippi do not want and should not be forced to spend money on Planned Parenthood," adding that this legislation "ensures taxpayers' dollars are funding services that support women's health through family planning needs, reducing the teen pregnancy rate and lowering the infant mortality rate. I am committed to making Mississippi the safest place in America for an unborn child."
For more legislative coverage visit jfp.ms/msleg.
More stories by this author
Support our reporting -- Become a JFP VIP.
The news business has changed dramatically in the past year, and we need your help more than ever to keep bringing you important stories about Jackson and the Metro. Become a JFP VIP with an annual membership or you can Sign up as a monthly supporter. Thanks for anything you can do to empower our journalism!