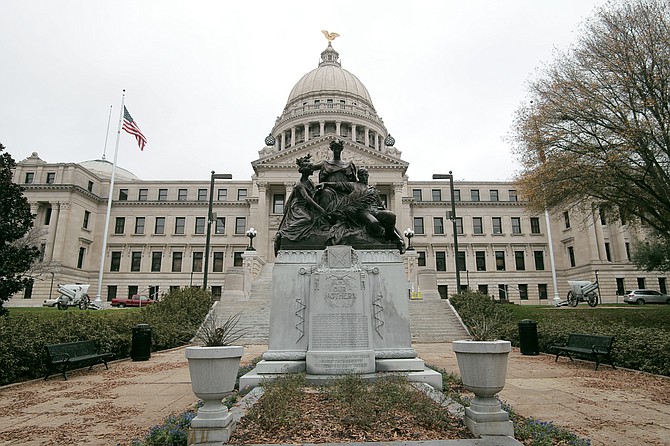 "Antiquated. Confusing. Inefficient. Unreliable. Unpredictable. What do these words describe?" House Speaker Philip Gunn, R-Clinton, asked at the annual Hobnob event on Oct. 26, speaking to business and political leaders from around the state. "They describe the Mississippi Adequate Education Program funding formula."
The mood in the Mississippi Coliseum changed, and the casual, "How y'all doing?" mode of speeches shifted dramatically as Gunn started a stark and carefully crafted denouncement of the state's public-education funding mechanism.
"This formula has failed to give our schools a predictable stream of revenue upon which they can budget; this formula has failed to ensure that money reaches the classroom," Gunn said.
As the 2017 legislative session begins, Gunn's priorities have not changed. The speaker told reporters in December that education funding was at the top of his legislative agenda for the 2017 session.
"We're looking for ways to provide a more stable and reliable source for funding; that's something we've heard from superintendents a lot," Gunn said.
"So as you know, we've engaged that effort, and we're trying to find a more reliable way to fund education."
Education funding dominated headlines throughout 2016, as lawmakers worked to level-fund and not cut the amount of funding that went to the Mississippi Adequate Education Program in previous budget years, despite cutting most other agency budgets. Advocates and proponents wanted a statewide ballot Initiative 42 to force the Legislature to fully fund the formula, but it lost by only a couple percentage points in the 2015 election.
So they continued the rally cry well into the new year, asking lawmakers to fully fund MAEP. Statehouse leaders took a different approach, however, and on Oct. 11, they announced their intention to contract with an outside group and revamp MAEP in its entirety.
Murky MAEP Plans
Changing the state's school-funding formula might be at the forefront of several lawmakers' agendas going into the 2017 legislative session, but how that will be done, exactly, is still murky at best.
MAEP has not changed dramatically since 2006, when lawmakers amended the law to say they would recalculate the base student cost, which is the dollar amount attached to each student in a public school in Mississippi, every four years. A little more than a year ago, the same Republican leaders campaigned together against Initiative 42, and now they are advocating for an updated formula altogether.
The Legislature has only fully funded MAEP twice since its creation in 1997. State Auditor Stacey Pickering finds more at fault with the formula than small tweaks can fix, and in his March 16, 2016, letter to legislative and state leaders about the formula, he said the formula uses data that are not reliable and difficult for his office to verify. He also said MAEP does not address actual classroom educational needs.
"Educational funding should be tied to what school districts actually need to fund quality classroom settings—teachers and resources," Pickering wrote in his March letter.
Pickering's letter concludes with the year's outlook costs. The base student cost for the 2016-2017 school year is $5,358 per child. This cost is higher than neighboring states Louisiana or Arkansas, according to data from New Jersey nonprofit EdBuild.
The Legislature contracted with EdBuild this October to evaluate how the state's formula could be more student-focused and keep money in the classroom, something Republican leaders have pushed since the 2015 election when the party became a "supermajority" in the state, making it near-impossible for Democrats to turn back their legislation.
EdBuild is charged with developing a school-finance simulator lawmakers can use to determine how they can enhance the current funding formula.
An October EdBuild presentation showed that much of the nonprofit's focus is re-engineering the state's formula to include weights for more student populations, like students who need special education, English-language learners, and students who come from families or communities in economic distress.
MAEP is like a math equation with several variables that determine how much money a school district receives. EdBuild considers Mississippi a "hybrid state," indicating that the state budgets for and funds several special student groups, but most of that funding is done outside of the MAEP's primary math equation with separate "add-on program costs."
Those programs that the state funds as a part of the MAEP budget but outside of "base student cost" calculations are: special, vocational and gifted education, transportation and the state's alternative school.
EdBuild's philosophy is about distributing resources through a "purely student-based system," the presentation says.
Mississippi has a higher base cost per student, even after adjusting for cost of living, compared to some surrounding states. MAEP has a weight in its formula to address student poverty at 5 percent of free-lunch eligible students, but EdBuild's model suggests incorporating additional weights for students who need English language courses, students with learning disabilities or even by grade level.
EdBuild representatives deferred interview requests to legislative leaders, who did not make EdBuild's CEO Rebecca Sibilia available for interviews for this story, saying she and her staff were focusing on finishing the simulator. In previous interviews with the Jackson Free Press, Sibilia said she understands the concerns of those who submitted public comments and questions, but she still felt that "weighted student funding," which provides extra money to students who might be gifted or impoverished or learning English, would best serve the interests of the people of Mississippi.
"We're still moving forward to do what they (the state) asked us to do, which is review MAEP, talk with stakeholders and make recommendations. And we're solely focused on that," she told the Jackson Free Press in November.
Timing and Pushback
The timing for incorporating EdBuild's suggestions into the state's funding formula might seem rushed, but lawmakers do not necessarily have to act this session. The Legislature's contract with EdBuild says the nonprofit will provide technical assistance to the House and Senate Education Committee sub-finance group through June 2017, meaning lawmakers could engineer and tweak the new state formula throughout the start of the new year and implement it later in the year or in the next legislative session.
Gunn told reporters that rewriting the state's education-funding formula is a priority, particularly to make sure it is much more "student-based" than it currently is. The Mississippi Association of School Superintendents supports the Legislature's efforts, Gunn said, largely due to the unpredictability of MAEP.
"(MAEP's) not predictable because of the way we measure (school) attendance," he said. "It's trying to create a situation where there is predictability, and there's consistencies (so) in August, they'll know they can get through May."
The Mississippi Association of School Superintendents did not respond to messages left for this story. The Joint Legislative Budget Committee's proposed fiscal-year 2018 plan actually increases funding for education—but not funding for MAEP. In past years, additional funds for education have gone toward initiatives like reading coaches to address third-grade literacy or for special-needs vouchers. Lawmakers are proposing a "school recognition program" that rewards high-performing districts and improving school districts, according to their accountability ranking.
"The recognition program is to reward schools that are high-performing and/or improving," Gunn said.
He had few specifics about the program to offer but said that it would mean roughly $100 per student in recognized school districts. The state's accountability system is already a catalyst for sending some districts to join the Achievement School District (essentially a state consolidation) after more than two years in a row of receiving an "F" grade. That legislation doesn't consider ratings prior to the 2015-2016 school year, however.
The Mississippi Department of Education released the most recent accountability rankings in October. Of the 19 failing school districts, the majority of those districts serve mainly African American student populations.
Not all lawmakers are in favor of re-engineering the formula, and while education subcommittee members met with EdBuild throughout the summer, other lawmakers began to voice concerns for changing a formula that hasn't been fully funded in years.
At a Legislative Black Caucus hearing with some Baptist convention members in November, Rep. Jay Hughes, D-Oxford, an outspoken advocate for fully funding public schools on social media, told the group that it is disingenuous to declare MAEP a failure when it has rarely received full funding in its entire existence. Hughes reiterated what school administrators have told the Jackson Free Press for the past two years: MAEP money goes almost exclusively to teacher salaries, in both "F" and "A" districts.
Hughes' analogy, like some other vocal Democrats, is that changing a formula before trying to fully fund it first is a bit like putting the cart before the horse.
"I don't want to see us revise a formula and lower the amount needed just so legislators can claim that they fully funded the formula; that's disingenuous to me, as well," Hughes said in November.
Hughes pointed to the governor's proposed budget plan, which proposes to add $16.4 million into MAEP funding, while cutting general education funding by $14.9 million and the state's Chickasaw Interest, which helps fund the disparity between counties that do have 16th-section lands and those that do not, by 6.9 percent.
House Minority Whip Rep. David Baria, D-Bay St. Louis, says his party members would be open to adding components like English-language learners and Advanced Placement courses as weighted measures, as EdBuild has suggested, but also echoes what Hughes said.
"They (Republican leaders are) focused on not cutting it (MAEP funding), but they're still not funding it fully," Baria told the Jackson Free Press. "We simply disagree with that approach; we believe that you could fully fund education if you made it a priority."
Infrastructure Woes
At some point, the State will need to find money for its roads and bridges that are in need of costly repair and preventive care—but when that will happen is a matter for legislators to debate and decide.
In 2016, a last-minute skeleton of an infrastructure bill that brought forward both various bonding authority and tax-rate components of state law could have set a plan for fixing and funding the state's roads and bridges.
Sen. Joey Fillingane, R-Sumrall, and Sen. Willie Simmons, D-Cleveland, co-authored Senate Bill 2921, and the bill passed the Senate in mid-March despite several failed amendments from both Republicans and Democrats to mandate additions like notices for taxpayers to know that the state increased their taxes by a certain percentage.
The infrastructure bill never got out of committee in the House, however, and this year, the speaker didn't mention roads and bridges as a top priority for the upcoming session. He said it is hard to answer questions about addressing the state's need to invest in its roads and bridges without a plan in place. Gunn said he has heard several ideas from different groups about what could be done.
"If we can get a plan, it would be our hope to (push it forward in 2017), but I can't promise that anything is going to happen," he told reporters in mid-December.
Researchers at the University of Southern Mississippi and Mississippi State University found in 2015 that the state's infrastructure will continue to erode unless the State takes preventive measures with the parts of the system that aren't crumbling yet. The results were staggering: Mississippi needs to invest $375 million more annually to fix its roads and bridges.
The Mississippi Economic Council, the state's chamber of commerce, took the lead on developing a potential roadmap for lawmakers to use in order to come up with a plan to fund the state's infrastructure. With backing from some of Mississippi's wealthiest businessmen, the group launched its "Excelerate Mississippi" initiative last year.
MEC's plan details how the state can come up with these funds: through a combination of user-based taxation, meaning taxing only those who use roads and bridges, mainly car owners, by increasing the gas tax that has been flat since 1987 and adding a sales tax to gas in the state.
Additionally, the plan details other fee increases such as for car tags or other changes to the state's tax code that could help generate the necessary revenue.
Scott Waller, the executive vice president of MEC, has worked on the state's infrastructure problems for several years, helping spread awareness of the study and its potential consequences on public safety and economic development in the state.
The study found that 4,000 bridges in the state need repairs today, and more than half those bridges are considered "posted" or unable to hold the weight they were designed to hold initially. Waller said that while the infrastructure-funding problem is not unique to Mississippi, the state is already starting to get behind.
"Other states did year-over-year funding increases, and over half the states in the country now have addressed this in some fashion," Waller told the Jackson Free Press. "It's a safety issue, and if we don't react and do what the other states are doing, we're going to get left behind."
Waller says the Excelerate plan addresses the state's issues head-on. He said the State and the taxpayers cannot afford to wait. In essence, the longer the State waits to budge on the infrastructure issue, the more it will cost taxpayers in the long run.
"We believe we have resolved the issue. We've looked at this every possible way; it's going to require new revenue—that's all there is to it," Waller said.
Some lawmakers are onboard with the MEC proposal, recognizing the urgency of fixing some of the state's roads and bridges. In Hinds County alone, 60 bridges are classified as "deficient." A simple bridge repair, say a small bridge over a creek, can cost more than $1 million to fix. Larger, more intricate bridge repairs will cost much more.
House Transportation Committee Chairman Charles Busby, R-Pascagoula, agrees that the Legislature needs to take action, but he is not all for the MEC plan. He said he is looking at the gas tax and user-based taxes and plans to introduce a bill next session.
"I'm looking at it (those taxes)—not raising it—but changing the way we do it so that over time we can generate more revenue, and also (provide) a method that would allow the people to have a choice on part of it," he told the Jackson Free Press.
Senate Transportation Committee Chairman Sen. Willie Simmons says it is time to act. He served on Lt. Gov. Tate Reeves' 2013 committee to look at the state's roads and bridges. Simmons said the results of the USM and MSU study are almost identical to the findings from the 2013 study. Simmons said he supports passing a bill this session.
"Personally, I support Ronald Reagan's approach, and I say that because President Reagan after his State of the Union said he wasn't going to raise taxes and then the business community worked with him, and he changed his mind," Simmons told the Jackson Free Press.
Mississippi's gas-tax rate is flat and has been since the 1987 highway program came to life, so while inflation drove costs up on every other service and price associated with transportation, from cars to the parts that make them function, the gas-tax rate in the state stayed static.
Simmons said a bill to fund the state's roads and bridges would drop early this session, as opposed to last time. He said the federal government has essentially the same formula for funding federal roads and bridges, and with President-elect Donald Trump's discussion of infrastructure, Simmons worries that the federal government might end up raising taxes or changing gas rates before the State can.
"He (Trump) has not talked about money, but if they add a tax onto fuel, it makes it more challenging to do something (in Mississippi)," Simmons said. "It's better to do it first because if he does bring (legislation) forward, it will address some of the issues for the nation, but it won't be the savior for Mississippi. We would get additional dollars, but it wouldn't take care of the 4,000 bridges in our state and the additional lanes of deficient highways."
The MEC funded a March 2016 Mason-Dixon poll that shows that 61 percent of Mississippians surveyed strongly or somewhat supported a plan to increase taxes and fees in order to fund overall of Mississippi's bad roads and bridges.
Dispute over just how bad the state's roads and bridges are muddied parts of debate last session, but the real kicker for improving the state's infrastructure lies in how to go about doing it. Almost every proposal requires the Legislature to increase taxes, a notion that most Republicans intend to avoid like the plague, especially after passing the Taxpayer Pay Raise Act in the 2016 session.
Tightening the Belt
If there is one thing certain about the 2017 legislative session, it is that the majority of state agencies can expect their budgets to be slimmed and strained in the upcoming fiscal-year 2018.
It is too early to say to what extent, but even after several legislative budget groups scrutinized agency expenses this summer, eliminating vacant positions in state agencies and cutting lots of out-of-state travel, the Joint Legislative Budget Committee plan tightens the state's budget by more than $195 million in the next fiscal year.
Lt. Gov. Reeves told reporters in early December that the budget working groups helped reveal potential cost savings within state agency budgets. The Joint Legislative Budget Committee proposal for fiscal-year 2018 eliminates nearly 2,000 currently vacant state agency 
positions in addition to reinstating the moratorium on agencies looking to purchase new vehicles. Reeves said cutting back on out-of-state travel helped lawmakers find savings, as well.
"We had literally multiple days in the capitol talking about travel, and what this budget does is it basically returns travel in its entirety back to FY2012 levels," Reeves told reporters on Dec. 8. "Travel has increased by almost 20 percent in the last five years, so while many state agencies are complaining about certain programs being shut down, they are traveling more today than they ever have—and that's not a priority for the legislative leadership."
The proposed fiscal-year 2018 plan does not eliminate agencies' out-of-state travel altogether but reduces it by around 20 percent.
The budget working groups were a part of the legislative leadership's broader goal to work on efficiencies within budgeting—something the state government will need once the Taxpayer Pay Raise Act starts diverting funds away from the general fund in 2018.
The massive tax cut, pushed through both chambers late in the session in 2016, will divert $416 million annually from Mississippi's general fund once it is fully implemented in a decade. The cut phases out the state's franchise tax, and it eliminates the two lowest income-tax brackets and self-employment taxes for individuals in the state.
Democrats raised Cain over the bill last session, pointing to slow revenue growth and tax cuts from several sessions ago that still affect the budget today.
Sen. David Blount, D-Jackson, loudly called the Taxpayer Pay Raise Act the worst bill of the 2016 session. He has teamed up with other Senate Democrats, including Sen. Hob Bryan, D-Amory, a vocal opponent of the Pay Raise Act last session, to push to repeal the bill in the upcoming session. Blount says that in two decades, the tax cut will divert close to $6.6 billion away from the state's coffers—enough money to pay for the state's roads and bridges, he says.
The Senate Democrats' plan would also not raise taxes on Mississippians, Blount said, unlike MEC's proposed funding program for fixing infrastructure.
"What happened was the legislative leadership passed the largest tax cut in state history, and after it passed, decided to study the tax structure," Blount told the Jackson Free Press. "That's ready-fire-aim policy making. You should do the study first and then pass the bill."
Sen. Fillingane, one of the main architects of the Taxpayer Pay Raise Act, says he does not foresee any big changes to the state's tax code coming in the 2017 session. He said there might be some small things to clean up in the bill, but the major overhaul work passed in the bill last year.
"I think the Taxpayer Pay Raise Act was a balanced approach; it aided and helped our corporate citizens, (but) we had the elimination of the individual income tax of the 3-percent bracket, which helps everybody because you must pay that before other brackets," Fillingane told the Jackson Free Press.
Fillingane was part of the tax-policy panel of lawmakers that met over the summer to study Mississippi's tax code. Lawmakers on the panel heard presentations, which the conservative-leaning Tax Foundation primarily led. Lawmakers on the tax policy committee looked at what the State does and does not tax, what works, and possible ways to tweak the tax code and potentially the Taxpayer Pay Raise Act.
Nicole Kaeding, an economist from the Tax Foundation, which favors tax breaks for businesses, applauded parts of the Taxpayer Pay Raise Act, particularly the phasing out of the state's franchise tax included in the bill, which she encouraged lawmakers to implement faster than the decade-long phase-in written into the bill.
Simultaneously, however, Kaeding also offered suggestions for the State to broaden the tax base in order to generate more revenue, which is a problem that most lawmakers acknowledge but have differing opinions about in regards to its source. Kaeding provided lawmakers with an overview of recommendations for tax-policy reform in Mississippi, based on the Tax Foundation's policies.
She suggested that Mississippi lawmakers should not raise or change the tax rate but instead broaden the tax base through measures such as applying sales tax to more items, possibly including legal, accounting, fitness, barber or veterinary services throughout the state. She also mentioned adding a sales tax to gasoline in the state, which would be separate from the gasoline tax.
"I think the base is actually where you need to focus on in terms of making it less broad on business transactions and more broad on (service) transactions," Kaeding told the tax panel in an October meeting.
Fillingane said he believes using legislation like the Taxpayer Pay Raise Act will generate more income with increased economic activity.
"I personally am not convinced that (broadening the base by increasing taxes) is the smart approach because the Taxpayer Pay Raise Act was about reducing the taxpayer burden," he said. "What we would be doing with that suggestion would be going in reverse, in taxing more Mississippians for more things. I don't buy into that."
Lawmakers will have to address budget strains in one form or another, however, due to revenue growth not meeting projections for 2016. Of course, things could change by session time, but both the governor and the Joint Legislative Budget Committee's fiscal-year 2018 budget plans are thin.
The JLBC's recommendation cuts $87 million from the already reduced fiscal-year 2017 budget, which was "adjusted" to deal with a mistake, and then Gov. Phil Bryant cut most state agency budgets twice.
Making ends meet might take more work than usual this coming year—not to mention overhauling the state's education-funding formula and trying to find a way to keep bridges from falling in.
Email state reporter Arielle Dreher at [email protected] and follow her at @arielle_amara on Twitter for breaking State news. The 2017 Mississippi Legislative session begins Jan. 3. Comment at jfp.ms.
More stories by this author
Support our reporting -- Follow the MFP.