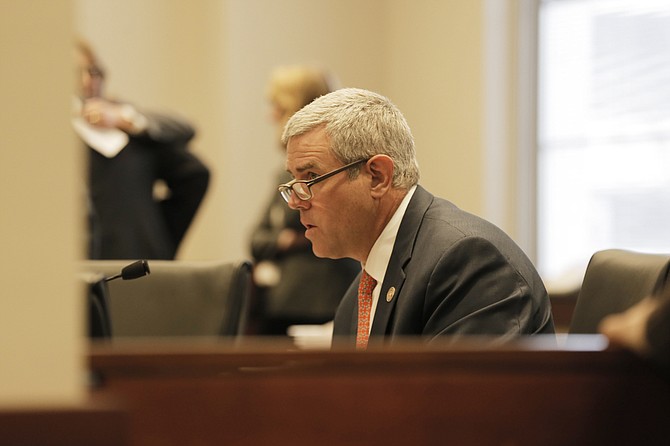 JACKSON — Mississippi House Speaker Philip Gunn, who chairs the Legislative Budget Committee, said on Thursday that state agencies should be prepared to operate "efficiently and with potentially [fewer] dollars" in the coming fiscal year.
The Joint Legislative Budget Committee announced its proposed fiscal-year 2018 budget on Thursday: a reduced overall budget of $5.66 billion for the fiscal year that begins in July 2017. Fiscal year 2017's budget is about $5.75 billion.
"This is a reality, and I would advise agencies to pay strong attention to this budget recommendation and to begin working with the legislature to find ways to continue offering essential services while operating at the leanest levels possible," Gunn said at the committee meeting.
The plan includes cuts to most state agency budgets, including the state's Institutions of Higher Learning and community-colleges budgets, as well as cuts to corrections and mental-health agencies. The newly created Child Protective Services agency will not see cuts, nor will public education.
The state's K-12 education budget will stay level-funded at fiscal-year 2016 levels, but the committee plans to increase spending in general education to start the School Recognition Program. Gunn said the program would provide additional financial support to teachers and staff for increasing student achievement.
"This program provides financial rewards for teachers and staff in high performing districts," Gunn said on Thursday. "Schools can receive up to $100 per pupil for sustaining a high accountability rating and also for improving their school rating from one year to the next."
The state's accountability ratings, released in October, gave 19 schools districts "F" rankings, all of which all have majority African American student populations.
The committee also recommends increasing public-safety officer salaries and salaries for staff at the 2 Museums Project, which is set to open in December 2017 in time for the state's bicentennial celebration.
After a summer of meetings between budget working groups and state agency heads, lawmakers reduced the state's overall budget by $195 million when it eliminated out-of-state travel and vehicle purchases in some state agencies. Reeves and Gunn did not have details of which state agencies were losing specific funds relating to travel and vehicles. The budget plan also deletes almost 2,000 vacant state-agency positions from agency budgets. State leaders set aside 2 percent of the state's budget, around $641 million, to remain unallocated for the time being.
Lt. Gov. Tate Reeves reiterated the leadership's commitment to avoid allocating one-time funds for recurring expenses and said the state remains in a strong fiscal position. Reeves, the primary advocate for the Taxpayer Pay Raise Act passed in 2016, told reporters that the revenue cuts set to take affect in 2018 were incorporated into the committee's budget proposal.
The Taxpayer Pay Raise Act is set to go into effect in 2018, but over 12 years, it would eliminate the state's corporate franchise tax, as well as the two lowest income-tax brackets and self-employment taxes. Mississippi Department of Revenue data show that the new law would divert $416 million from the state's general fund by 2027.
Reeves attributed slow revenue growth to national trends in other states and the tight budget to an overestimated number for the fiscal-year 2016 budget back in March 2015.
"(The) FY17 budget is based upon revenue estimates that show a year-over-year decrease, however, because FY16 came in significantly lower than the expectation; it requires about a 1.5 percent growth rate to meet the FY17 budget and because of that, I think you'll see continued efforts to deal with any FY17 challenges," Reeves said on Thursday at the committee meeting.
Email state reporter Arielle Dreher at [email protected].
More stories by this author
Support our reporting -- Follow the MFP.