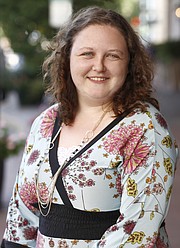 I've been in my apartment for about two months now. It's a tiny one-bedroom place that, for now, fits me perfectly, although my kitchen is hilariously tiny.
The other day, my mom asked me if I had met any of my neighbors. I told her no. When I go home, I tend to turn my social butterfly switch to off, and it stays that way until I get up the next morning to go to work or the gym or wherever.
It's not that I don't want to meet my neighbors. I do, but outside my work and social life, I don't handle meeting people well. I tend to get awkward and quiet, and many people just assume I'm rude, instead of just shy. So when I'm home, I go about my business. I watch Netflix. I lie in my bed and daydream. I nap. I cook. I clean. I check the mail, which means occasionally, I do talk to a fellow apartment dweller, though for not more than a minute or two.
I know the girl who lives in the apartment on my right likes "Hello Kitty." She's got a cute little charm on her car's rearview mirror. The most interaction I ever get with her is the occasional glance as I pass her on the stairs. The woman who lives on my left likes to cook. At night, I can always hear her banging around cabinets, grabbing items off shelves and clanging around pots and pans.
I know both of them are there, and I know they know I'm there. But I still haven't met them.
When I was young, I lived on a fairly close-knit street just outside Pearl's city limits. I knew both the neighbors on my left and right, the family that lived two houses down from me (it was my childhood best friend Lindsey's grandparents' house), and I attended the daycare across the street when I was little. But after we moved, it seemed that all of that changed.
When we lived in Crossgates, I knew my immediate neighbors, but hardly anyone else. And as an angsty 16-year-old, I didn't really want to know anyone.
When I first heard we were moving to Crossgates, I remember being so excited because I'd finally have people around. We would be in this large subdivision with winding streets that connect to each other, and we'd have large block parties all the time. That's what I imagined. But actually, I think we may have had one block party. As you walked down the streets, people would give you a friendly wave, but that's it. No stopping to talk. The only people who went to the area's pool were those who could afford the expensive membership, so that wasn't really something my family could do.
In my time working in Jackson and living in the suburbs, I've noticed a major difference in the way people interact. Jackson is a big city, but everyone seems to know each other. Neighbors aren't complete strangers. Our newest reporter, Arielle Dreher, has said multiple times that she finds it amazing that when she goes to the grocery store, she frequently runs into people she knows.
At least once a month, many of Jackson's neighborhoods have a festival, such as Fondren's First Thursday or the Mississippi Museum of Art's Museum After Hours. Events like that just seem to be acclimated into the city's culture.
Last week, I sat at The Hatch as the kitchen crew from Little Samaritan Montessori school served elderly midtown residents a lunch of baked chicken, cooked carrots and celery, a wheat roll and some Kool-Aid.
They chattered on and on, talking about everything from the weather to the music playing to the sinkhole on Lamar Street. At some point, Raymond Horn of Mississippi Cold Drip Coffee & Tea Co., which is in The Hatch, walked in and offered the residents some bite-sized tiramisu that he still had left after serving at Highland Village's courtyard unveiling the night before.
As I sat there, listening to their conversations, I was amazed by how much they loved their neighborhood. While we talk a lot about having a sense of community in Jackson, it was never more apparent than in that room. These midtown residents know each other. They care for each other. They help each other when they need it the most.
Some of the residents told me about how in the '90s, midtown felt to them like the Wild West, but a group of them still saw a better future for the area. They fought to get it, and for the most part, their vision has come to fruition, though midtown still has a long way to go.
Before that day at The Hatch, every time I'd drive down Wesley Avenue and see people sitting on their front porches, I didn't understand why they did that. We claim to be a sitting-on-the-front-porch kind of culture, but in reality, you don't see that often in the suburbs. My parents were probably the only ones in Crossgates who sat on their front porches on a daily basis. But if you drive through midtown's streets, you'll see so many people sitting on their front porches, watching their surroundings. Just talk to the residents, and that sense of community becomes contagious. It made me want to get to know my own neighbors.
We live in a place where hospitality means everything, and it always amazes me that many people who move to the suburbs seem to lose that sense of community. I would imagine that if I went from an urban neighborhood to the suburbs, I'd feel pretty lonely.
But for many people, they lose that sense of community. I think Jackson's community sensibilities are part of the reason I find myself volunteering for so many events, even ones outside of work. I want to carry that to other people, and help them and love on them. Even the city's animals.
It's so easy to live somewhere and not ever get to know your neighbors. But why wouldn't you want to? They probably have some great stories to tell.
Amber Helsel is the assistant editor of the Jackson Free Press and the managing editor of BOOM Jackson magazine. Email her feature-story ideas at [email protected]
More like this story
More stories by this author
Like independent media outlets around the world, the Jackson Free Press works hard to produce important content on a limited budget. We'd love your help! Become a JFP VIP member today and/or donate to our journalism fund. Thanks for considering a JFP VIP membership or one-time support.