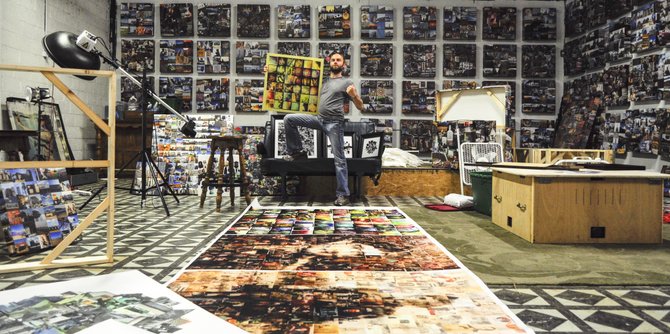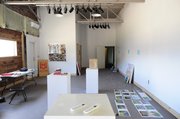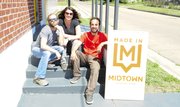 The area between Woodrow Wilson Avenue, and Fortification, West and Mill streets is full of what looks like abandoned buildings and warehouses, some laced with graffiti and others just plain brick buildings with small, unassuming black doors. Grass and weeds grow in the sidewalk cracks, and vines snake up some of the walls. To some, midtown may feel like an empty, shattered shell—a ghost town, even. A relic of a time long past. But subtle indications—like a sign on a door that says "Pearl River Glass Studio" or navy blue and yellow accents on a large, dilapidated warehouse—show that midtown isn't gone. It's becoming a place for creatives and creative entrepreneurs to work and play.
"I think that's why I've always been drawn to it. ... (It's) just like Jackson. If you drive through Jackson, you have no idea that interesting things are happening, but if you're willing to dig a little bit, you can pretty much find any exciting thing you're looking for," says Whitney Grant, Midtown Partners' creative economies coordinator. "You might have to put in some work (to) keep it happening. Midtown is like that for me. You don't always know how many awesome things are happening."
Grant got a bachelor's degree in architecture from Mississippi State University in 2009 and began working with people in midtown around then. She joined Midtown Partners in 2013. The area gave her a reason to stay in Jackson. She met Austin Richardson, co-founder of the North Midtown Arts Center (then known as 121), in 2008. Richardson and 121 helped her find her place in Jackson, and she decided she didn't have to leave right after graduation.
Richardson said he was first drawn to the area because of the offbeat culture and the potential for major growth.
"It was cheap," he says. "You didn't have to dress a certain way or didn't have to show up at a certain time. I saw the potential for a lot of work that needed to be done and things that people liked to do but needed a place to do it."
Andy Young, the man behind Pearl River Glass Studio, has been in the area since 1976 and is essentially ground zero for the community. He was there from the beginning and saw midtown hit its ups and downs from the art movement in the '80s to its decline in the early '90s.
"I wouldn't say it was forgotten about," Richardson, whom Young calls "Mr. Midtown," says. "It was just something that the metropolitan area just did not have a need for at that point in time. ... The (art scene in the '90s) didn't have the same organization that we do, I guess, in our generation, or maybe it's just the time and place. They did really good, but they didn't have quite the network that we do."
When Young bought the old Patton Publishing warehouse in 2012, he found the building full of things, such as family mementos and an old printing press. Young says that Fred Thompson, the owner of Patton Publishing, had developed back issues over the years, due to lifting heavy paper rolls, and after getting fed up with it, walked out six years before Young bought the building. The front, located on Wesley Avenue, will house DJ Venom's "alternative culture" store called Offbeat, which will sell comic books and clothing, among many other items. Young keeps his waterjet cutter, a machine used to cut large pieces of fused glass to size, in the back.
The North Midtown Community Development Corp. began with the goal of revitalizing the area. In 2009, the organization merged with parts of the Good Samaritan Center, with the mission of improving the community and making midtown a sustainable place for people to live, work and play. With the help from North Midtown CDC, now known as Midtown Partners, midtown began the slow and agonizing journey uphill. Artists slowly began repopulating the area, including Andy Hilton and Josh Hailey.
"What midtown did, as a neighborhood and with different organizations, (is) they organized themselves really well at some point, and now, a lot of the space that has been ignored has been reclaimed," Grant says.
One of Midtown Partners' newest projects is the renovation of two abandoned warehouses, turning them into "creative business incubators" as part of its creative economy initiative, a partnership with Millsaps College's ELSE School of Management. In gearing up for the project, Grant says she had "put the years in beforehand, listening to what people needed and seeing the needs or wishing we had the space for this or wishing we could do this. It kind of made me prime to start implementing it."
Midtown bought the warehouse where The Hangar is now located, along with a second warehouse that now houses The Hatch, and began renovating the two warehouses a few months ago. Currently, The Hangar houses businesses such as the Purple Word Center for Book and Paper Arts, MidCity Print, Inspire Jackson, Repurpose Projects and Big Ace Structure Demolition. It is equipped with four studios and a warehouse space for creative businesses.
The Hatch completes Midtown Partners' hub of its creative-economies initiative. As the name may suggest, it is smaller than The Hangar. But it's not as small as you think. The first room you see is the display space, a rectangular room that will house works for some of the future art shows. The hallway winds down through different corridors and spaces for artists and creative entrepreneurs, and leads through a large room to a warehouse space that currently contains hundreds of Josh Hailey's art pieces. Until August, when he leaves to bring his project, heARTalot, to different schools and teach about art and community, he will be the artist-in-residence. After being on the road for two years for Photamerica—a crowd-funded documentary where he trekked across the U.S., interviewing people about their perceptions of community—he has come back to Jackson and is now helping breathe new life into midtown. He and others look forward to the day when midtown reaches its full potential.
"One of these days, people will be coming to Jackson to study midtown," Young says. "I'm not turning my back on (it)."
Hailey will do a heARTalot showcase May 15, which he says will include about two-thirds of the total pieces he has created from Photamerica. Unlike his show for the project in December, Hailey will display videos from Story Projectors, a mobile projection booth, in an entire room. Suggested donation price for the event is $25, and the proceeds go toward heARTalot.
Mid-Fest, a Business Association of Midtown block party, takes place May 17. It includes tours of different studios and shops, including DJ Venom's "Offbeat." It will also have an art gallery. The Hangar will be open for public viewing, and The Hatch will be showing its new gallery to the public. Midtown Partners is currently fundraising for finishing construction on The Hatch. The event is free to the public. For more information, visit madeinmidtownjxn.com.
More like this story