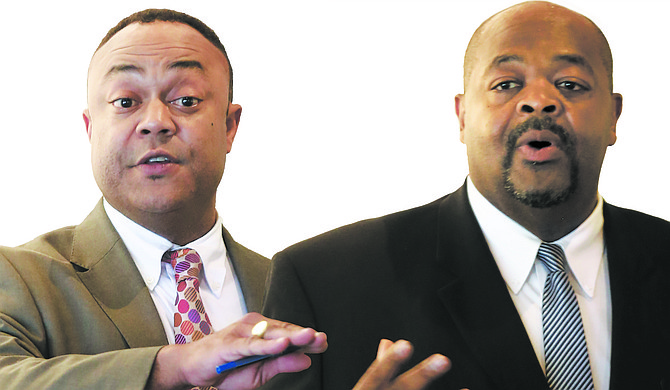 It's hard to tell whether Robert Shuler Smith, the top prosecutor in Hinds County, is confident he'll coast to a third term as district attorney—or if he's scared out of his mind by the challenge being mounted by Stanley Alexander, a former assistant district attorney in Hinds County who now heads up the public-integrity division of the attorney general's office.
Alexander, 49, a bear of a human being who attended Mississippi College on a football scholarship, talks about the problems he sees with the district attorney's office with the gruff rapid-fire cadence of a head coach dressing down his team for the mistakes they made on game day.
The challenger's critique of Smith's tenure isn't just that the twice-elected incumbent is soft on crime, but that Smith and his staff lack the prosecutorial zest necessary to move dangerous criminals through the justice system and into the state's prisons. Alexander blames a backlog in the DA's office that results in criminals being released from jail before they can be indicted and a revolving door of inmates who, Alexander argues, escalate to more violent crimes every time they return the streets.
In media interviews and public town halls, Alexander often starts by breaking down the numbers, of which he provided copies to the JFP As he explained, the four Hinds County circuit judges spend half their time presiding over civil cases and the other half on criminal cases, giving each judge about 20 weeks for hearing criminal cases.
With criminal trials taking between three days to a week, by Alexander's math, the prosecutor's office should be able to take 60 to 80 cases to trial each year. Under the 44-year-old Smith, the DA's office has only tried about 20 cases a year, or approximately five trials per judge per year.
"So you've got 15 weeks where there's no trials going on where you've got open space, where the judges are there, but there are no trials going on. This leads to problems. With a 2,100-case backlog—that's what's on the docket now—those are people that have been indicted, charged with violent crime, everything from drugs to murder, and they're waiting on trials," Alexander said.
"The jail only holds 600 people, so you've got simple math. That means you've got 1,500 people that are out on bond walking the street with you and I that are charged with serious crimes. That's a problem for your safety and mine."
Ties That Bind
On the surface, the numbers sound damning, especially when you consider that the subject of crime in Hinds County comes up in every political contest from the races for sheriff to the head dogcatcher.
Smith did not respond to telephone messages and emails requesting an interview for this story until just as this issue was going to press. At public events, Smith, who comes from a large, well-known Jackson family, glides through the crowds back-slapping and yukking it up with an air of confident inevitably about him.
At the same time, there are hints that all the gladhanding might signal that Smith, who has rarely done substantive media interviews since early in his first term, feels the pressure from Alexander and a public growing increasingly dissatisfied with Smith's handling of criminal prosecutions.
In response to Alexander's most pointed criticisms, Smith retreats to his own set of talking points. For example, he said at a forum at the Jackson Medical Mall on July 21 that his office can only try as many cases as judges permit. As for the backlog, Smith blames his predecessor, Faye Peterson, for whom Alexander worked as an assistant district attorney until 2007.
Documents from the CAPIAS court database dated February 2015 that Alexander provided to the JFP show that as of Dec. 31, 2014, there was a backlog of 2,260 cases on the Hinds County docket. Alexander also provided a copy of dispositions at the end of Peterson's term in December 2007, when there were 2,222 pending cases.
The same document indicates that Peterson's office went to trial more often than Smith's, a key point of attack for Alexander. During the Peterson tenure, there were 272 jury verdicts and mistrials; Smith has had 167 over about the same span of time.
Smith maintains that his staff has had more than 11,000 dispositions that took a bite out of the backlog he inherited from Peterson. "We had to put in extra work to get it down," Smith told a packed crowd at the medical mall.
Peterson denies that her office had a significant backlog, saying that she hired a criminal court facilitator to make sure cases went before the grand jury in a timely manner. "Our turnaround was really good," she told the JFP.
Smith also says that his office has adopted a different philosophy on prosecutions as well. On June 30, Smith and Alexander appeared on Jackson State University's public-affairs show "Direct Line" and talked to host Brad Franklin about Peterson's (and, thus, Alexander's) tenure, when Smith was a private defense attorney and often locked horns with government prosecutors.
"There were a number of injustices" under Peterson, Smith said. "A lot of poor people were being mistreated under the previous administration and convicted of very minor crimes. ...That's not the kind of justice that you want."
Peterson said her administration helped start two programs to assistant low-income defendants, including drug court and the pre-trial diversion program.
"To say my office was not sensitive to the needs of the less fortunate, I would have to say that's not the case," she said.
Work Ethic, Conflicts of Interest
In his standard stump speech, Alexander offers two cases as emblematic of the kind of justice Smith has doled out; or more aptly, in Alexander's view, not doled out.
One is the case of Jarvis Durr, indicted by a Hinds County grand jury for armed robbery, kidnapping and rape in 2012 but was released on bond over the objection of the DA's office. Smith's office postponed Durr's trial six times over the course of three years and in April 2015, Durr, then 22, was arrested again for carjacking.
"The question is not why was he out because the judge gave him a bond, and that's the judge's decision. The question is why does it take three years to get him back to trial?" Alexander said.
Smith told TV news media at the time that his office sought Durr's 45-year sentence to make an example of him.
Alexander also brings up the case of a teenager who was arrested and charged with carjacking and rape in 2014. The teen was not granted bond. The teenager was arrested in Flowood for allegedly robbing a woman at knifepoint. Responding on "Direct Line," Smith blamed jailers for releasing the teen.
The knock against Smith coming from his opponent and whispers within the local attorney sphere is that Smith spends too little time at the courthouse and in the courtroom. Alexander brags that even with his 60-person staff at the AG's office, he maintains a full caseload, including some from Hinds County.
Compared to other jurisdictions, Hinds County is unique because the DA here handles only cases in Hinds County, the most populous and busiest as far as the courts are concerned. Like the rest of the nation, Hinds County is struggling with how to manage a population of incarcerated people that grows despite crime rates falling to historic lows. Here, the courts are clogged, and the local jail is full and so short-staffed that two separate grand juries convened and issued withering reports about jail conditions.
Earlier this year, the U.S. Justice Department also released a report finding that Hinds County has failed to keep prisoners at the jail safe from harm, pointing out the staffing conditions and the slow-moving pace of the courts. As one example, the DOJ report mentions that Dynacom, the database that contains information on local warrants and indictments, is sometimes out of date. Jailers, the report states, "may call the District Attorney's office to confirm that an indictment has not issued before releasing a person, but it can take two or three days to receive a response."
Of course, the court system often moves at a snail's pace, but Alexander says other, sometimes controllable factors, gum up the works even more. Part of Alexander's role at the AG's office is to take over cases from district attorney's offices where conflicts of interest arise.
From Hinds County alone, Alexander estimates he's taken over about 50 cases in the past eight years, some involving Smith and some involving his ADAs, some of whom came from private practice.
Outsourcing conflict cases are a common part of the system, but Alexander says Smith has at times "exercised bad judgment" that unnecessarily created some conflicts. For example, a carjacking and murder suspect named Stephan Hickman told Smith's office that he had information about the unsolved murder case of R.J. Washington, a Jackson police officer murdered in a case where some witnesses implicated Frank Melton. Before he was mayor of Jackson, Melton had a rocky relationship with Washington who had helped the department investigate allegations against him for abuse of young men.
Smith was willing to hear the suspect out, but found out that the suspect was incarcerated when Washington was killed so his information was questionable. However, Smith couldn't prosecute the Hickman case because he was talking to the suspect about a deal, so Alexander's office took over. In 2010, Hickman was sentenced to life in prison.
"I don't know that you call it a goof. You call it a major lack of discretion, a major lack of experience as a prosecutor. A goof is not when you keep a potential capital murder suspect from going to prison for the rest of his life," Alexander said.
Differing Philosophies
Both candidates vying for DA grew up in Jackson. For Alexander, it was in Subdistrict 2 in west Jackson, the hardscrabble west side neighborhood that also produced Mayor Tony Yarber.
Smith grew up in south Jackson, attending Forest Hill High School, although his family name is almost synonymous with west Jackson. Smith's grandfather, Robert L.T. Smith, was active in the Civil Rights Movement and is the namesake for the parkway that connects downtown with JSU. Smith attended Tougaloo College and law school at St. Louis University before moving back to Jackson, where he worked as city prosecutor in Jackson and, later, as a defense attorney.
In Jackson, Smith successfully defended many high-profile criminals, including associates of Albert "Batman" Donelson, and was part of the defense team for the first, local trial of Melton and his bodyguards for taking a group of teenagers to bust up a duplex on Ridgeway Street in Jackson, a case prosecuted by then-DA Peterson and ADA Alexander. It was that case that allowed Peterson, working with the attorney general's office, to legally remove many young men, including minors, who were living in Melton's home, although he was not a certified foster parent.
Smith also helped to successfully defend members of the so-called "Grayhead Gang" for assault and kidnapping charges for allegedly shooting Michael Sanders in the leg. Smith's client, Darnell Turner, was one of five defendants who went free in the case prosecuted by Peterson. Melton attended the trial and defended the young men he called his "boys." The Hinds County jury failed to convict the five men when the victim, Sanders, refused to testify when called by the prosecution. Sanders had recanted his statement to police identifying the five as his assailants.
Melton, along with his friend and associate, former District Attorney Ed Peters, both endorsed Smith for district attorney when he first ran against Peterson and helped with his fundraising. Peters would later get immunity for admitting to offering a bribe to then-Hinds County Circuit Judge Bobby DeLaughter (who had presided over criminal cases such as that of the "Grayhead gang"), who went to prison due to the scandal. Peters was recorded in an FBI wiretap in 2007 seeming to promise that Smith would fix a case for fellow attorney Tim Balducci, as detailed in Curtis Wilkie's book on the Scruggs scandal, "The Fall of the House of Zeus":
"Do you think we can get two boys indicted down there (in Jackson) that have screwed us over on some false pretenses and stole some money from us?" Balducci asked Peters.
"Uh-huh," Peters replied. "In fact, there's a lawyer—the D.A., or the D.A.-to-be. He's got a couple of them he's fixing to do the same thing to—that tried to screw him out of a percentage of fees and things."
Wilkie then wrote, "Federal authorities listening to the telephone conversation figured Peters was referring to Robert Shuler Smith, the local candidate for district attorney. With Peters' backing, Smith had already won a Democratic primary and seemed certain of victory in the general election in November."
Smith, who did not respond in time for this story, has denied to the Jackson Free Press in the past that he was involved in corrupt activity with Peters or others and took offense to the suggestion that Peters has in any way influenced his office or his decisions.
The district attorney still has close ties to trial attorneys. Smith's most recent campaign-finance report, where he reported raising $40,219 and $29,419 in the bank, shows contributions from former Hinds County Public Defender Tom Fortner of $1,000 and Jody Owens III, the managing attorney at the Mississippi Southern Poverty Law Center, of $300. An earlier report from June shows donations from attorneys Lisa M. Ross and Matt Eichelberger of $250 each.
Alexander's July 10 report reflects a $10,000 loan to his campaign as well as a $500 contribution from Warren L. Martin Jr. and a $1,000 donation from former Hinds County Sheriff Malcolm McMillin; in all, Alexander surpassed Smith in fundraising for the year, with $44,887 and has cash on hand of $7,845.
'No-Nonsense Prosecutor'
With the primary approaching, Alexander is staking out a position as a no-nonsense prosecutor. Asked how he felt about the wave of marijuana decriminalization laws around the country, Alexander said it was a matter for the Legislature; his job would be to prosecute crimes.
 "This is how I feel about crime: if you commit a violent crime, you stick a gun in somebody's face, armed rob, rape, kill somebody, you need to go to prison. The reason why is, you set a standard. If you are lenient on violent crimes, (when) you get down to these property crimes, how can I in good conscience expect that person to go to jail if I'm not doing it for violent crimes?" he said.
Alexander adds that he isn't all about locking people up and throwing away the key. He points to alternative sentencing programs such as drug court, non-adjudication and pretrial diversion run by the DA's office that are most successful when participants have a strong support network. Because these people often lack family networks, Alexander said he met with local pastors about mentoring people in such programs.
By contrast, Smith says in public forums that his strategy is to target the most violent offenders. At the Jackson Medical Mall forum, when Alexander slammed Smith for the number of plea bargains from his office, Smith retorted: "We're not trying to convict everyone just to make a name for ourselves."
Robert Smith said he would make himself available for an interview this week. See all current election stories at www.jfp.ms/2015elections. Donna Ladd contributed reporting to this story.
---
Where do I vote?
You can call the Mississippi Secretary of State at 1-866-OUR-VOTE or visit http://www.sos.ms.gov/pollingplace/Pages/default.aspx. Mississippi uses a mixed primary system; you don't have to declare a party affiliation. If the election goes to runoff, a voter has to vote in the party's primary they voted in the first time.
Polls are open 7 a.m. to 7 p.m. Call the county registrar at the following numbers:
Hinds County: 601-968-6628
Madison County: 601-352-2049
Rankin County: 601-825-1466
Source: Mississippi Secretary of State
More stories by this author
Support our reporting -- Follow the MFP.