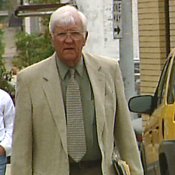 The Mississippi Supreme Court has permanently disbarred former Hinds District Attorney Ed Peters by accepting the law license he turned over to the Mississippi Bar Association in January. Peter's action cames as a result of an ethics complaint against him. Bar General Counsel Adam Kilgore told the Jackson Free Press earlier this year that Peters turning in his license amounts to an admission of guilt.
Peters is under investigation for his role in convicted attorney Dickie Scruggs' alleged scheme to bribe Hinds County Circuit Judge Bobby DeLaughter for a favorable decision in a dispute before DeLaughter. Reportedly, Peters has been given immunity in that case and he is expected to be a key witness against DeLaughter. The Clarion-Ledger reports that Peters has turned over $425,000 of the $1 million "reverse contingency fee" he received for using his influence on DeLaughter, who worked for Peters in the Hinds County District Attorney's office.
DeLaughter was suspended from the bench March of 2008, and is awaiting trial in U.S. District Court in Oxford in August.
Previous Comments
ID

148678

Comment

It's remarkable to watch these, er, legends fall from grace: Melton, Peters and perhaps DeLaughter. I remember us trying to raise red flags about Ed Peters years back, as well as DeLaughter after Brian did the Cedric Willis story, and not being able to get many people to listen -- especially Peters' stalwart supporters in Northeast Jackson. I guess Robert Smith got lucky that this scandal didn't hit until right after Peters helped him get elected, huh?

Author

DonnaLadd

Date

2009-06-12T13:30:53-06:00
ID

148679

Comment

Yes, its fortunate that Peters support couldn't be used by Smith's detractors to unfairly smear him.

Author

Jeff Lucas

Date

2009-06-12T13:34:13-06:00
ID

148682

Comment

That's one way to look at it. There are others, however.

Author

DonnaLadd

Date

2009-06-12T14:30:14-06:00
ID

148692

Comment

Considering Peters was all but retired, it's a small victory.

Author

Ironghost

Date

2009-06-12T20:42:04-06:00
ID

148695

Comment

And from the sounds of it, he still gets to keep $575,000 of the "reverse contingency fee." Not bad work if you can get it. I wanted to like Bobby DeLaughter because of the Beckwith case, but he's really turned out to be a world-class scumbag and Peters is in some respects even worse.

Author

Tom Head

Date

2009-06-13T16:51:15-06:00
ID

148696

Comment

Being disbarred at any stage of a legal career is a great source of embarrassment. But, it does prove that the Bar Association, who has taken it's lumps in the past 30 years for seemingly allowing lawyers to run unchecked and undisciplined, is trying to govern itself. I for one, still believe that attorney's should have a benchmark level of honestly and integrity to be allowed to deal with the public. Although the acts of some of it"s members have been shameful, the recent disbarment s of attorneys associated with the Scruggs matter have the legal profession in this state moving in the right direction

Author

search4truth

Date

2009-06-13T21:23:31-06:00
ID

148701

Comment

Donna, I remember your coverage here..and what I did when I was at WOAD. To no avail, I couldn't get anyone to pay attention to this story...I had threats leveled at me...it's amazing that NOW word is out!

Author

Othor Cain

Date

2009-06-15T08:15:29-06:00
ID

148710

Comment

Agreed, Othor. The writing has been on the wall about Mr. Peters a long, long time, and it's remarkable that people gave him such a pass. And, where were the local media? Where was The Clarion-Ledger. They have simply been led around by the nose ring by a small group of people. Those chickens are starting to come home to roost. In many ways, the kid-glove treatment of Mr. Peters over the years is a classic power-structure tactic. If someone is perceived as being friendly to you and yours, and willing to help you out, you look the other way. But that's no excuse for the media to do the same. My theory is that a lot of the corporations that own local media install people who don't have the energy or willingness (or ability?) to ask the tough questions. And I don't say that to be mean. It's a serious problem, and has had very real effects on our city. For instance, had the media reported on Peters long ago as they should have, would we even be at this juncture with the million bribe and so on? Meantime, Ledger editors blindly editorialize about B.S., while missing what's going on right under their noses. It's as if they are puppets on a string. It would be fun to compare all their complaining over the years about D.A. Peterson to editorials they did about D.A. Peters. And I'm not sure they are doing much of anything about D.A. Smith (former D.A. Peters' choice). They are so predictable. They complain about the people Northeast Jackson has decided to hate, and they give passes to the people they like. It's pretty crystal clear.

Author

DonnaLadd

Date

2009-06-15T10:27:21-06:00
ID

148711

Comment

And let's not forget that the Ledger helped turn the Peters-DeLaughter D.A.'s administration into heroes over the Evers case. So, what else was going on around that time? What about the Cedric Willis case, just to name one example?

Author

DonnaLadd

Date

2009-06-15T10:28:58-06:00
ID

148712

Comment

Don't forget Hollywood...this greatly diminishes the hero status both enjoyed in "Ghosts of Mississippi". Unfortunately this movie is how the rest of the world sees them.

Author

Jeff Lucas

Date

2009-06-15T10:41:05-06:00
ID

148713

Comment

Exactly, and Jeff, I've really started to wonder -- and this is gonna sound mighty cynical -- if prosecutors who pursue civil-rights case might consider doing it to detract attention from other, er, issues they might be facing. Then the media chase the civil-rights ball, even as their star investigative reporters miss some important local things happening right in front of their eyes. Speaking facetiously, of course. I starting thinking this way, in fact, when we realized what a mess DeLaughter et al made of the Cedric Willis case, not to mention other archival research I was doing. He might have been a hero in a movie for prosecuting Beckwith, but a young black man went to prison for 12 years apparently due to his handling of the case. And perhaps I shouldn't say this, but I'm even a little cynical about Dunn Lampton agreeing to take on the Seale case when he did, considering the debacle that he was involved with, in the Diaz, Minor, etc. retrials. I'm not saying he did it because of that, but I have wondered about it. It's not like these U.S. attorneys (and attorneys general) can't look around their state themselves and figure out what these high-profile cold cases are, especially one like that with such extensive FBI investigative research already done. Why do they always wait until the media make a case a big deal before pursuing? Anyway. I guess I'm feeling extra-cynical today.

Author

DonnaLadd

Date

2009-06-15T11:08:41-06:00
ID

148714

Comment

Sometimes the evidence provides its own cynicism, doesn't it? And yeah--I'd imagine that when Cedric thinks of Bobby DeLaughter, he doesn't think of the iron-jawed hero in Ghosts of Mississippi. Maybe the smart thing to do is to stop believing that the heroic character exists and start believing that all of us are messes who can have moments of heroism, but not really lives of heroism. Even Gandhi and King had flaws. And I guess the corollary to that is that even Bobby DeLaughter prosecuted Beckwith. Re the good old boys network, I think it's important to remember--because I fell for this schtick myself--that if someone is nice to you and yours, the perception is not going to necessarily even be "oh, he's nice to me and people who look like me, so I'll overlook the other stuff." It's "he seems nice, so I feel like I can trust him." This is true of a lot of conservatives, it was also true of Frank Melton. It's true of a lot of people. And it's a subtle distinction but an important one. Oh, I can trust good old such-and-such. No, you can't. Can't even trust yourself. Not in matters of policy and justice. And sometimes the saintly-sweet guy who always has your back is doing something evil, and the raging jerk who never thought you were good enough is doing the right thing. We make so much out of being nice without realizing that nice generally means nice to us. We all need a little more icewater in our veins. A little more cynicism, if you will. We need to stop trusting each other on these matters. We need to stop making friends in high places. We need to grow spines. And claws. And we need to hold each other accountable and sometimes be jerks about it and piss each other off. Collegiality is all well and good, but collegiality was what got Cedric Willis convicted, Ed Peters and Frank Melton elected, and James Ford Seale a virtual lifetime as a free man. Collegiality is overrated. I've been apologizing to half the world for being a jerk. Now I'm thinking I should have been apologizing to the other half for not being a jerk. We've let too much slide.

Author

Tom Head

Date

2009-06-15T11:29:32-06:00
ID

148715

Comment

Collegiality is all well and good, but collegiality was what got Cedric Willis convicted, Ed Peters and Frank Melton elected, and James Ford Seale a virtual lifetime as a free man. Collegiality is overrated. I've been apologizing to half the world for being a jerk. Now I'm thinking I should have been apologizing to the other half for not being a jerk. We've let too much slide. Powerful post, Tom. We have let way too much slide. In our business, we know that you can't make journalistic decisions based on who is being nice to you -- or, more importantly, who is being ugly to you. You can't imagine how people, even well-meaning ones, try to control what we do or say on occasion because they disagree with what we are reporting or commenting on. It can come in e-mails of kind "advice" (like: "people are saying you shouldn't post so much"). Or, it can get really ugly, like when critics start talking about people's appearances to try to discredit them. Of course, no credible blog or media outlet allows that kind of activity, but there are lots of uncredible ones out there. From day one, the JFP has worked very hard to be consistent: to tell the truth and let the chips fall where they may. As a result, we risk alienating or annoying even our friends, but it's all about the long arc of history, as Dr. King taught. You have to focus on the big picture. Or, as Todd says, you have to do the right thing and wait. I firmly believe that the "right thing" pays off every time, at least over the long haul. And being afraid of doing the "right thing" (like media pulling punches on folks like Melton and Peters, or bowing to pressure from the loudmouths) does not pay off. I could reference The Clarion-Ledger's current woes here as a textbook example, but I won't. You know, out of respect. (smile)

Author

DonnaLadd

Date

2009-06-15T12:42:31-06:00
More stories by this author
Support our reporting -- Follow the MFP.