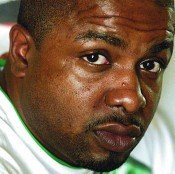 Jackson resident Cedric Willis says he is happy that the state of Mississippi agreed to pay him compensation for wrongfully convicting him for the shooting death of Carl White in 1994, even though $500,000 doesn't quite seem to cover it.
"You know, you just can't get back those years," Willis told the Jackson Free Press today. "There isn't really a limit to the amount of restitution, because I had some really bad encounters in Parchman. (The state isn't) in the position that me and those other guys were in, and I don't feel it's right for them to throw us an amount for the loss of our lives."
As detailed in a JFP 2006 story, a Hinds County Circuit Court jury convicted Willis, even through DNA evidence excluded him as the perpetrator in that crime. Former Hinds County District Attorney Ed Peters and Assistant District Attorney Bobby DeLaughter moved to exclude the DNA test results from a separate rape case, which would have cast considerable doubt on the shooting allegations against Willis, considering that the same weapon had been used in both crimes. Hinds County Circuit Judge William Coleman initially ruled against the prosecution's move to exclude the evidence, but when Coleman retired and Judge Breland Hilburn replaced him, Hilburn consented to Peters' and DeLaughter's requests.
Without that exculpatory evidence, a jury handed Willis a life sentence plus 90 years, which resulted in his spending 12 years behind bars in Parchman before he was exonerated with the help of the Innocence Project. The real murderer—allegedly the same person engaged in a shooting and robbing spree in 1994—remains unidentified to this day, and presumably, unpursued.
Peters recently pled guilty to corrupting DeLaughter—who later became a Hinds County District Court judge—in an unrelated attorneys' fee suit. Peters got immunity for aiding authorities in their prosecution of DeLaughter, and remains a free man to this day, though he has surrendered his license to practice law. DeLaughter will serve 18 months in a federal prison in Kentucky for lying to the FBI.
The Mississippi attorney general's office recently acted upon a new state law allowing compensation for the wrongfully convicted, and agreed to compensate four men, paying each $500,000 in $50,000 annual installments. The three other beneficiaries include Kennedy Brewer, Arthur Johnson and Levon Brooks, all exonerated in 2008 for murders they did not commit. The attorney general's office is disputing the compensation requests of three other wrongfully convicted men—Larry Hymes, Carl Hobbs and Roland Anderson—due to procedural requirements.
The Innocence Project, a national non-profit group, works to overturn wrongful convictions, largely through post-conviction DNA testing. The organization helped overturn Willis' conviction in 2006. Innocence Project New Orleans Director Emily Maw, who led that effort said she applauded the restitution, but warned the state that restitution does not fix a broken justice system.
"We commend legislators who agreed to pass the law allowing people to be compensated and the attorney general who agreed that they should be compensated, but it does not absolve the state of Mississippi or its legal profession from reflecting upon how an innocent man was effectively framed by police and tried by prosecutors," Maw said.
Maw pointed out that the Willis case was particularly insidious in that the wrongful prosecution was completely voluntary on the part of prosecutors, as opposed to accidental.
"The case of Arthur Johnson was a mistake in witness identification, pure and simple. But in Willis' case, two entities knew it was the wrong guy and went ahead and prosecuted him," she said. "In this case nobody has taken responsibility for their actions, and nobody has called upon responsible people to take responsibility for their actions. For this reason I find the Willis case particularly egregious—and we don't normally say that about our cases."
Maw added that she did not believe that the potential loss of compensation expenditures by the state would, by itself, discourage laziness in the courtroom: "No, they won't be more careful. They waste money every day," she said. "There is an absurd amount of wasted money in the criminal justice system, from poor scheduling, bad use of time and wasted resources in the prison system with the state's incarceration policy. Unless the money is clearly coming right out of (criminal justice employees') pockets, the court system won't give a damn."
Willis, who does some work with the ACLU, said he is going to continue living his life one day at a time amid the comfort of friends and family.
"I haven't planned out even the next two years, much less the next 10. As we know, things change in the blink of an eye. Whatever God has for me, it'll be coming to me. I'll tell you in 10 years where I am in 10 years," Willis said, adding that his most pleasant memory since his release is not having to call in to his family from prison on holidays.
"Nowadays I get to sit down at the table with them," he said. "You can't beat that."
Previous Comments
ID

154110

Comment

Thank. You. God. Of all the stories we've ever worked on, none was more important than this one. Whenever people try to mire us in B.S., I think of Cedric Willis and what this state put him through. Folks, most of what we concern ourselves with pale in comparison to spending 12 years in prison for a murder you didn't commit. Let's think bigger than ourselves. Cheers to you, Cedric.

Author

DonnaLadd

Date

2009-12-08T13:49:17-06:00
ID

154116

Comment

I am so thrilled for Cedric. As he says, it's hardly just compensation for what he suffered, but at least it's something. I hope this money will help Cedric continue to rebuild his life. For the rest of us, I suggest that we give serious thought to what Cedric experienced. His description of being falsely prosecuted still haunts me. Prosecutors have tremendous power. When the abuse it, they can destroy lives. Cedric's descriptions of Parchman should also cause soul searching. He described a brutally violent prison, where inmates are routinely abused. As he has said, no one would believe his descriptions of life there had he not been proven innocent. I just can't express how overjoyed I am! This was compensation that was long overdue.

Author

Brian C Johnson

Date

2009-12-08T14:29:05-06:00
ID

154119

Comment

And cheers to you, Brian, for your work on this story. When Cedric talks to my classes, he always tells them that you wrote his story, and he didn't need to talk to any other reporters. You ought to hear how he raves about you in those talks. ;-)

Author

DonnaLadd

Date

2009-12-08T14:41:17-06:00
ID

154126

Comment

Terrible story that had a happy ending. Our goverment can't give hand outs to everybody but situations like this warrant some retribution. Hopefully everyone he meets in the community will treat him like the innocent man he was found to be.

Author

js1976

Date

2009-12-08T16:07:48-06:00
ID

154128

Comment

WOW!! Hopefully, this account will go viral and the national & international community will arise!! It is strange, to me though, that freedom's cost can be exacted in such protracted time spans. Louisiana, definitely is no different. However, the current USAG was involved in a case surrounding wrongful prosecutions, when nominated for AG. Man jailed for rape he didn't commit Saturday, February 28, 2009 By Charlie Chapple St. Tammany bureau A Covington man who spent 19 years in prison for a rape he didn't commit is poised to receive $1.4 million in the settlement of a federal lawsuit he filed against the city. During an emergency meeting Friday morning, the Covington City Council approved a $300,000 promissory note to Dennis Patrick Brown, whose 1985 conviction for aggravated rape was overturned in 2004 after DNA evidence conclusively excluded him as a suspect in the crime. The $300,000, which will be paid to Brown in 10 annual installments of $30,000, plus $1.1 million from the city's insurers, will be used to settle the suit Brown filed in October 2005, City Council members said. Until early this month, Brown's legal team included Eric H. Holder, who withdrew from the case after he was named U.S. attorney general by President Barack Obama. http://www.nola.com/news/index.ssf/2009/02/city_agrees_to_pay_former_inma.html

Author

Prophet

Date

2009-12-08T17:24:17-06:00
ID

154149

Comment

This man deserves alot more than 500,000.00 dollars. Why did he settle for that. A lawyer could have possible filed suit in Federal Court for alot more. 50,000.00 a year, that's not even enough for the man to buy and pay for a roof over his head. The state of Mississippi is PITIFUL.. I hope everyone realizes how bad the justice system is in Mississippi. My GOD !!Those DA's should be held accountable.PERIOD.

Author

natiave228

Date

2009-12-09T13:11:04-06:00
ID

154162

Comment

I could see where you would want someone to be held accountable but that is a slippery slope if you ask me. If we were to hold DA's accountable why not hold the jury that convicted them accountable as well?

Author

js1976

Date

2009-12-10T09:21:12-06:00
More stories by this author
Support our reporting -- Become a JFP VIP.
The news business has changed dramatically in the past two years, and we need your help more than ever to keep bringing you important stories about Jackson and the Metro. Become a JFP VIP with an annual membership or you can Sign up as a monthly supporter. Thanks for anything you can do to empower our journalism!