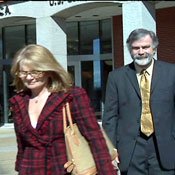 Former Hinds County Circuit Court Judge Bobby DeLaughter, 55, resigned his job and pleaded guilty to misleading authorities this week. The former judge had five counts against him, all representing various forms of corruption, but he pled guilty to the one count arguably carrying the lightest sentence, obstruction of justice. He will spend 18 months in a federal prison and will lose his law license.
As part of his deal, DeLaughter does not have to cooperate with federal agents to help indict others who may have participated in some form of judicial corruption. U.S. District Judge Glen Davidson could still toss DeLaughter's plea, setting the judge up for an August trial, but DeLaughter's plea deal suggests that federal authorities will not be pushing very hard for DeLaughter's cooperation in future investigations.
DeLaughter's Chicago attorney Thomas Durkin claims the former judge had a compelling argument against his former boss, long-time Hinds County District Attorney Ed Peters, who is working with authorities. The feds currently have the testimony of two convicted former attorneys, Timothy Balducci and Joey Langston, and one ex-district attorney, Peters, who is fighting to retain his immunity from prosecution. DeLaughter has his own view of Balducci and Langston's testimony as well as a lie detector test saying he wasn't influenced by Peters in deciding an attorney's fee dispute with convicted attorney Dickie Scruggs.
Peters and the two attorneys claim that Peters got $1 million to try to influence DeLaughter, but nobody's talking about the money DeLaughter got from Peters.
They do have an argument that, after Peters came onboard with Scruggs, DeLaughter's opinion differed from that of a Hinds County Court special master who concluded that Scruggs owed his former partners about $15 million in extra cash. (DeLaughter disagreed, saying Scruggs actually owed no more than $1.5 million). The feds also have the assurance of the convicted lawyers that DeLaughter showed Scruggs' people one of his judicial orders related to the Wilson v. Scruggs case before filing it.
Balducci and Langston have also testified that Scruggs told DeLaughter that he would have a word with his brother-in-law, former Republican U.S. Sen. Trent Lott, to drop his name for a federal judicial appointment.
The last allegation, especially, may not hold up under court questioning. Lott immediately retired after feds raided Scruggs' office in 2007, and he vehemently denies he made anything more than a courtesy call to DeLaughter. Authorities also have not announced any investigation pending against Lott for his work in Scruggs' corruption case.
Durkin says the judge can disprove all of the corruption charges as a battle of opinion, though DeLaughter apparently is unwilling to argue that he misled authorities about his communication with Peters on the Wilson case, which DeLaughter at one point denied.
The federal case isn't as strong as many prosecutors would like, and Mississippi College School of Law professor Matt Steffey is "telling anyone who will listen" that the biggest crook in the DeLaughter case appears to be Peters, who seems to be getting off with immunity.
"I've said time and again that Peters is the guy who actively peddled his influence, according to his own confessions," Steffey said. "The U.S. attorney may prize catching a judge, but there is little doubt that Peters' culpability was vastly greater. He's a gun for hire. He is literally an illegal influence for hire. It's nothing but avarice and trading on his former role as a district attorney and trusted former confidant. It's one thing to plead to a reduced charge, but in my judgment, complete immunity was too high a price to pay."
Steffey said that there is no promise that Peters' immunity will extend to future allegations of corruption that prosecutors might lodge against him.
Still, DeLaughter is no innocent victim, according to advocates against wrongful incarceration.
New Orleans-based Innocence Project attorneys overturned the wrongful conviction of Jackson resident Cedric Willis after Willis spent 12 years in prison for a crime he didn't commit. DeLaughter, a former Hinds County prosecutor at the time of Willis' conviction, convinced Hinds County Circuit Court Judge Breland Hillburn to toss DNA evidence and witness testimony that would have proved Willis' innocence.
"(DeLaughter and Ed Peters) knowingly sent an innocent man to the penitentiary for the rest of his life … and there is no way of knowing if Cedric was the only one, though I doubt it," said Emily Maw, director of the Innocence Project, who helped get Willis' conviction overturned with the help of the DNA evidence that DeLaughter excluded.
Both DeLaughter and Hillburn are immune to prosecution or suit for knowingly prosecuting the wrong person, but Maw said that few members of the media are focusing on the fact that DeLaughter's choice to wrongfully pursue Willis allowed the case to grow cold on the real murderer in the Willis case.
Previous Comments
ID

150656

Comment

I can't believe Ed isn't volunteering to do some of this time for his boy. HOW IN THE HELL DID ED GET THE MONEY AND FREEDOM AND BOBBY D GOT THE SHAFT AND JAIL?

Author

Walt

Date

2009-08-06T17:57:35-06:00
ID

150657

Comment

Ain't it the truth? I've smelled a Peters-DeLaughter rat ever since we did the Cedric Willis story, and then the Juvenile Detention Center research. It's seemed clear to me for years now that there are many different ghosts of Mississippi. I'm glad all this is unraveling. These guys got a pass for way too many years in this town. And from what I've seen, this all could have been busted up years ago, had people (and journalists) cared enough. Nuff said.

Author

DonnaLadd

Date

2009-08-06T18:39:21-06:00
More like this story
More stories by this author